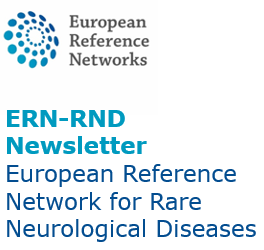 ABOUT US

Joint webinars by ERN-RND, EURO-NMD, EAN

17 March, 3-4pm CET, X-linked adrenoleukodystrophy, Marc Engelen (Amsterdam University Medical Center, the Netherlands). Sign up here.
14 April, 3-4pm CET, Recognizing atypical parkinsonism, Wassilios Meissner (University Hospital Bordeaux, Institute of Neurodegenerative Disorders, France). Sign up here.
We would appreciate if you could circulate this information to your colleagues who might be interested in attending.
If you would like to see past webinars, you will find the slides and recordings here.
ERN-RND survey
We have designed a survey about research priorities to be completed by PATIENTS and PATIENT REPRESENTATIVES only for the rare neurological diseases covered by the network. The results of this survey will guide research carried out within ERN-RND in the next five years.
The deadline to complete the survey is 8 March.
The survey is available in Dutch, English, French, German, Italian and Polish.
ERN-RND patient advocates visited the coordination office on 30 January at the University Hospital Tübingen, Germany. On this occasion, the European Huntington Association represented by Astri Arnesen kindly put together a video filmed during the meeting, you can watch it here.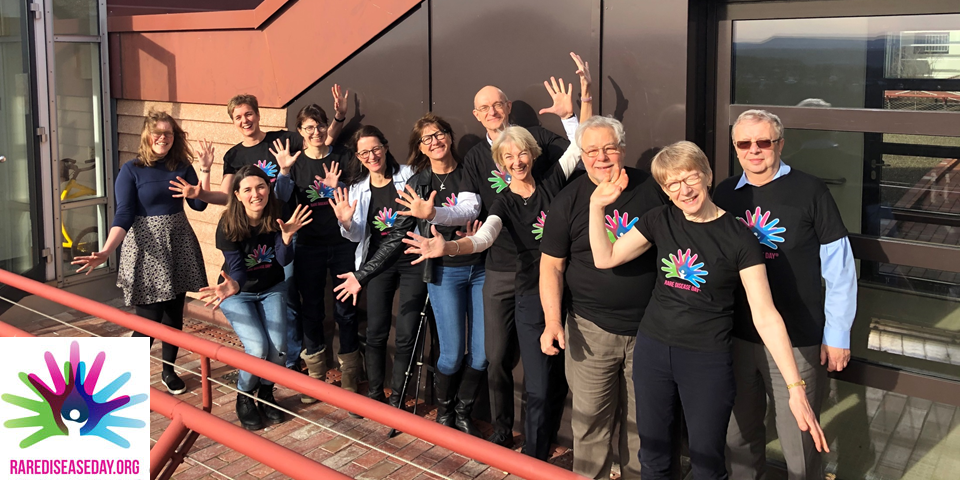 From left to right: Annemarie Post, Carola Reinhard, Alicia Brunelle, Sanja Hermanns, Lori Renna Linton, Astri Arnesen, Holm Graessner, Monika Benson, Marek Parowicz, Mary Kearney & Lubomír Mazouch for Rare Disease Day 2020

ERN-RND meeting on cross-cutting pediatric issues
An ERN-RND meeting on cross-cutting pediatric issues will be taking place on 23 April in Amsterdam, the Netherlands. ERN-RND pediatric neurologists will attend.
ERN-RND Disease Group (DG) "Ataxia/HSP" meeting
A meeting organised by DG "Ataxia/HSP" will take place on 27 April in Frankfurt, Germany. Clinical rating scales for children with Hereditary Spastic Paraplegia will be discussed.
KNOWLEDGE

The ERN-RND DG for "Dystonia, Paroxysmal Disorders & NBIA" has endorsed a therapeutic algorithm for paroxysmal disorders.

EJP RD


New EJP RD video launched on Rare Disease Day 2020 available here.
For ERN members: Research Mobility Fellowship available to PhD students and medical doctors for a scientific visit. The call opened on 3 February and deadline for submissions is 16 March. Read more here.
The January February EJP RD newsletter is available here.
PATIENT ADVOCATES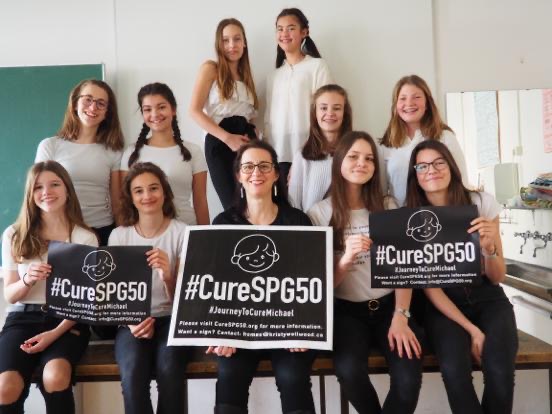 #CureSPG50
ERN-RND HSP patient advocate Lori Renna Linton and her school students from Austria are raising awareness of ultra rare neurodegenerative disease SPG50 which affects 18 months old boy Michael and other children in the hope to find a cure.
Lori and her students created a video which was launched on Rare Disease Day and which you can watch here.
EVENTS
ARCA Global Conference & National Ataxia Conference
CANCELLED
We regrettably announce that the ARCA Global Conference and 2020 Annual Ataxia Conference planned to take place this week in Denver, USA have been CANCELLED due to evolving concerns over the fast moving situation with coronavirus COVID-19.
You will find more information regarding the NAF conference here.
Fachtag der Seltenen Erkrankungen in Mainz
ERN-RND patient advocate Marek Parowicz from AHC18+ e.V.patient organisation for Alternating Hemiplegia of Childhood co-organised a rare disease day event with cooperation partners in Mainz, Germany. CPMS helpdesk and training manager Sanja Hermanns gave a talk on the added value of Reference Networks for the care of rare disease patients in Germany (pictures of the event below).
More pictures of the event can be found here.

Left: Sanja Hermanns / Right: Marek Parowicz

SCA Global Conference 2020 CANCELLED

Due to the evolving and unpredictable international situation with the novel coronavirus COVID-19, the SCA GLOBAL conference organising committee has chosen at this time to postpone the SCA Global conference which was planned to take place on 6 and 7 April 2020 to a yet undetermined date later this year.

10th international meeting on Neuroacanthocytosis
Date: 25-27 March 2020
Venue: Alimara Barcelona Hotel 4*, Barcelona, Spain
The 10th International Meeting on Neuroacanthocytosis Syndromes will gather patients, caregivers, neurologists, clinical scientists and basic scientists to discuss the latest developments in the field. ERN-RND member Prof. Adrian Danek (University Hospital Munich) is part of the organizing and scientific committees.

European Conference on the Diffusion of Genomic Medicine
Date: 28-29 March 2020
Venue: Dijon, France
This conference is organized by the Health Economics team of the Economics Laboratory of Dijon (University of Burgundy) as part of the European project H2020 on genetic research Solve-RD.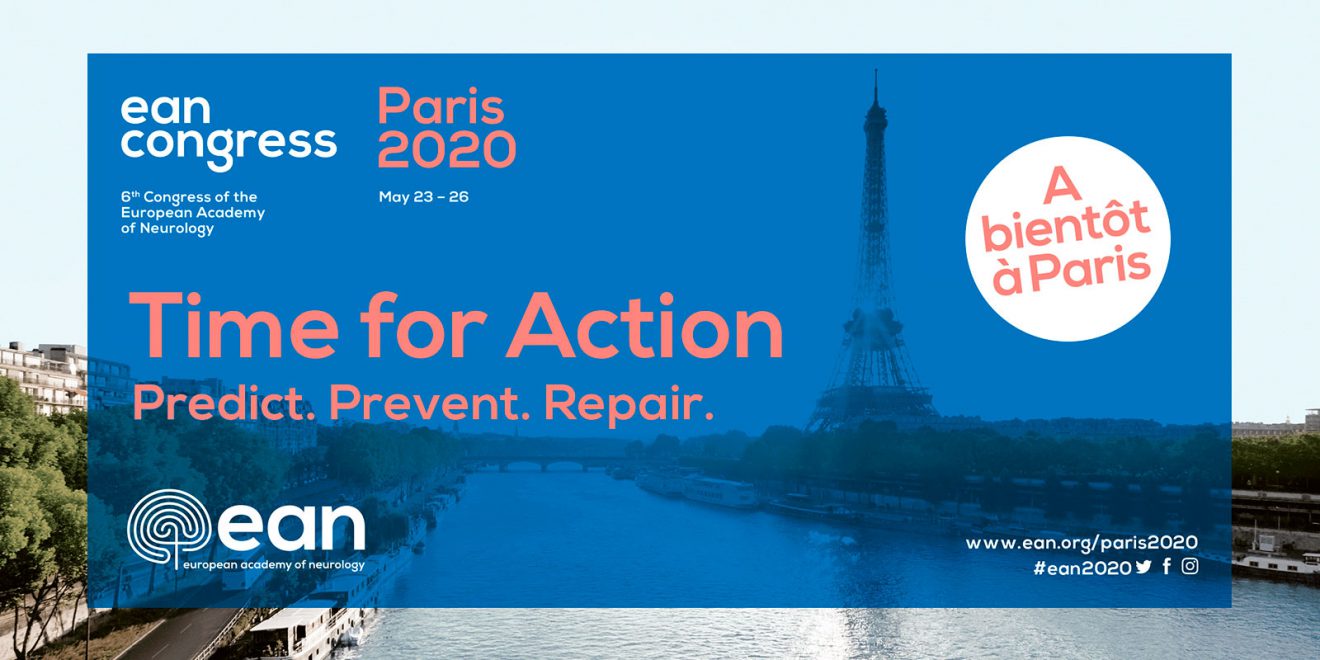 EAN Congress 2020
Date: 23-26 May 2020
Venue: Paris, France
ERN-RND will have a booth at the congress, we will let you know the number as soon as possible!
NEWSLETTER
Please circulate this newsletter to your colleagues who can also sign up to receive it directly here or email alicia.brunelle@med.uni-tuebingen.de
ERN-RND Coordinating team