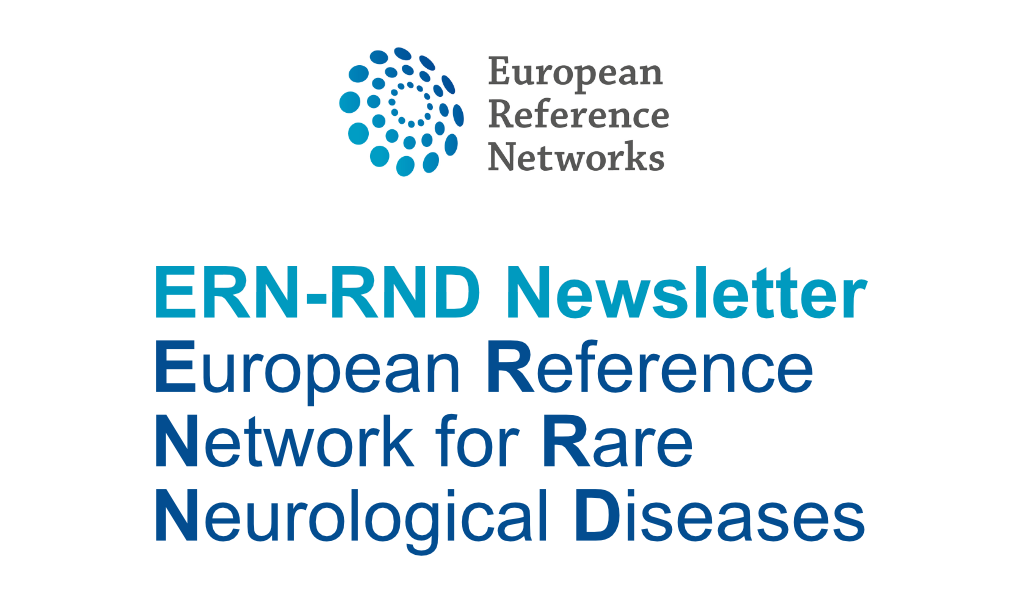 we hope you enjoyed the summer and hope you enjoy reading the ERN-RND September newsletter!
The ERN-RND Coordination team
Contents

ERN-RND Disease Knowledge
ERN-RND Clinical exchange programme
About us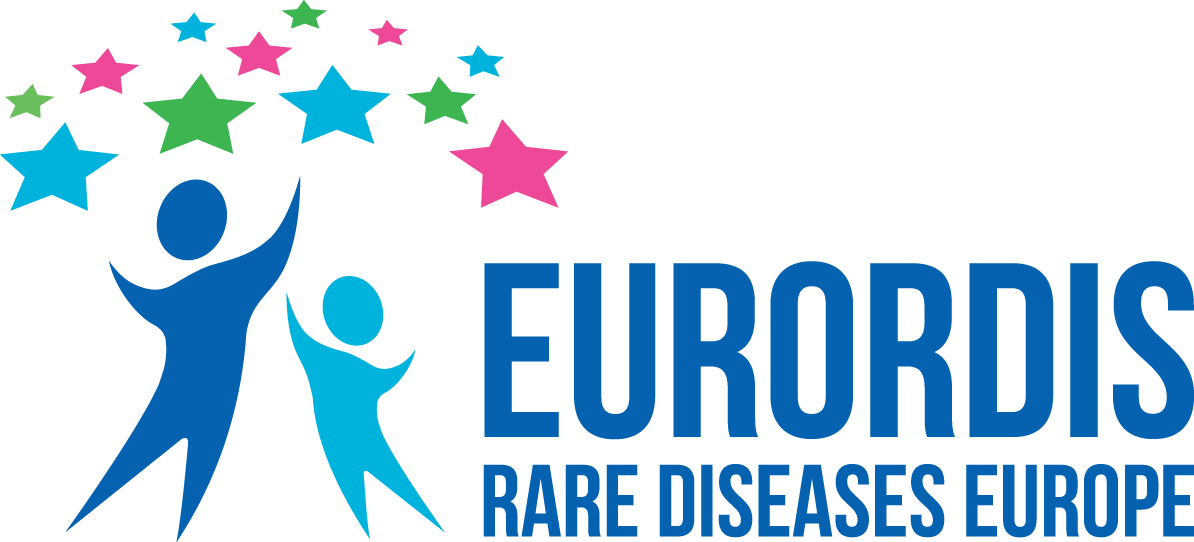 We wish EURODIS a happy 25th birthday and look forward to the next 25 years!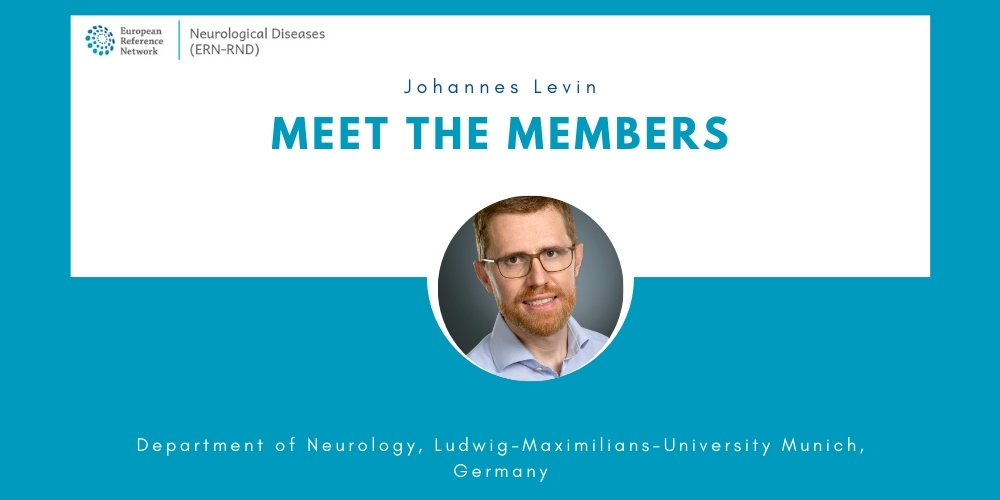 Johannes Levin, Professor of Clinical Neurodegeneration at the Department of Neurology, Ludwig-Maximilians-University Munich, Deputy Head of Clinical Research at the German Center for Neurodegenerative Diseases (DZNE), Munich site and Chief Medical Officer of MODAG GmbH talks about the biggest challenge specifically in working on rare diseases and his expectations for the network.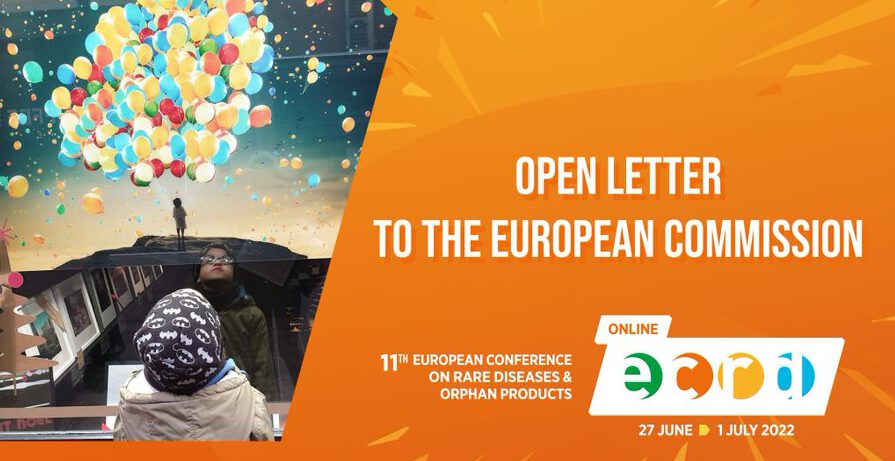 ERN-RND supports Open letter to the European Commission
EURORDIS, alongside 57 partner organisations of the European Conference on Rare Diseases and Orphan Products 2022, co-signed a letter to call on the European Commission to take forward the conclusions of the conference for a European Action Plan on Rare Diseases.
58 organisations – representing patient organisations, learned societies, ERN coordinating centres, health and research groups and initiatives, and industry umbrella groups – signed up to reiterate the conclusions of the Conference.
ERNcare4UA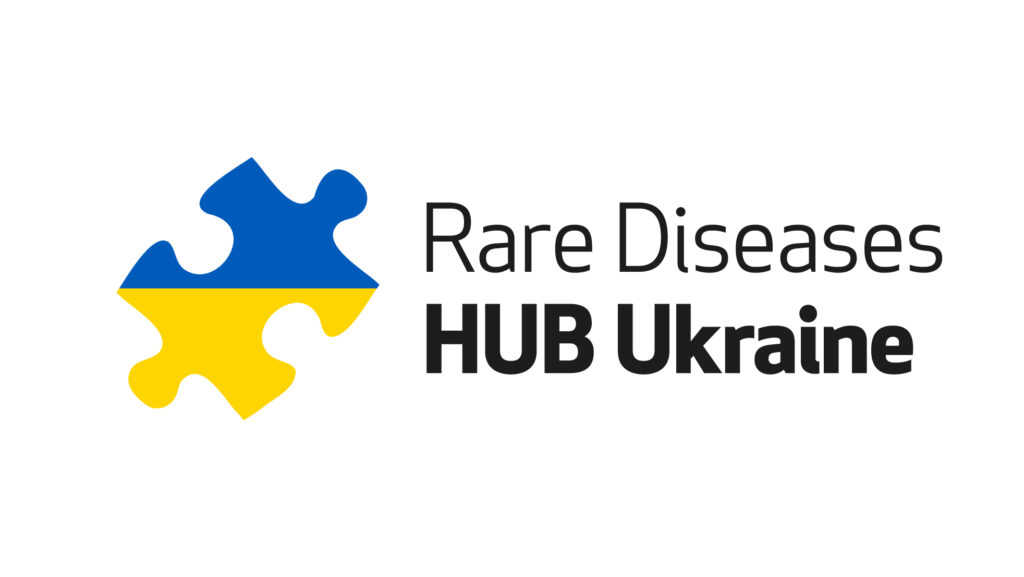 The rare diseases Hub Ukraine connects patients from Ukraine with a rare disease with organizations and hospitals, members of the European Reference Network (ERN), with the aim to provide the specialized medical support they may need during this emergency.

ERN-RND Disease Knowledge
On our website, you can find information about the six Disease Groups covered in ERN-RND.
You can also find the patient journey map for people living with Huntington's disease. Patient Journeys are info-graphical overviews that visualize patients' needs in the care of their rare disease.
The Patient Journey for Huntington's disease was developed together with Astri Arnesen, ERN-RND ePAG representative and president of the European Huntington association, and members of the Disease Group 'Chorea and Huntington's disease'.
WEBINARS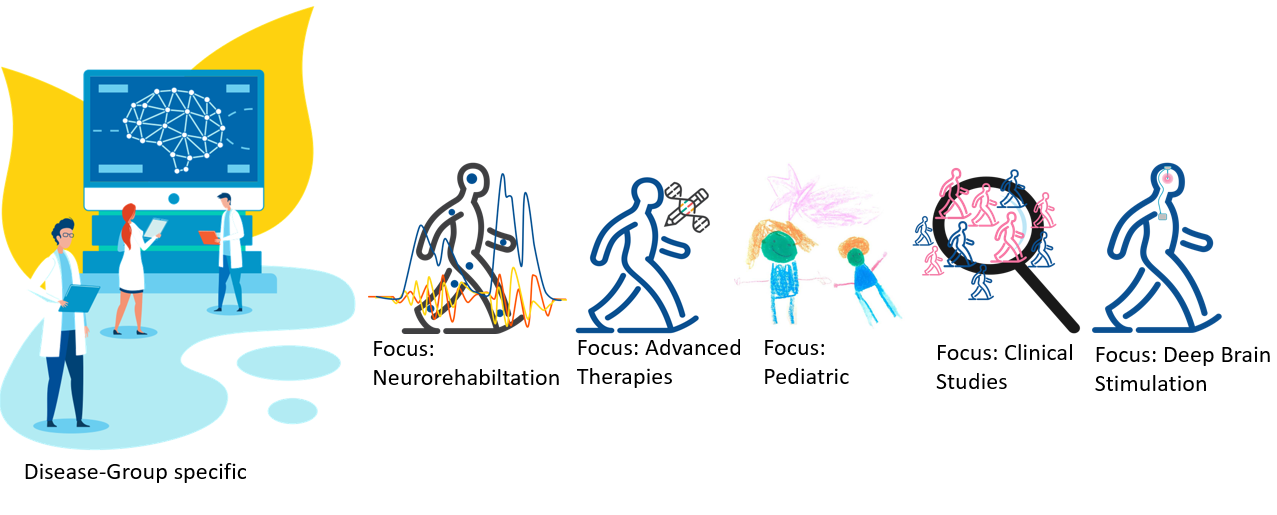 Upcoming joint webinars by ERN-RND, EURO-NMD, EAN:
ERN-RND provides free educational webinars on rare neurological and neuromuscular diseases - in collaboration with the European Reference Network for Rare Neuromuscular Diseases (EURO-NMD) and the European Academy of Neurology (EAN). The goal is to share knowledge on rare neurological, movement and neuromuscular disorders via a series of webinars presented by expert members of both networks.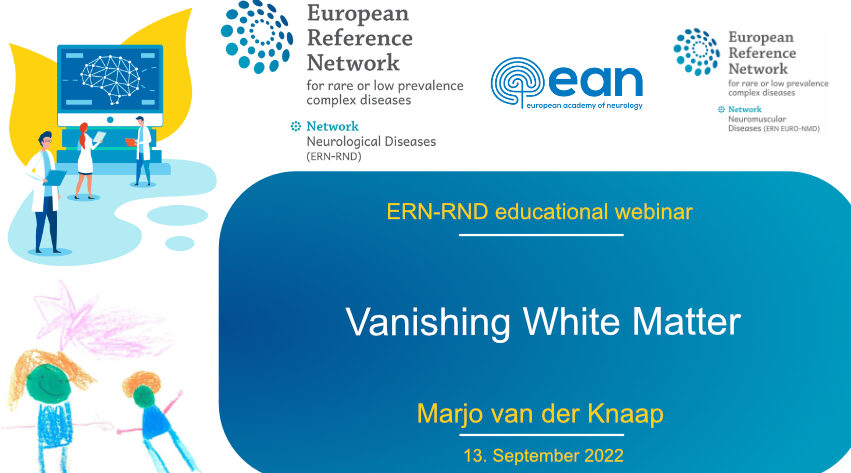 13.09.2022 | 'Vanishing white matter'​ by Marjo van der Knaap, Amsterdam University Medical Center, the Netherlands. SIGN UP here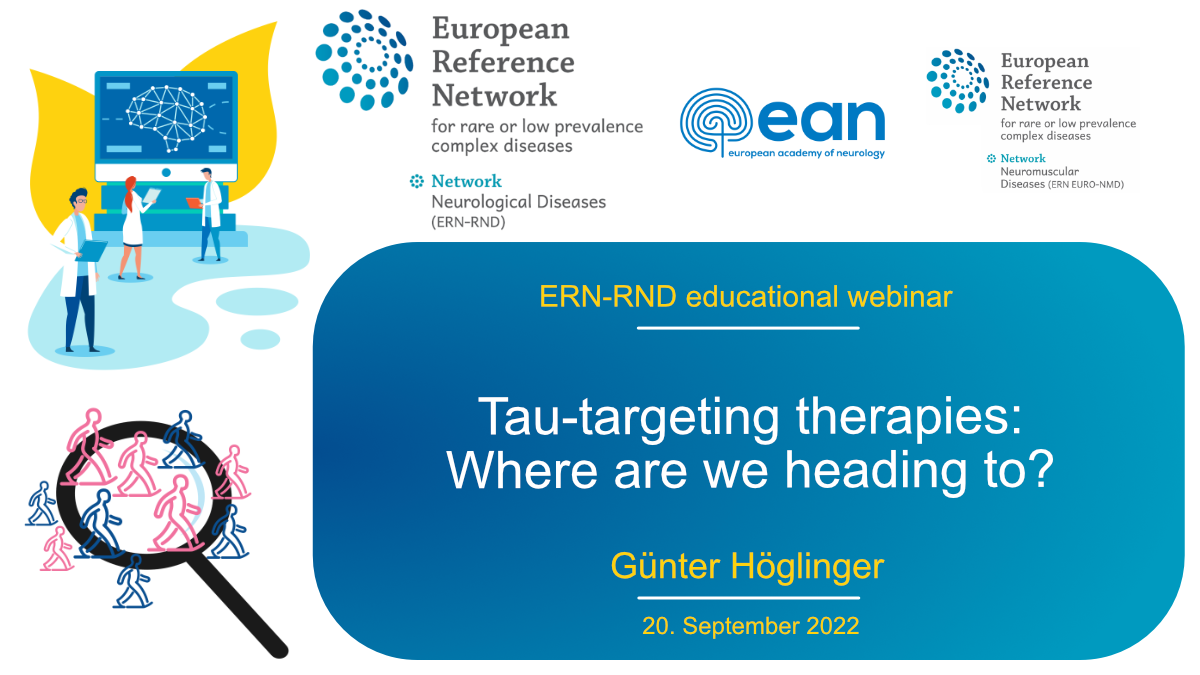 20.09.2022 |'Tau-targeting Therapies: Where are we heading to?' by Günter Höglinger, Hannover Medical School, Germany. SIGN UP here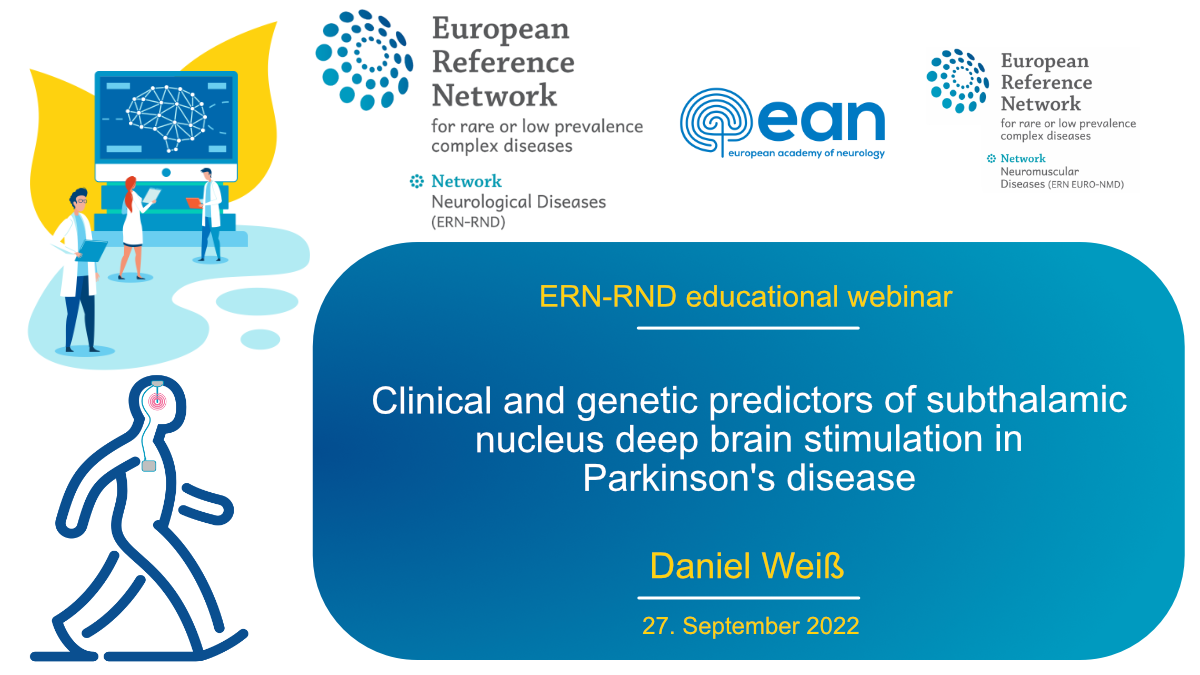 27.09.2022 | 'Clinical and genetic predictors of subthalamic nucleus deep brain stimulation in Parkinson's disease' by Daniel Weiß, Hertie Institute for Clinical Brain Research, University of Tübingen, Germany. SIGN UP here
The slides and recordings of past webinars can be found here and on our youtube chanel.
EURO-NMD Webinar Series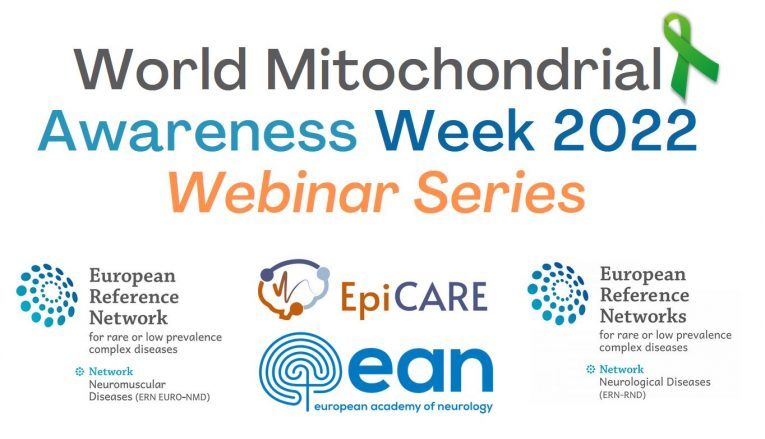 01.09.2022 |'Mitochondrial Epilepsy' by Michelangelo Mancuso, Neurological Institute of the University of Pisa, Italy. SIGN UP here
21.09.2022 |'Mitochondrial Movement Disorders' by Chiara la Morgia, Institute of Neurological Sciences of Bologna, Italy. SIGN UP here
29.09.2022 |'Mitochondrial optic neuropathies' by Chiara la Morgia, Institute of Neurological Sciences of Bologna, Italy. SIGN UP here
ERN-RND Clinical exchange programme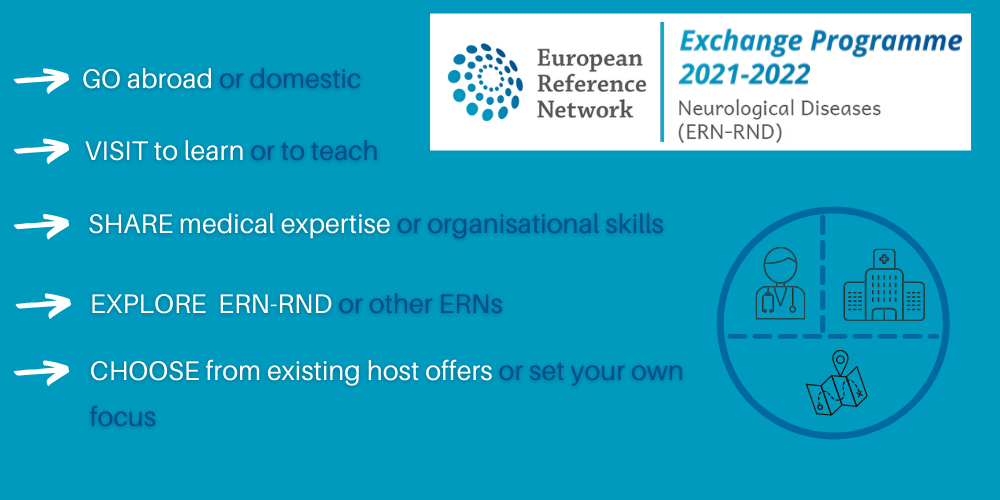 ERN-RND Short Exchange Programme: call for applications! Programme will run until end of 2022
Healthcare professionals such as clinicians, nurses, physiotherapists, etc. who are affiliated to ERN institutions (Full Members or Affiliated Partners) can currently apply for interregional or international exchange. Their secondment to an ERN expert center other than their home institution will emphasise a clinical focus and aims to share, spread and broaden knowledge and to strengthen collaborations. Participants of the Short Exchange Programme are supported in administrative and financial issues and undertake an exchange of up to six weeks.
Exchanges can be undertaken until December 2022
Q&A Sessions:
If you have any further questions you can also join our Q&A Sessions every Tuesday and Thursday between 12:30 and 13:30. These sessions are offered to comprehensively discuss all remaining questions regarding organisation and funding of exchanges. To join the sessions by Microsoft Teams click here or scan the QR Code below.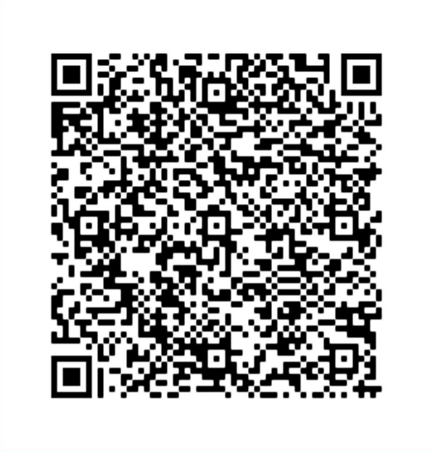 EURODIS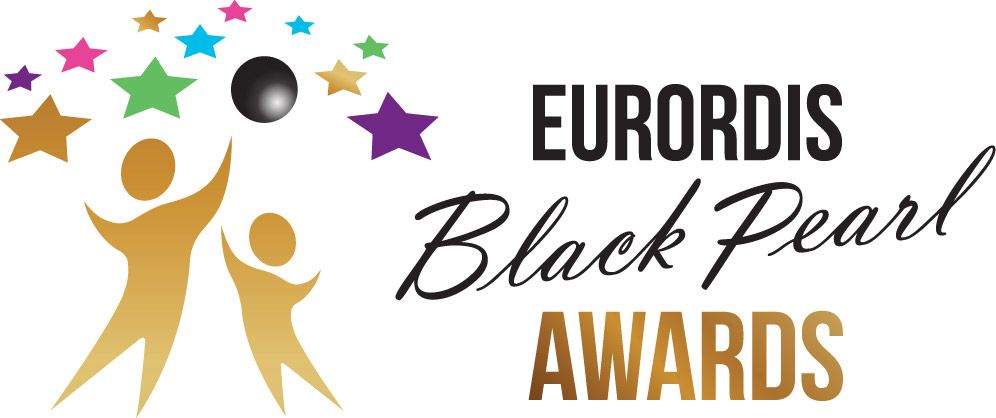 The awards are the perfect opportunity to put the spotlight on those who are making real change in the rare disease community, celebrate their dedication and commitment to the cause and provide them with international recognition for their hard work and incredible accomplishments!


Following your support for previous editions of the event, we would be extremely grateful if you could help us spread the word about the nominations campaign.


SELF NOMINATIONS are also welcome!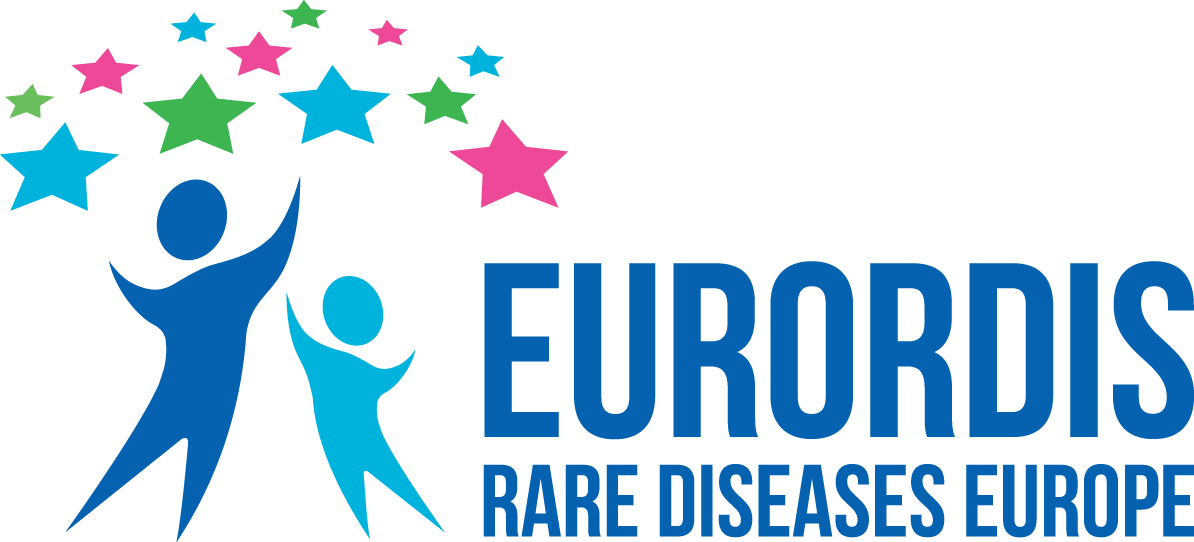 Open Academy online courses
The EURORDIS Open Academy empowers patient advocates with knowledge and skills to take part in patient engagement roles side-by-side with all stakeholders and to advocate for rare diseases on a European and national level.
EJP-RD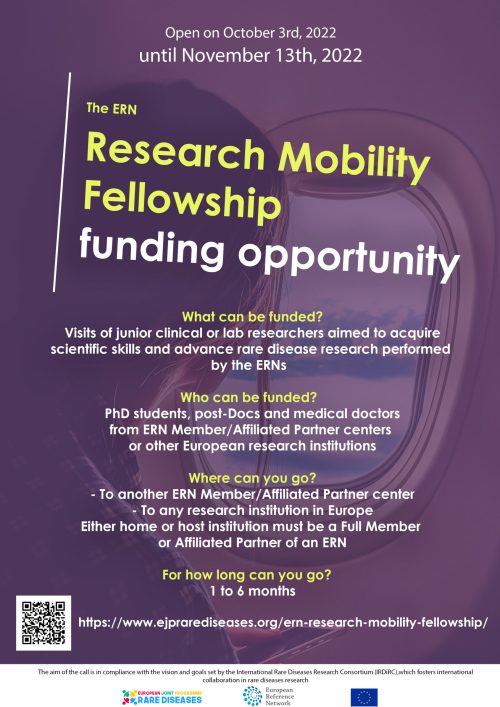 The ERN Research Mobility Fellowships call will open on 03 October

The call for Research Mobility Fellowships aims to support PhD students, Postdocs and medical doctors in training to undertake scientific visits fostering specialist research training outside their countries of residence.
EVENTS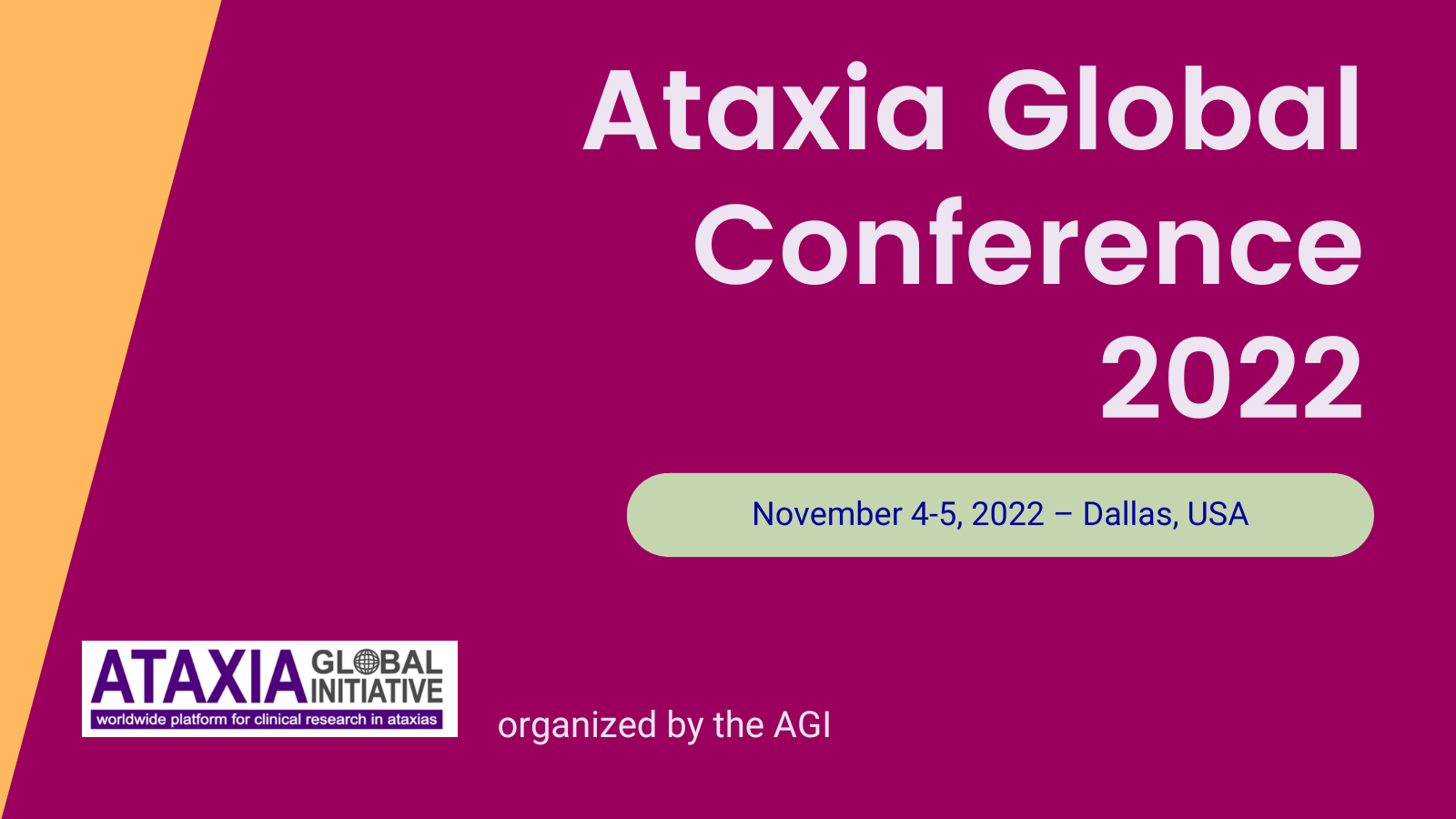 Ataxia Global Conference 2022
The AGI conference brings together academia, industry as well as patient advocacy organizations and will focus on trial-readiness for ataxias.

Frontotemporal dementia is the second most common cause of early onset dementia and a challenging differential diagnosis of Alzheimer's disease whatever the age.
Several pathological subtypes underlie the disease, and genetics plays an important role, which contributes to the devastating impact of the disease on the families, but opens up therapeutic perspectives. Considerable progress has been made over the last 20 years in understanding the molecular basis of FTD and in developing therapeutic approaches.
Paris symposium on Wednesday, November 2nd, 2022

ISFTD Congress in Lille from November 3 to 5, 2022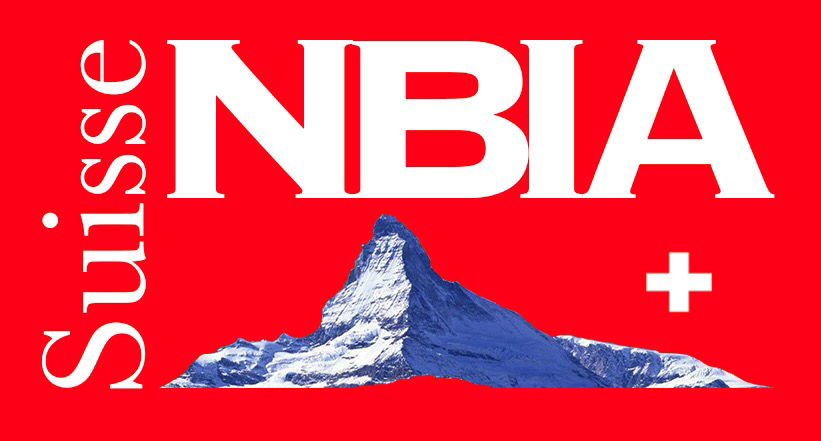 the 8th International Symposium on NBIA, taking place from 13th to 15th October 2022, in Lausanne, Switzerland.


Posters and free communications are welcome. Please find further information about poster abstract submission on the website.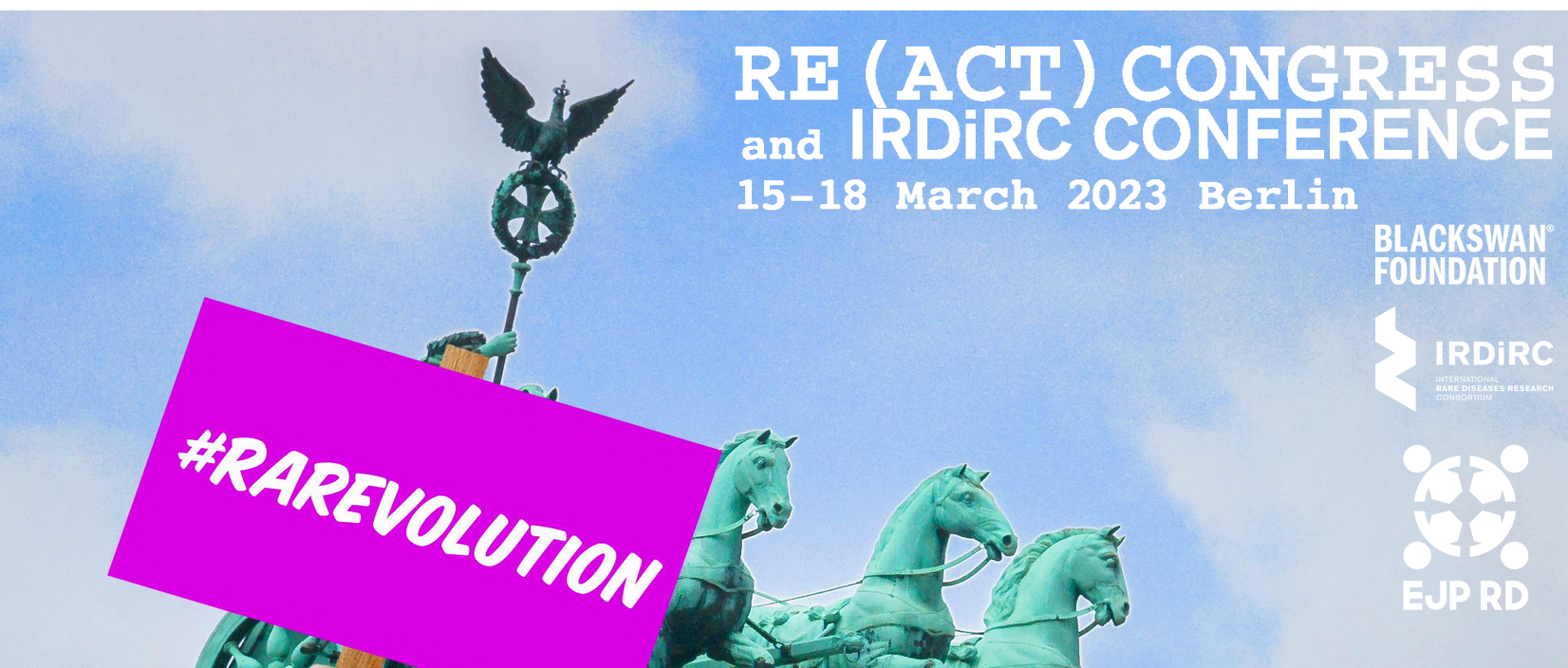 This joint event continues the IRDiRC Conference series (5th edition) and the RE(ACT) Congress series (7th edition). It aims to bring together scientific leaders, experts, and young scientists from various breakthrough scientific fields to present cutting-edge research, exchange ideas, and discuss policies related to rare diseases research. Patients and patient organizations committed to research will also attend to share their experiences and perspectives.
PARTNER ORGANISATIONS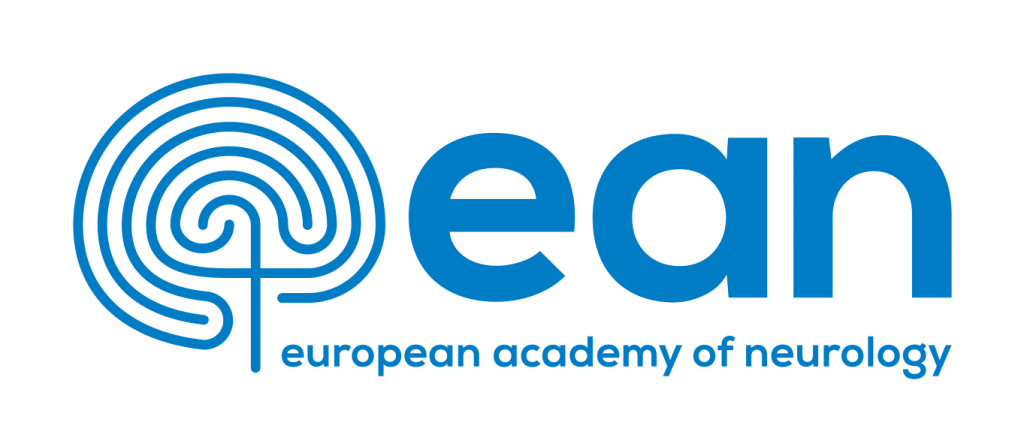 eanCast: Weekly Neurology!
Regardless of experience level, the European Academy of Neurology invites you to join expert moderators and guests in reviewing, discussing, and debating various topics within the 29 EAN sub-specialties. The podcast comes out with new neurological topic every month, and new episodes every Monday.
IRDiRC Report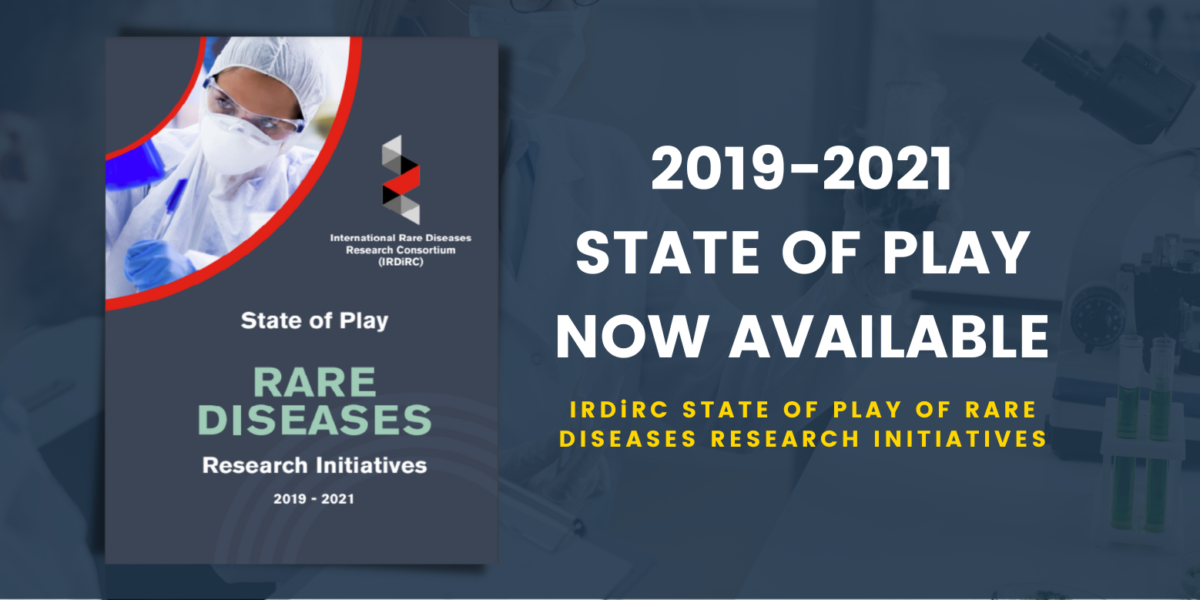 Rare Diseases Research Initiatives State of Play 2019-2021 Report
This report is based on scientific articles and press releases published between 2019 and 2021. It seeks to inform stakeholders and the rare diseases community about the developments and observed trends in the field of rare diseases research.
NEWSLETTER
Thank you for your support and take care.


ERN-RND Coordination team