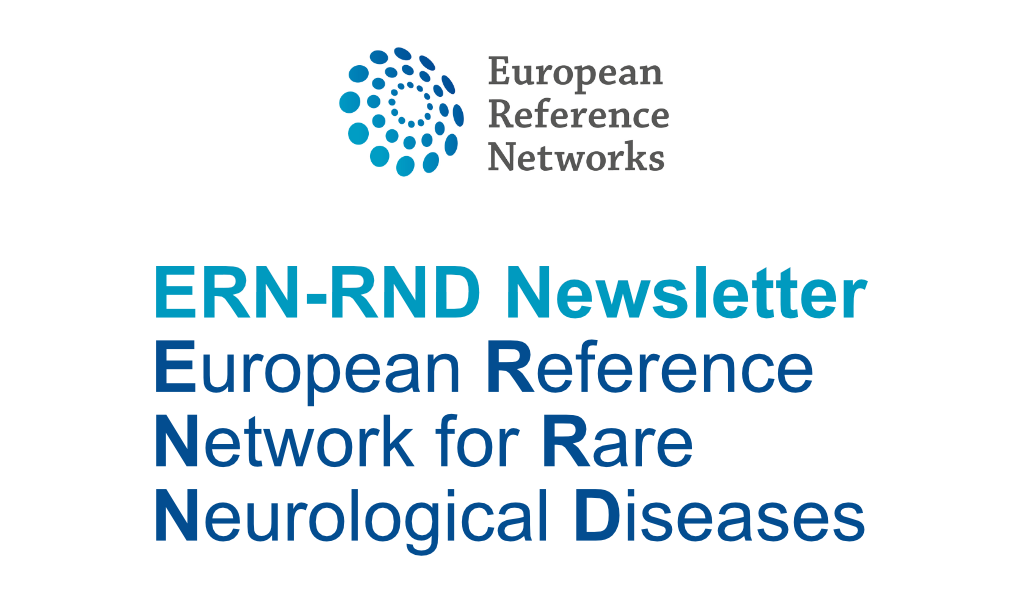 ERN-RND Disease Knowledge
ERN-RND Clinical exchange programme
ERN-RND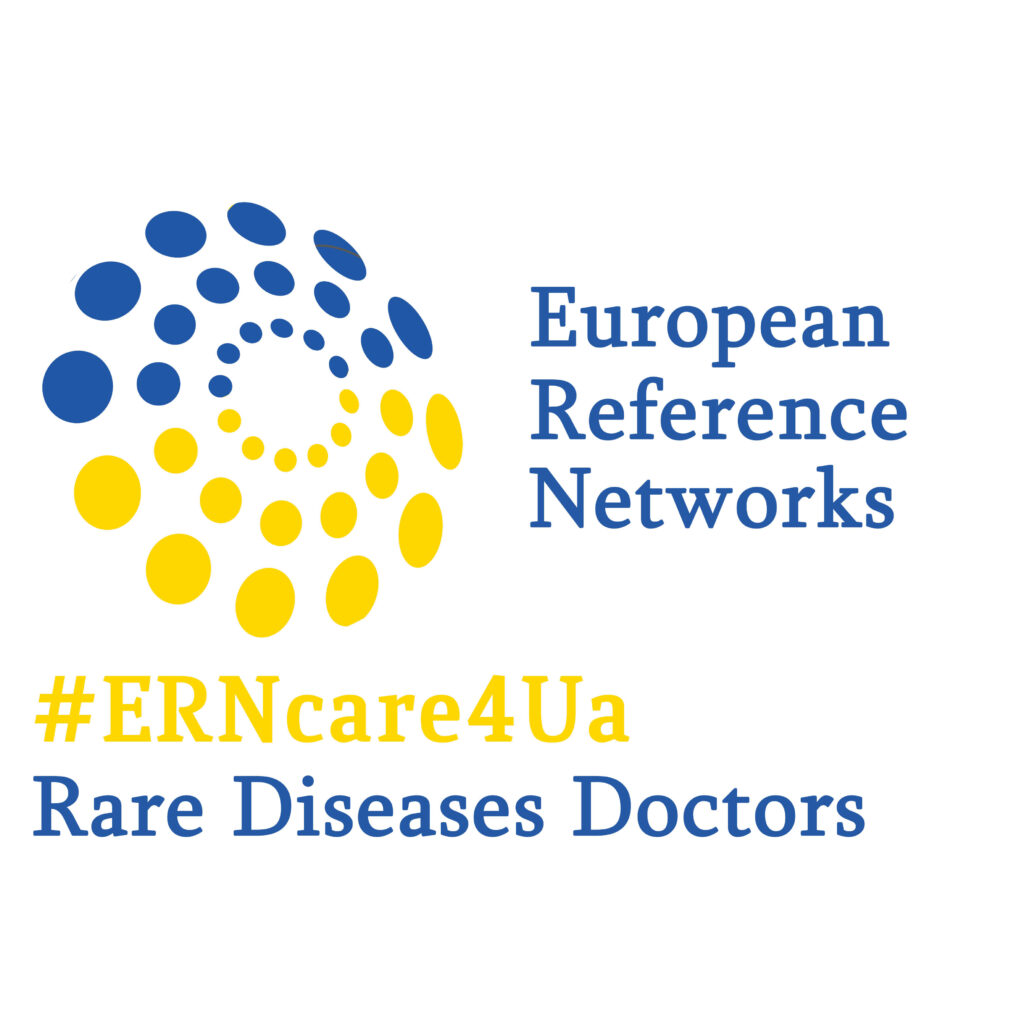 ERNcare4Ua
Our health care providers, particularly those locasted in the countries currently receiving large numbers of refugees, are ready to help Ukrainian patients with reare diseases for specific diagnostic procedures and treatment.

This is a joint initiative of all 24 ERNs.

On our website, you can find information on the six Disease Groups covered in ERN-RND.
WEBINARS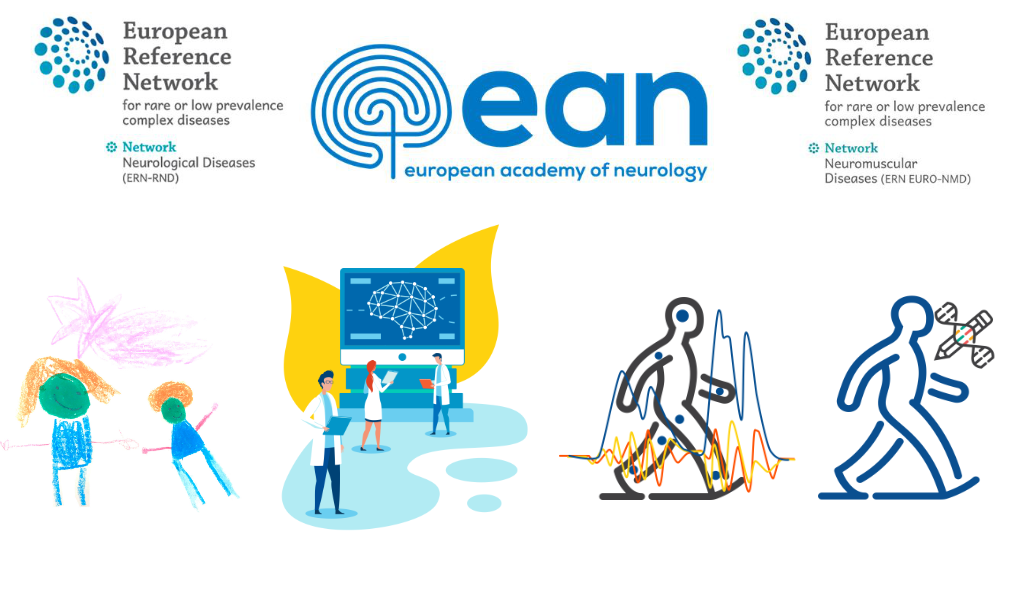 Upcoming joint webinars by ERN-RND, EURO-NMD, EAN until the end of the year:
21.06.2022 | 'Biofluid biomarkers in atypical parkinsonism'​ by Per Svenningsson, Karolinska Institute, Department of Clinical Neuroscience, Stockholm, Sweden. SIGN UP here


24.06.2022, 10-11h CEST | 'Caring HD: the experience of the French National Reference Centre​' by Anne- Catherine Bachoud Levi, Hôpital Henri Monodor APHP, France. SIGN UP here


28.06.2022 | 'Magnetic resonance imaging in the diagnostic assessment of cerebellar ataxias' by Jennifer Faber, German Center for Neurodegenerative Disorders, Bonn, Germany. SIGN UP here


05.07.2022 | 'Young onset Parkinson's disease - What is the difference?' by Bart Post, Radboud University Medical Center, Nijmegen, the Netherlands. SIGN UP here


12.07.2022 | 'Importance of autopsies in leukodystrophies'​ by Marianna Bugiani, Amsterdam University Medical Center, the Netherlands. SIGN UP here


13.09.2022 | 'Vanishing white matter'​ by Marjo van der Knaap, Amsterdam University Medical Center, the Netherlands. SIGN UP here


20.09.2022 |'Tau-targeting Therapies: Where are we heading to?' by Günter Höglinger, Hannover Medical School, Germany. SIGN UP here


27.09.2022 | 'Clinical and genetic predictors of subthalamic nucleus deep brain stimulation in Parkinson's disease' by Daniel Weiß, Hertie Institute for Clinical Brain Research, University of Tübingen, Germany. SIGN UP here


04.10.2022 | 'CACNA1A-related disorders: clinical presentation and therapeutic options', by Elisabetta Indelicatto, Medical University Innsbruck, Austria, SIGN UP here


11.10.2022 | 'Krabbe disease – natural history and treatment options' by Ingeborg Krägeloh-Mann and Samuel Gröschel, University Hospital Tübingen, Germany. SIGN UP here


18.10.2022 | 'DBS in Dystonia – Targets, programming and therapeutic challenges' by Philipp Capetian, University Hospital Würzburg, Germany. SIGN UP here


25.10.2022 | 'VPS13A and XK bulk lipid transfer diseases (formerly the now obsolete Levine-Critchley syndrome)' by Adrian Danek, University Hospital Munich, Germany. SIGN UP here


08.11.2022 | 'When is it appropriate to suspect a metabolic disorder in a child with chorea?' by Juan Dario Ortigoza, Sant Joan de Déu, Barcelona, Spain. SIGN UP here


08.11.2022 | 'Telerehabilitation in RND: an update' by Luigi Lavorgna, University Luigi Vanvitelli, Neaples, Italy. SIGN UP here


22.11.2022 | 'Use of Biomarkers to monitor the presymptomatic phase of Genetic FTD: research advances for clinical trial readiness' by Dario Saracino and Harro Seelaar, Brain and Spine Institute, Paris, France; Erasmus MC- Rotterdam, the Netherlands. SIGN UP here


29.11.2022 | 'DBS in acquired Dystonia' by Anne Koy, University Hospital Cologne, Germany. SIGN UP here


06.12.2022 | 'Update in synuclein PET tracer development' by Johannes Levin, University Hospital Munich, Germany. SIGN UP here


TRAINING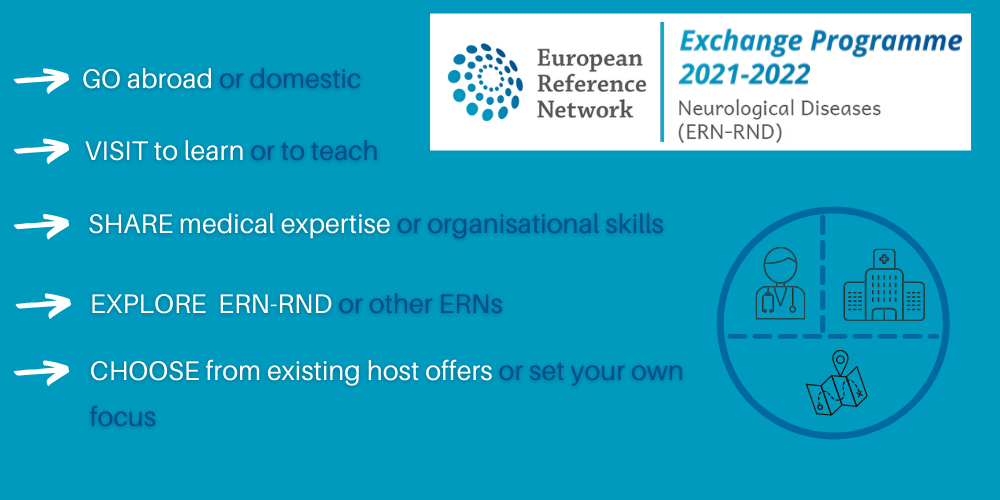 ERN-RND Short Exchange Programme: call for applications!
Healthcare professionals (clinicians, nurses, physiotherapists, etc.) affiliated to ERN institutions (Full Members or Affiliated Partners) can receive organizational and financial support for secondments with clinical focus lasting up to six weeks in ERN expert centres other than their home institution, supporting the sharing of knowledge and stimulating collaboration.


More information about the programme can be found on our

website.


Exchanges are possible until December 2022.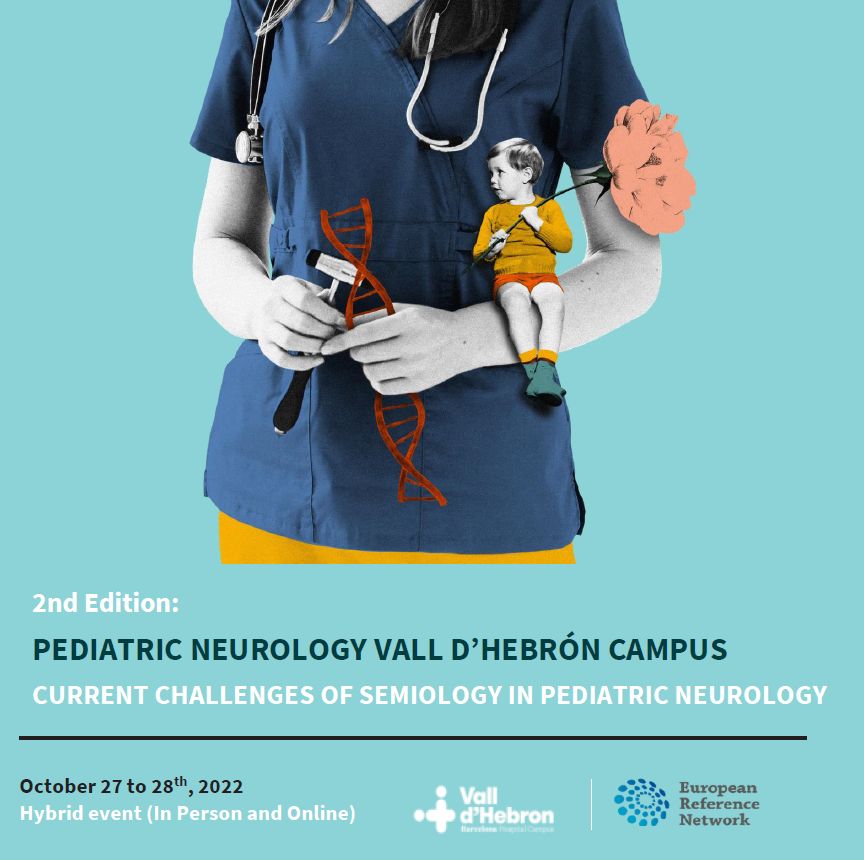 Hybrid Course " Current challenges of semiology in pediatric neurology"
Vall d'Hebron, Barcelona, Spain

Catania International Summer School of Neuroscience "Rare diseases and neuroscience"
This is to announce the forthcoming Catania International Summer School of Neuroscience CISSN (July 18-22, 2022) organized by the International Ph.D. Program of Neuroscience, University of Catania, focused on "RARE DISEASES & NEUROSCIENCES".
The CISSN will offer a high level, intensive educational program carried out by an excellent international faculty to 40 Ph.D. students, postdoc fellows and residency's students in genetics, pharmacology, neurology or psychiatry.
The main aim of the CISSN 2022 is to bring together junior European fellows and expert investigators working on different aspects of Rare Neurological Diseases, from clinical perspectives to multiomics approaches, and to provide a forum for new directions and ideas in RNDs field. The meeting will combine research lectures by leading neuroscientists from Europe and aims to encourage active discussions and exchange of information and ideas between seniors and young fellows.
Applications open, the deadline is 20th June, 2022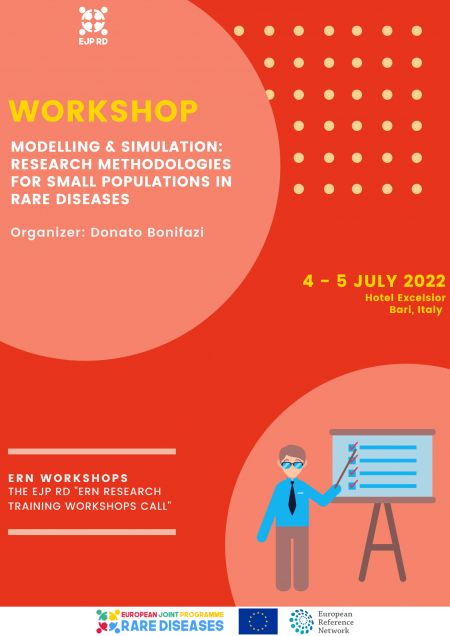 EJP RD funded ERN-Workshop' "Modelling & Simulation: Research Methodologies for Small Populations in Rare Diseases", 4-5. July 2022, Bari, Italy
Target audience: PhD students, post-doc researchers, senior scientists, young clinicians, investigators and academics affiliated to the ERNs, or willing to enter in the rare disease networks, expert in (or interested in learning more about) data science and machine learning techniques as applied to computational biology, toxicology profiling and PK/PD modelling in small populations."


- Learn the application of web platforms for in-silico assessment of toxicity and learn the utility of a machine learning approach for the prediction of developmental toxicity of chemicals.
- Learn what is needed for translational preclinical studies.
- Learn the utility of PK/PD modelling and simulation in drug development for small populations.
For more information and to register, please visit:
FUNDING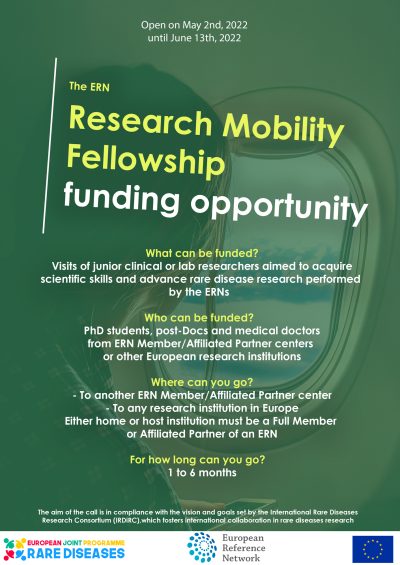 If you have a research project on rare diseases and you would like to conduct it or a part of it at an ERN expert center, you can apply for a mobility exchange fellowship covering travel and accommodation up to 6 months. Applications are possible until the 13. June 2022. For further information visit:
ERICA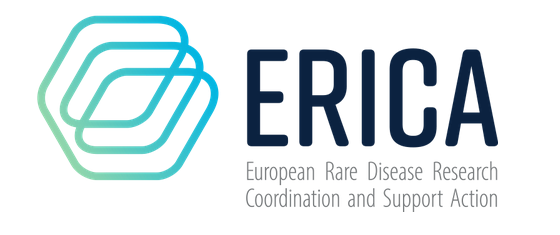 ERICA aims to promote collaborative inter- ERNs research projects. It is therefore crucial to have a centralised location to announce any new project and search for collaborators. A specific web page has been created for this purpose on the ERICA website Research Wall (Please note that the current page only contains examples).
It provides basic information about the open calls for collaboration as well as contact details of the project PI. If you have any new inter- ERN project that you wish to advertise via this research wall, please fill the excel file with the project you wish to advertise and return to us.
Please note that only inter- ERNs collaborative projects will be advertised via this research wall.
The new projects will be regularly announced in the ERICA newsletters and twitter. Additionally, if you wish to receive updates directly by email, we kindly ask you to register here:


The new projects will be regularly announced in the ERICA newsletters and twitter. Additionally, if you wish to receive updates directly by email, we kindly ask you to register here
EVENTS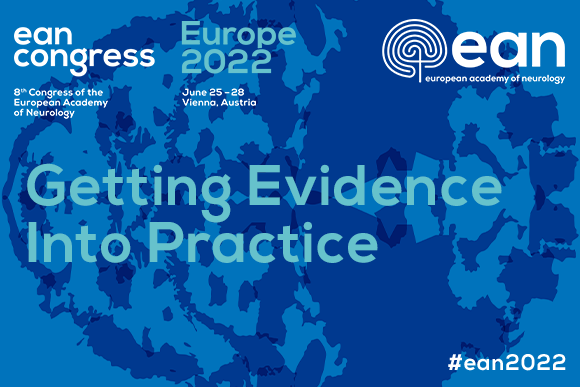 8th Congress of the European Academy of Neurology - Europe 2022
Date: 25 - 28 June 2022
Venue: Vienna, Austria


We are looking forward to meet you at our booth X531 in the exhibition hall!


11th European Conference on rare disases and orphan products
Date: 27 June - 01 July 2022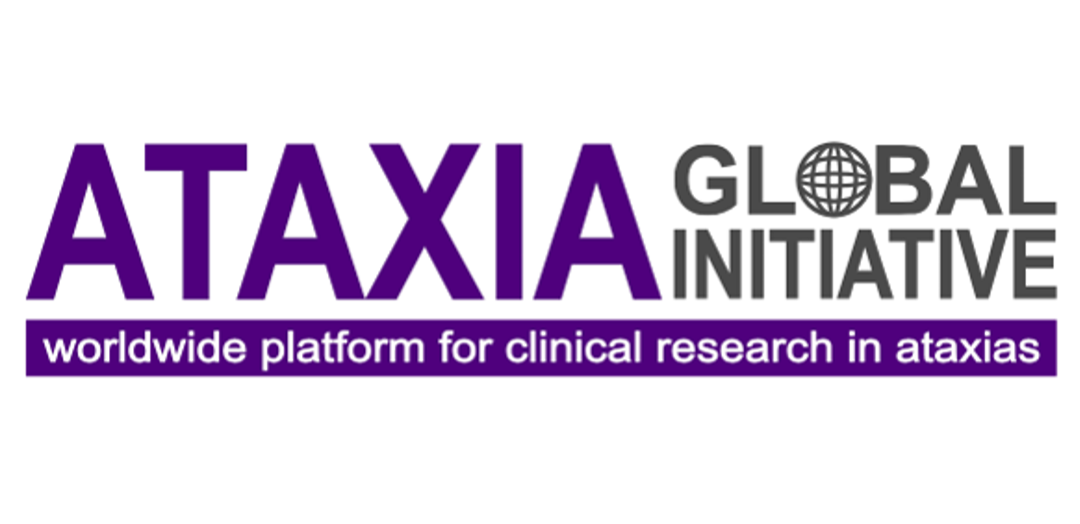 Ataxia Global Conference 2022
The Ataxia Global Initiative (AGI) Conference will be held at Renaissance Dallas Addison Hotel in Dallas, Texas, USA on November 4-5, 2022, directly following the International Congress for Ataxia Research (ICAR). It brings together academia, industry as well as patient advocacy organisations and will focus on trial-readiness for ataxias.
Poster abstract submission and Young Investigator Travel Award applications can be submitted until 13 June.
More information and registration here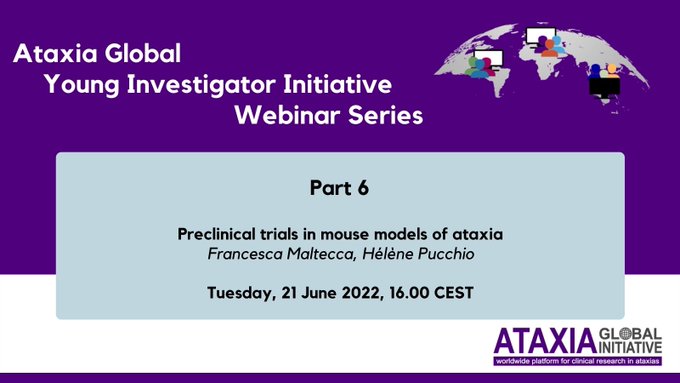 AGI Webinar: Preclinical trials in mouse models of ataxia
Date: 21 June, 4 pm (CEST)
Venue: Online
PARTNER ORGANISATIONS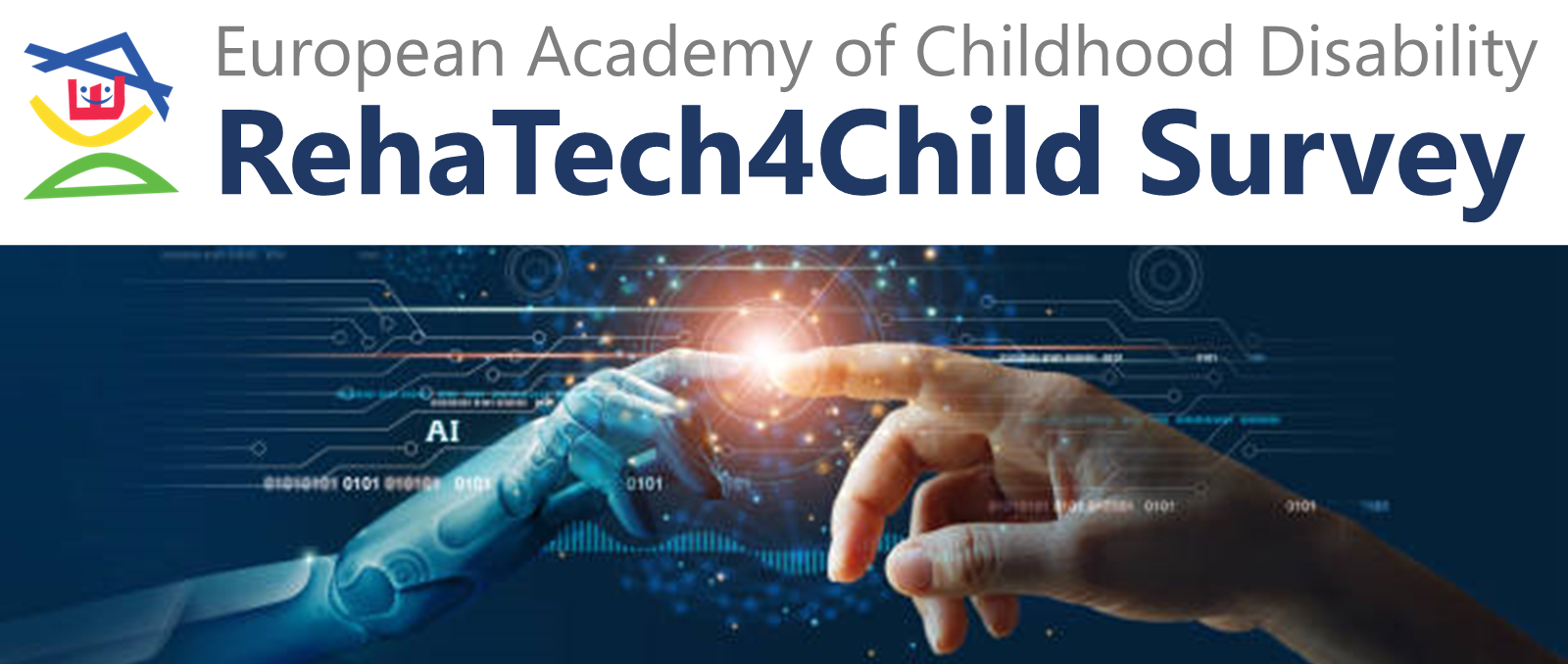 The European Academy of Childhood Disability (EACD) would kindly like to invite professionals across Europe to participate in the RehaTech4Child Survey! The aim of the RehaTech4Child survey is to identify the digital technologies (e.g., robotic devices and treadmill systems, virtual reality and gaming systems, telehealth) that are used in clinical practices throughout Europe, and to know more about how rehabilitation professionals use or not use digital technologies in motor rehabilitation practices within the paediatric population. This knowledge would eventually help in designing the future technological developments based on the feedback from rehabilitation professionals. To identify today what is needed to create a better tomorrow for people with a childhood-onset disability and their families.

EACD has set-up an Advocacy Group for Ukraine. It aims to bring together people, information, resources and support for children with disabilities from Ukraine. This contains among other providing information for families on support available in different European countries and Co-ordinating delivery of equipment. For more information, please follow the links below.


NEWSLETTER
Thank you for your support and take care.


ERN-RND Coordination team