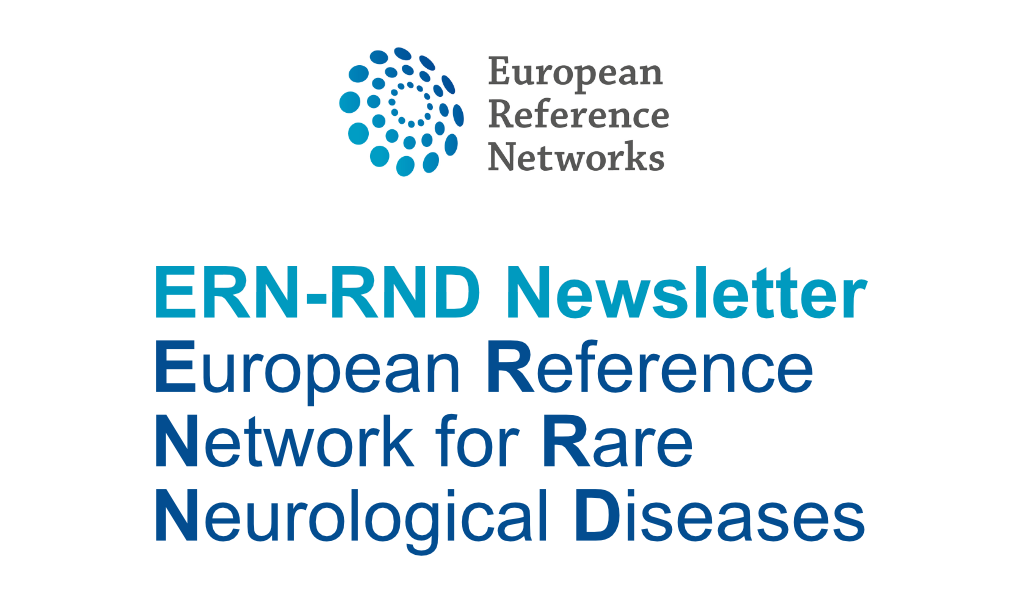 We hope you enjoyed the Summer break. We are back to work, looking forward to the ERN-RND annual meeting on September 19th and 20th. Everybody is invited to register for online-participation to the public part. Please see below.
The ERN-RND Coordination team
Content
XXVI World Congress of Neurology
EESC Conference on Rare Diseases
EACD Conference 2024 – Abstract submission open
ERN-RND Annual Meeting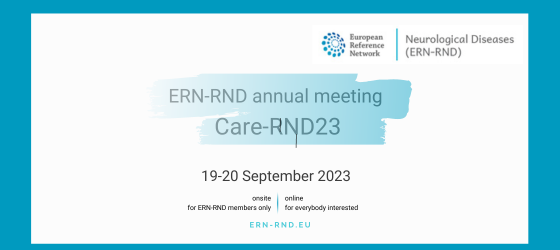 Our ERN-RND annual meeting is coming soon. The non-internal part on 19 September is open for online participation to anyone interested!
11:00 CET
Welcome and overview of ERN-RND.
Holm Graessner (
University Hospital Tübingen)
11:30 CET The VALOR-Trial – a breakthrough for SOD related ALS.
Albert Ludolph
(University Hospital Ulm)
12:00

CET

Patient journeys.
Monika Benson and John Gerbild
(ERN-RND patient representatives)
14:30

CET
Genetic diagnosis and technological advancements.
Alex Hoischen
(
Radboud University Medical Centre, Nijmegen)
15:00

CET
External Quality Assessment for Next-Generation Sequencing Testing in RND.
Ales Maver
(
University Medical Centre Ljubljana)
15:30 CET
Genetic strategies of the future, using the example of the Deep Intronic FGF14 GAA Repeat Expansion in Late-Onset Cerebellar Ataxia.
Stephan Zuchner
(Miller School of Medicine, Miami)
17:00 CET
DBS in dystonia.
Sylvia Boesch
(Medical University Innsbruck)
17:30 CET Current practices regarding HSCT in metachromatic leukodystrophy in Europe and treatment eligibility panels.
Nicole Wolf
(Amsterdam UMC)
17:50 CET Ups and downs of therapy development in HD.
Bernhard Landwehrmeyer
(University Hospital Ulm)
MLD Treatment Eligibility Panels in ERN-RND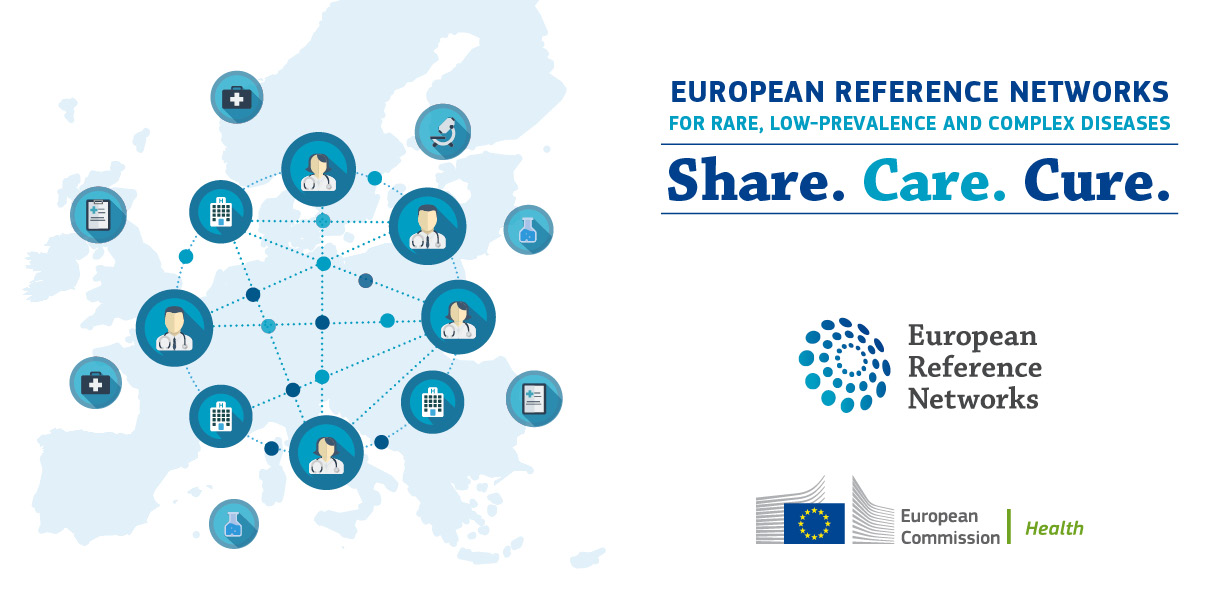 In cooperation with the MLD initiative, ERN-RND established a standard pathway for consulting an international MLD expert panel whenever possible benefits of treatment with hematopoietic stem cell transplantation or gene therapy are not straightforward for a patient with confirmed MLD diagnosis. Upon submission of an eligible case, the treatment eligibility panel is convened on an ad hoc basis, organized and supported by the ERN-RND CPMS helpdesk.
We encourage all physicians in Europe to discuss the possible benefits of treatment options for difficult cases with this MLD expert panel.
You would like to discuss one of your patients with the panel?
ERN-RND Webinars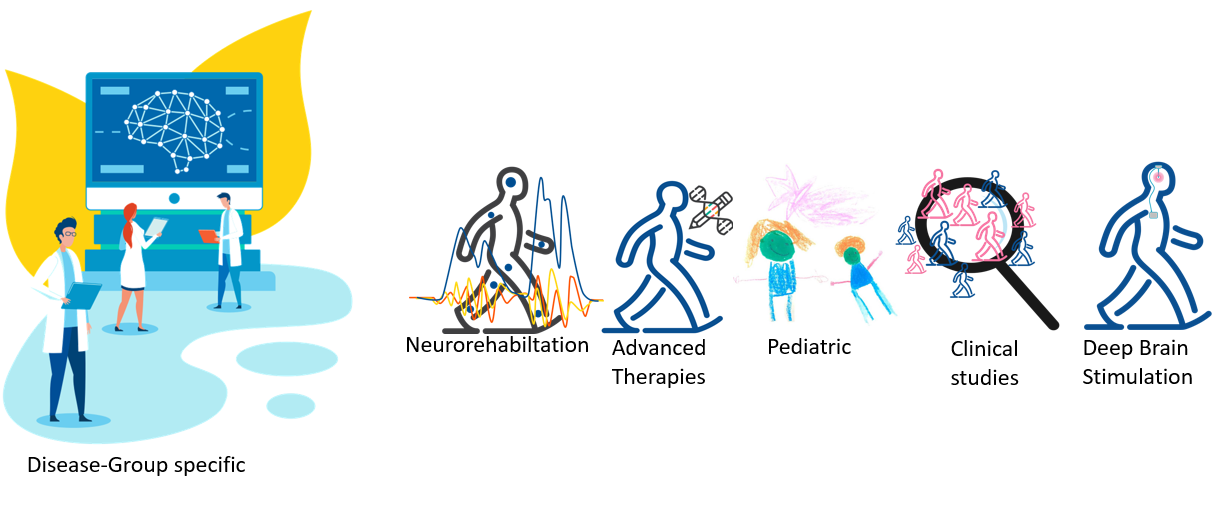 Upcoming joint educational webinars

ERN-RND provides free educational webinars on rare neurological and neuromuscular diseases - in collaboration with the European Reference Network for Rare Neuromuscular Diseases (EURO-NMD) and the European Academy of Neurology (EAN). The goal is to share knowledge on rare neurological, movement and neuromuscular disorders via a series of webinars presented by expert members of both networks.
10 October 2023, 3-4 pm CET '
Advanced therapies and clinical trials in Leukodystrophies
' by Caroline Sevin (Reference Centre for Leukodystrophies, University Hospital Bicetre, Paris, France) & Nicole Wolf (Amsterdam Leukodystrophy Center, VUMC- Amsterdam University Medical Centers, Netherlands)
Webinars by Ataxia Global Initiative

Interested in ataxia research? Register now for AGI YII webinars:
iScience: AGI YII Webinar Series on Hot Topics
Explore Your Future in Ataxia Research
Speakers: Fay Horak (Oregon Health and Science University, USA); Winfried Ilg (University of Tuebingen, Germany) - WG4 Digital-motor biomarkers
Tuesday, 19 September 2023, 5-6pm CEST
Speakers: Filippo Santorelli (Pisa, Italy), David Mengel (Tübingen, Germany), Puneet Opal (Chicago, USA) - WG2 Molecular biomarkers & biosampling
Tuesday, 24 October 2023, 5-6 pm CEST
XXVI World Congress of Neurology

Registration for the XXVI world congress of Neurology in Montreal is open until 26 September.

EESC - Conference on Rare Diseases

The European Economic and Social Committee (EESC) under the auspices of the Spanish Presidency of the EU Council and in cooperation with the authorities of the Basque Country is organising a major conference on Rare diseases and European Reference Networks. It will take place on 10-11 October 2023 in the Euskalduna Conference Centre in Bilbao, Spain.
Registration deadline is 22nd September.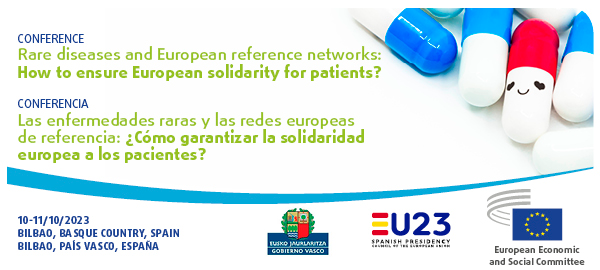 EACD Conference 2024


NEWSLETTER
The ERN-RND Newsletter is published monthly. Please forward this newsletter to your colleagues who can also sign up to receive it directly here or by emailing communication@ern-rnd.eu
Thank you for your support and take care.


ERN-RND Coordination team