Successful closure of the ERN-RND Short Exchange Programme
We are pleased that we were able to bring together 17 visitors and 13 hosts from 13 different countries across Europe to collaborate in a variety of educational areas. They made the programme very valuable and useful!
The ERN-RND Short Exchange Programme ran from 2021 to the end of 2022. A number of exchanges will still take place by the end of January. In cooperation with Ecorys Ltd. and the EU HaDEA we established the programme for young researchers to gain experience and knowledge about patient care. 13 host institutions shared their expertise in one or more of a wide range of training areas with the visitors.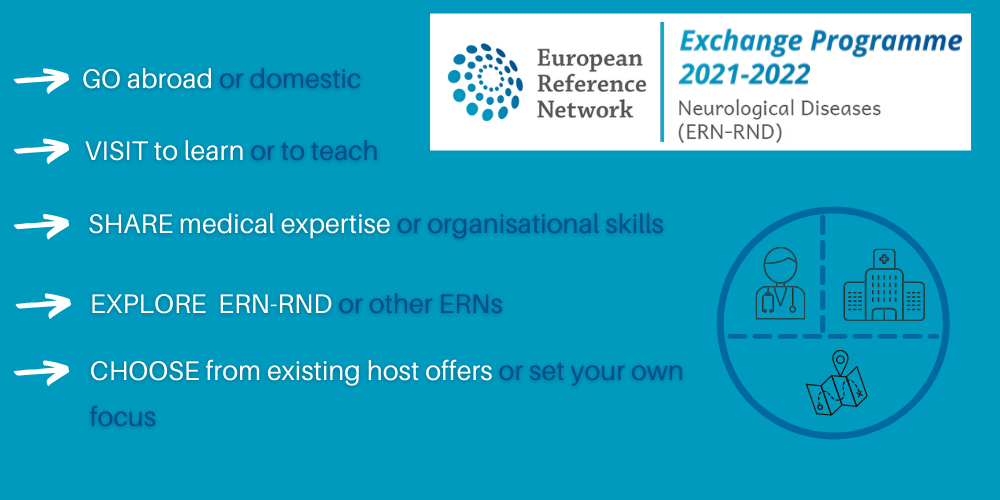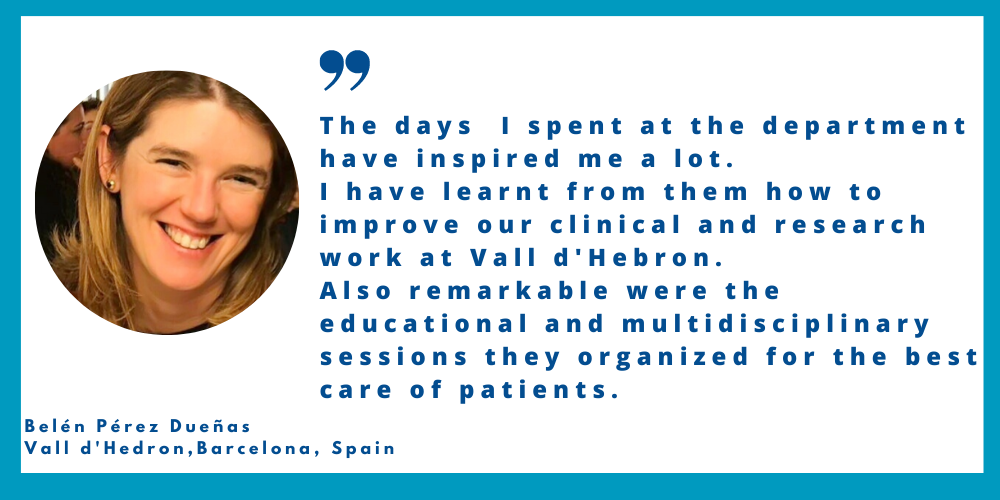 What it is about
In short:
·       Sharing knowledge and stimulating collaborations
·       Administrative and financial support (funding)
·       Different scopes: DBS for dystonia, autonomic failure in atypical parkinsonism, neurorehabilitation and others (by demand and availability)
The Exchange Programme 2021-2022, funded by the European Commission, aims to support the sharing of knowledge and stimulate collaboration between health care professionals in European Reference Networks (ERNs). These goals are achieved e.g. by defined trainings in research or working groups or by participation in meetings and conferences that cannot be funded otherwise.
In the coming two years, Healthcare Professionals affiliated to ERN institutions (Full Members or Affiliated Partners) will receive organizational and financial support for secondments in ERN expert centers other than their home institution. The objective of the ERN Exchange Programme is thereby to palliate specific knowledge or fill potential expertise gaps by facilitating the arrival of high-level expertise in a considerable number of diseases to a big number of Healthcare Providers.
The first round of visits will start in March 2021 and the programme ends in December 2022.
Applications can be submitted anytime and should be submitted at least eight weeks prior to the planned secondment.
The ERN-RND has identified Deep Brain Stimulation (DBS) for dystonia patients, autonomic failure in atypical parkinsonism, and neurorehabilitation as the topics most urgently in need of knowledge dissemination across expert centres. Applications focusing on other themes can be selected in duly justified cases. A repeated demand on a specific topic may lead to adding that topic as a priority to the list of already identified themes.
Who is eligible
In short:
·       Healthcare professionals of ERN-RND member institutions are welcome to participate
·       Exchanges need to be hosted by a ERN member institutions
Healthcare professionals across disciplines (e. g. neurologists, physiotherapists, nurses…) working in ERN-RND Full Member or Affiliated Partner institutions can apply for funding of their exchange visit. Find a list of our members here.
The host institution must also be an approved ERN member at the time the application is submitted as well as during the proposed period of the training stay.
Applications from centers currently improving their expertise in DBS for Dystonia, autonomic failure in atypical parkinsonism or neurorehabilitation planning to visit established centers accordingly are preferred.
About the course
In short:
Find a recapitulatory timeline of the exchange course here
First, an appropriate host institution is chosen and connected with. Exchange details, e.g. timeframe and goals, will then be discussed and set. An application should be submitted at least 2 months in advance of a planned exchange and comprises the individual exchange details, for example. Afterwards, the application will be reviewed by the ERN-RND Selection Committee and the European Health and Digital Executive Agency (HaDEA). When the application is approved, a Mobility Agreement is set between all parties (participant, host institution and ERN-RND Exchange coordinator). Finally, travel tickets and accommodation are booked in accordance and in collaboration with Ecorys Ltd.
The stay must optionally be scheduled for 5, 10, 15 etc. up to 30 working days due to funding regulations (see below). Exchanges longer than 30 working days are also possible in exceptional and well-justified cases.
Whom to visit
In short:
·       Some hosts are offering specific exchange options already that are summarised in the host offers list
·       All ERN member institutions can be visited according to an appropriate scope
Some institutions with long-standing experience in DBS as treatment for dystonia, autonomic failure in atypical parkinsonism or neurorehabilitation have already offered to host a visitor. Find their offers here.
If your institution is willing to host a fellow, please let us know!
Thank you for sharing your knowledge with the network!
You can contact other ERN-RND expert centers or contact us for support to find a host.
In addition to the ERN-RND other ERN expert centers might offer relevant neurorehabilitation therapies eligible for funding by the ERN-RND exchange programme, especially ERN EuroNMD and EpiCARE expert centers. Members of other ERNs interested in visiting an ERN-RND Healthcare Provider should generally apply at their ERN network for support.
How does funding work
In short:
·       Per diems including subsistence and travel expenses defined as 200€ per night
·       Five per diems are defined as a package
·       An exchange can optionally be reimbursed by 1 to 6 packages
·       Ecorys Ltd. manages reimbursement and booking of travel tickets
·       Accommodation is autonomously booked
Financial compensation is granted in packages. A package compensates for subsistence expenses of five working days by per diems and also for travel expenses. Per diems (defined as 200 € per night spent) should be used to cover the cost of accommodation, food and local transport. Applicants can obtain a maximum of 6 packages per visit by means minimum 5 and maximum 30 working days. Wire transfer of the corresponding lump sum will be performed without delay upon arrival at the host institution.
Ecorys Ltd will manage and support travel arrangements, including the provision of tickets and an information kit.
Beneficiaries are expected to book their accommodation and cover the costs from the per diem compensation.
Please note that the programme does not compensate the hosting institutions for any effort and expenses on their side.
How to apply
Please make sure to read the requirements ("Who is eligible" section) and the timeline before applying.
Applications must be submitted via the online-application form which is open from March 2021 to November 2022.
Please note that applications must be submitted at least two months prior to the planned secondment in order to ensure planning and processing.
A successful application contains:
Your personal details and your home institution's address
Information about your host institution
Appropriate knowledge of required languages
The period and duration of your exchange
Motivation and objectives of your exchange (less than 300 words)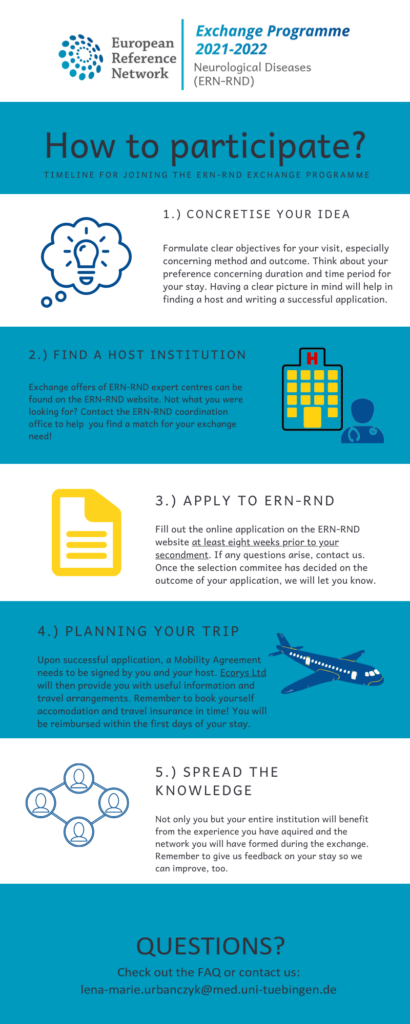 More information
We are currently offering Q&A Sessions every Tuesday and Thursday between 12:30 and 13:30. These sessions serve to comprehensively discuss any remaining questions, e.g. regarding organisation, funding and course of exchange. To join the sessions by Microsoft Teams click here or scan the QR Code on the right.
Additional information is also collected here: