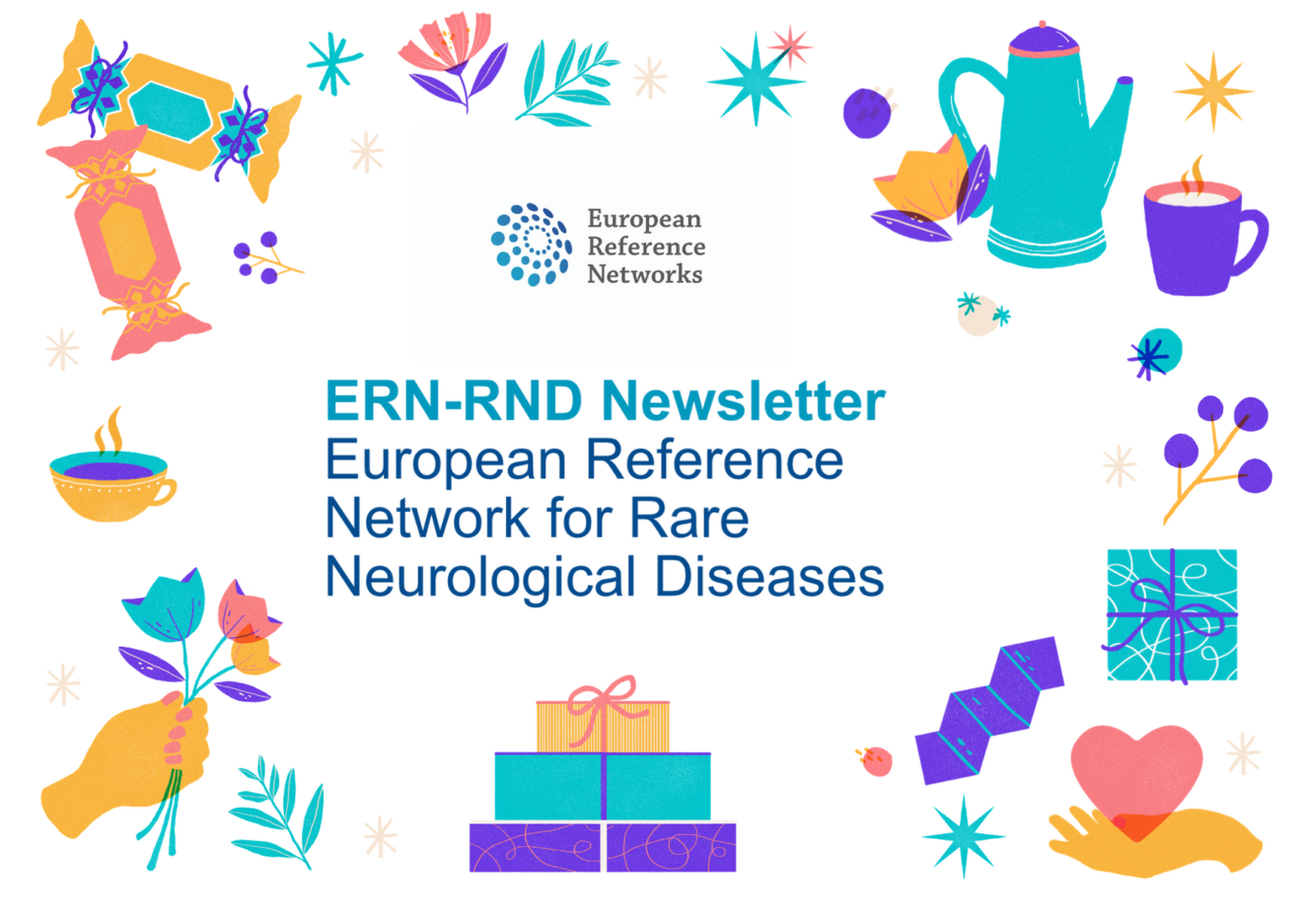 The ERN-RND team send their best wishes for the winter holidays and new year!


This is 2020's last ERN-RND Newsletter and we will be back at the beginning of 2021 with more news on the network and the field of rare neurological diseases.


ERN-RND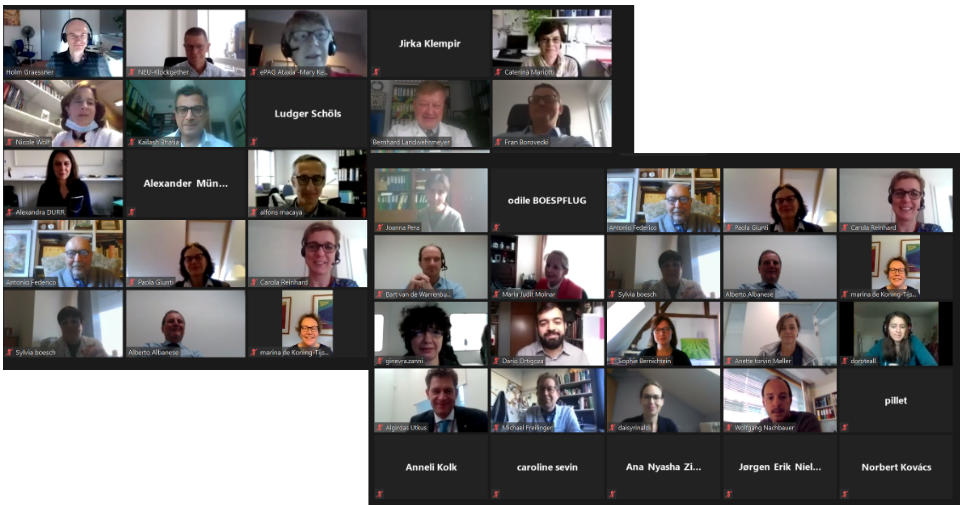 The ERN-RND (fall) Board Meeting took place virtually on 18 November. It was a productive meeting with several updates from our network & clinical coordinators, project & training managers, ePAG patient representative Mary Kearney and Disease Group (DG) coordinators.
Some of the items discussed:

Monitoring/Reporting
Network expansion process
Update of activities by 6 DGs
Updates of cross-cutting activities including progress of the Paediatric issues WG + Neurorehabilitation WG, the CPMS, Education and training, Value of Treatment project, ERN-RND Registry, ePAGs terms of reference
Thank you all for your input & collaboration!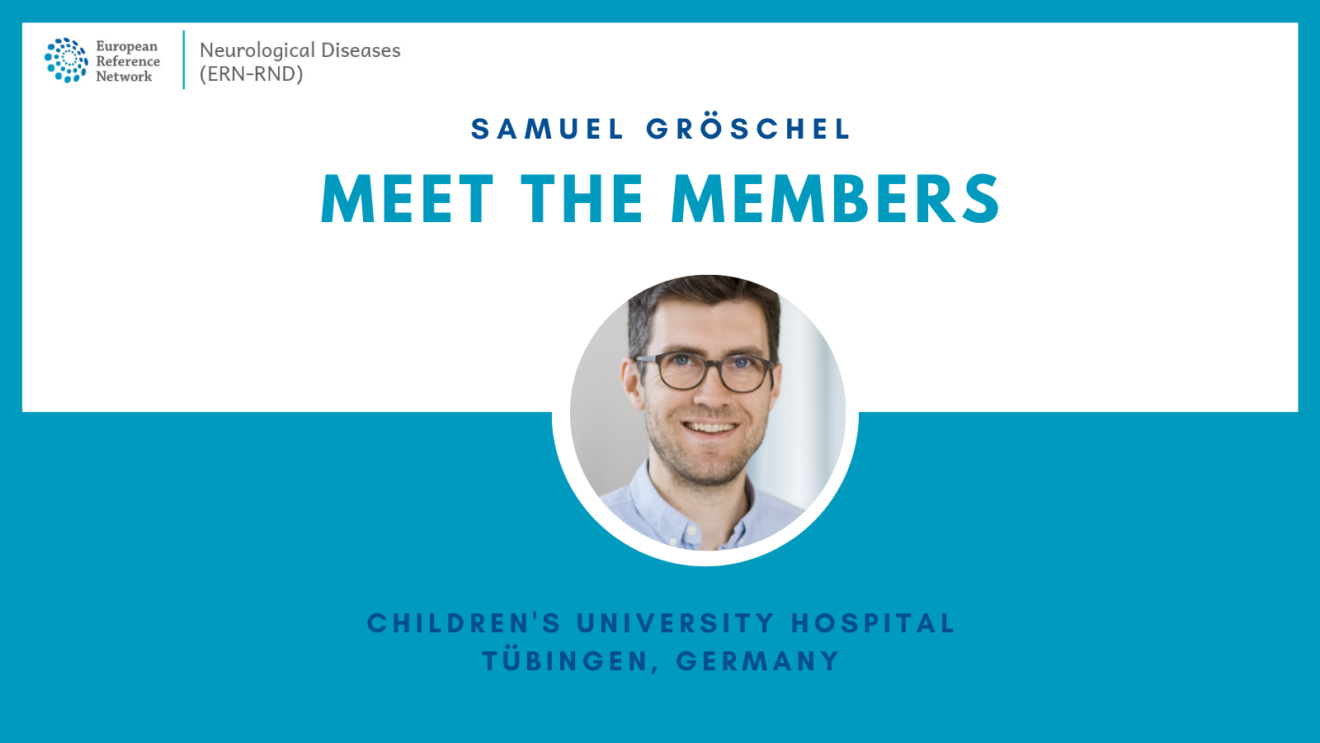 Meet the members - interview with Samuel Gröschel
We are pleased to introduce "Meet the members", a series of interviews with ERN-RND members which will be sharing in the future. We hope that these will be helpful in getting to know our members, their work in their respective hospital and within their specific field as well as ERN-RND.
The first interview of the series is with Samuel Gröschel, child neurologist at the University Children's Hospital in Tübingen, Germany.
YOUR SUPPORT IS NEEDED


Support for a European Health Union
We would like to invite you to sign the manifesto for a European Health Union to

strengthen our call to all Members of Parliaments and European leaders for a better EU role in health

. The objectives of a European Health Union in a nutshell:

Strive for the health and wellbeing of all Europeans
Strengthen solidarity within and among Member States
Ensure environmental sustainability
Provide security for all Europeans
Enable everyone's voice to be heard
It also includes rare diseases.
Please share around you for as many people as possible to sign so that all our voices can be heard.
WEBINARS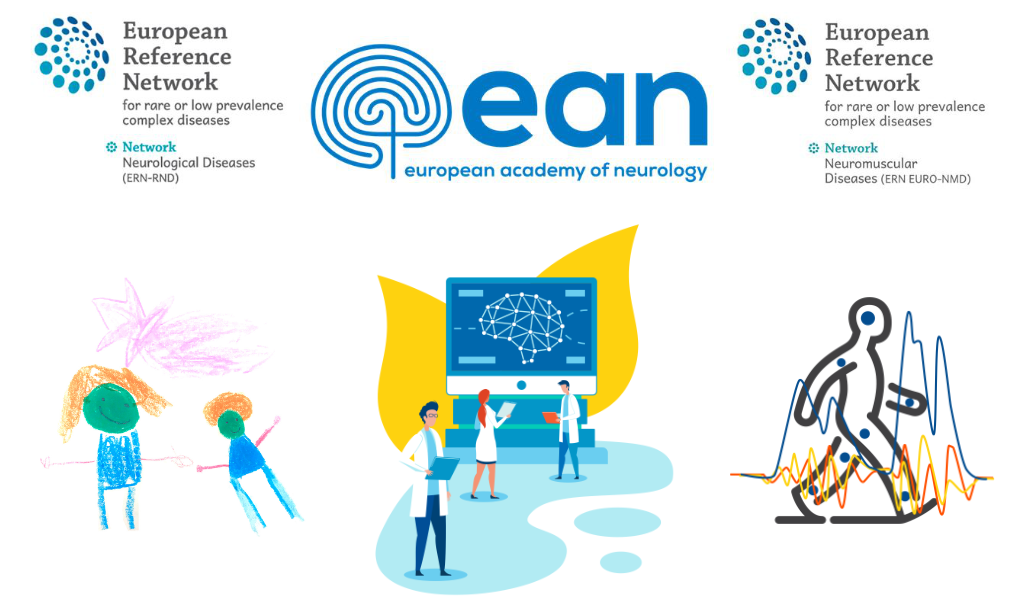 Upcoming joint webinars by ERN-RND, EURO-NMD, EAN
ERN-RND webinar, 26 January 2021, 3-4pm CET, Manage Progressive Supranuclear Palsy – Update on Diagnostics, Biomarkers and Therapies, Günter Höglinger (Medical University Hannover, Germany). Sign up here.
ERN-RND webinar, 2 February 2021, 3-4pm CET, Genetic dystonia and treatment, Sylvia Boesch (Medical University of Innsbruck, Austria). Sign up here.
ERN-RND webinar, 9 February 2021, 3-4pm CET, Rare Disease Natural History Studies: Experience from the GNAO1 Natural History study in a pre and postpandemic world, Amy R. Viehoever (Washington University, Saint Louis, USA. Sign up here.
HUNTINGTON'S DISEASE


Dancing at the Vatican – a Huntington's documentary
This is an inspiring and touching documentary following Huntington's families from Latin America on their trip to Rome where they are welcomed by His Holiness Pope Francis to the Vatican. Becoming the biggest ever global event for Huntington's Disease, the story gives a message of hope to those who have suffered for too long from stigma and isolation. HIDDEN NO MORE!
Please share this video (subtitles available in 5 languages) with your contacts to help raise awareness of Huntington's Disease.
CPMS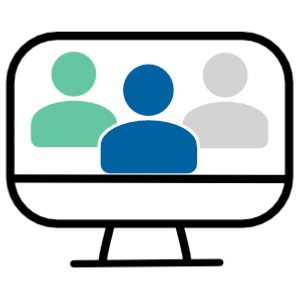 CPMS patient case discussions
We are happy to report that 3 patient case discussions addressing 9 patient cases have taken place in November within the Disease Groups (DG) "Ataxia & HSP", "Dystonia, NBIA and paroxysmal disorders" and "Atypical Parkinsonism" on the CPMS.
ERN-RND affiliated partners from Riga, Zagreb and Innsbruck gathered virtually with other ERN-RND member clinicians from Leuven, Milan, Lübeck and Tübingen to talk about complex cases. This was a great opportunity for our members to share knowledge and experience with one another and highlights some of our network's core principles: cross-border healthcare and knowledge sharing.
Collaboration between healthcare professionals for the benefit of the patient is key: we encourage all our members to take advantage of this unique opportunity for dialogue and advice!
We thank all the experts that have participated and highly appreciate their involvement and contributions.
SURVEY

Symptoms of ataxia and hereditary spastic paraplegia (HSP)
The PROSPAX project, which launched in September 2020, is a novel collaborative effort between neurologists across Europe, including the UK, and Canada. The PROSPAX project will focus on two conditions - ARSACS and SPG7 and aims to study the progression of spastic ataxias over time.
This survey is open to anyone with any type of ataxia or hereditary spastic paraplegia (HSP) and information gathered will help researchers involved in the PROSPAX project to plan their research.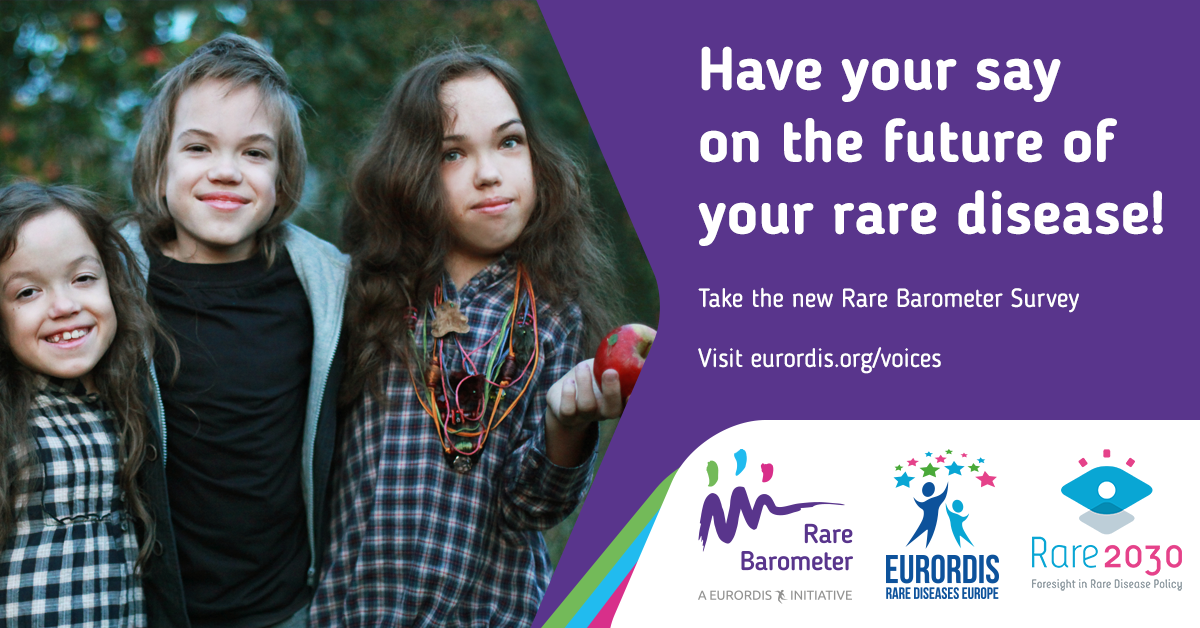 Make your voice heard: take the new Rare Barometer survey on the future of your rare disease!
The new Rare Barometer survey on the future of your rare disease is now live.
This survey, part of the Rare 2030 foresight study, will enable EURORDIS to gather your opinion on the future of your rare disease and give them the possibility to communicate facts and figures to decision-makers, so that your opinion is taken into account when shaping the future of rare diseases.
It should take no more than 15 minutes to complete and closes on 4 January 2021. This survey is open to people living with a rare disease and their family members from any country in the world. It is translated in 23 languages.
ATAXIA GLOBAL INITIATIVES


SCA & ARCA Global Online Conference 2020
CAMPAIGN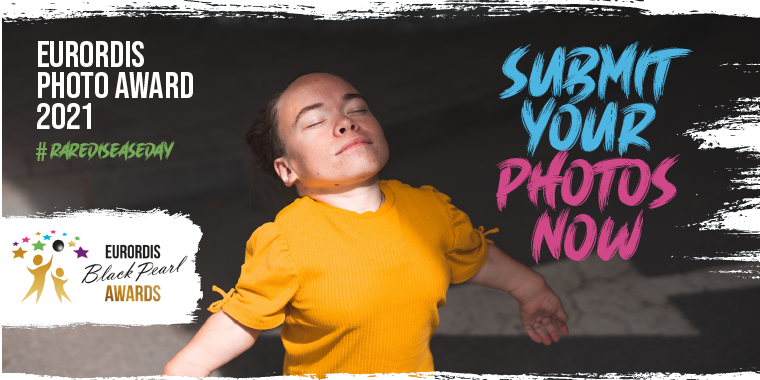 EURORDIS Photo Award 2021
The EURORDIS Photo Award is an opportunity to visually express what it means to live with a rare disease and to share your story with the rare disease community and beyond. Five finalists will be chosen by the award-winning photographer Marcus Bleasdale.
The contest is open to all nationalities, ages and diseases.
PAST EVENTS
Annual meeting for BRAIN-TEAM patient organisations
The Annual meeting for BRAIN-TEAM patient organisations ("6ème journée des associations de patients BRAIN-TEAM") took place online on 24 November covering the latest network updates and activities. The event has been recorded and the videos are now available (in French) on their YouTube channel.
BRAIN-TEAM is the French network for rare diseases of the nervous system with a cognitive or motor expression and is an ERN-RND member.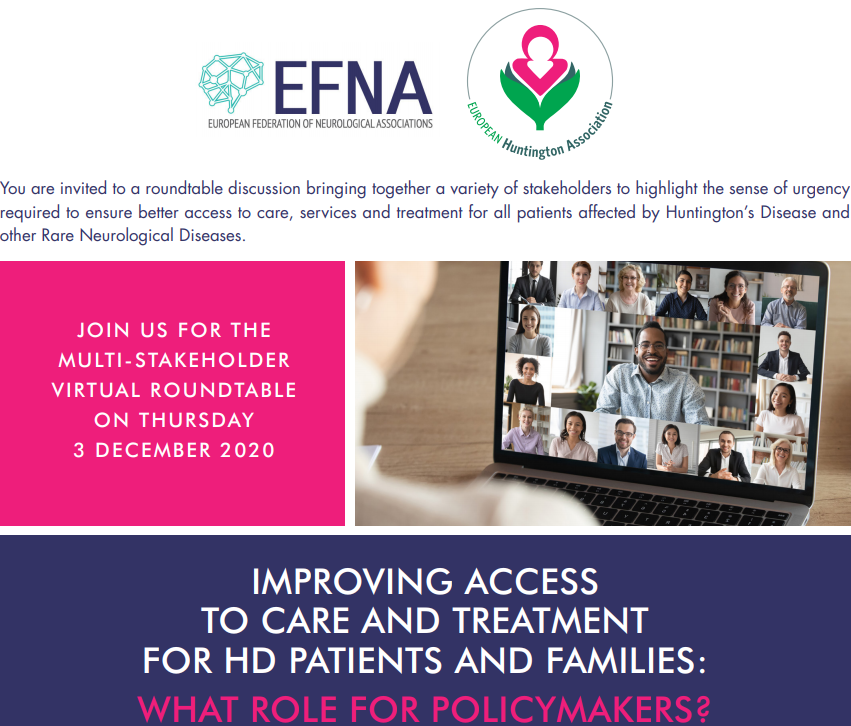 Improving access to care and treatment for HD patients and families: what role for policymakers?
ERN-RND coordinator Holm Graessner participated to the virtual "Round table discussion - Improving access to care and treatment for HD patients and families: what role for policymakers?" on 3 December. ERN-RND ePAG patient representative and European Huntington Association (EHA) President Astri Arnesen co-chaired the event.


EVENTS

RE(ACT) Congress & IRDiRC Conference 2021
Event: RE(ACT) Congress & IRDiRC Conference 2021
Date: 13-15 January 2021
Location: Online
This event will bring together scientific leaders and experts and young scientists from a variety of breakthrough scientific fields to present cutting-edge research, exchange ideas, and discuss policies related to rare diseases research. Patients and patient organizations will also attend.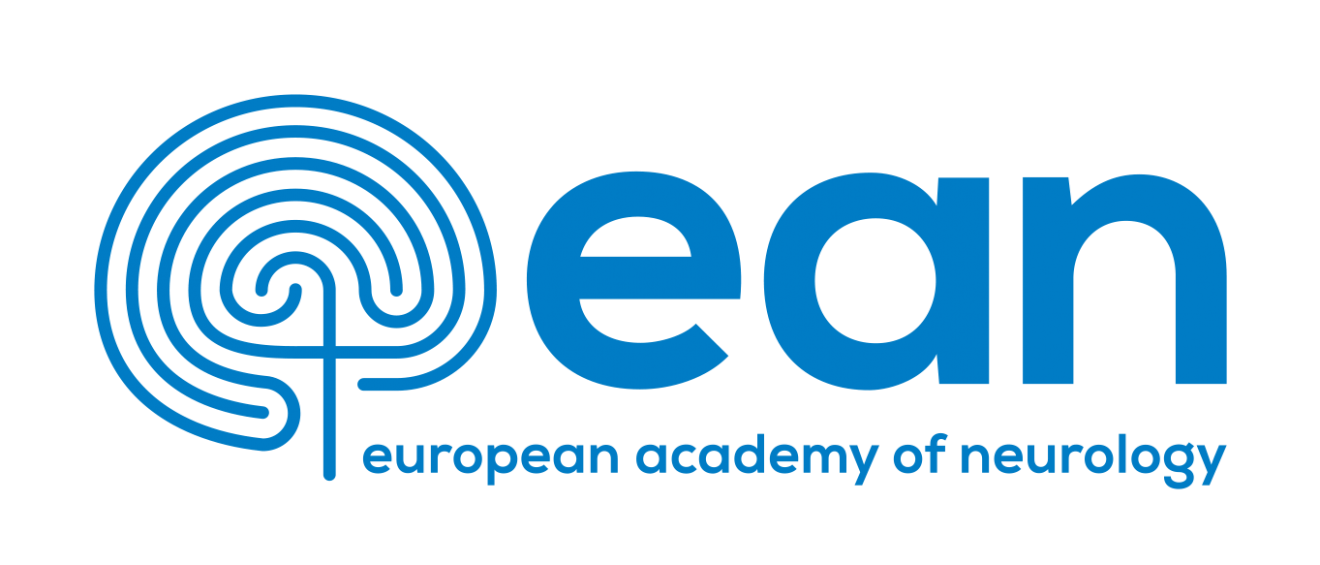 EAN Congress 2021 goes virtual

The 7th European Academy of Neurology Congress which will take place on 19-22 June 2021 will be held virtually. Read the letter of EAN's President Claudio L. Bassetti here announcing the change in format/venue.
RECENT PUBLICATIONS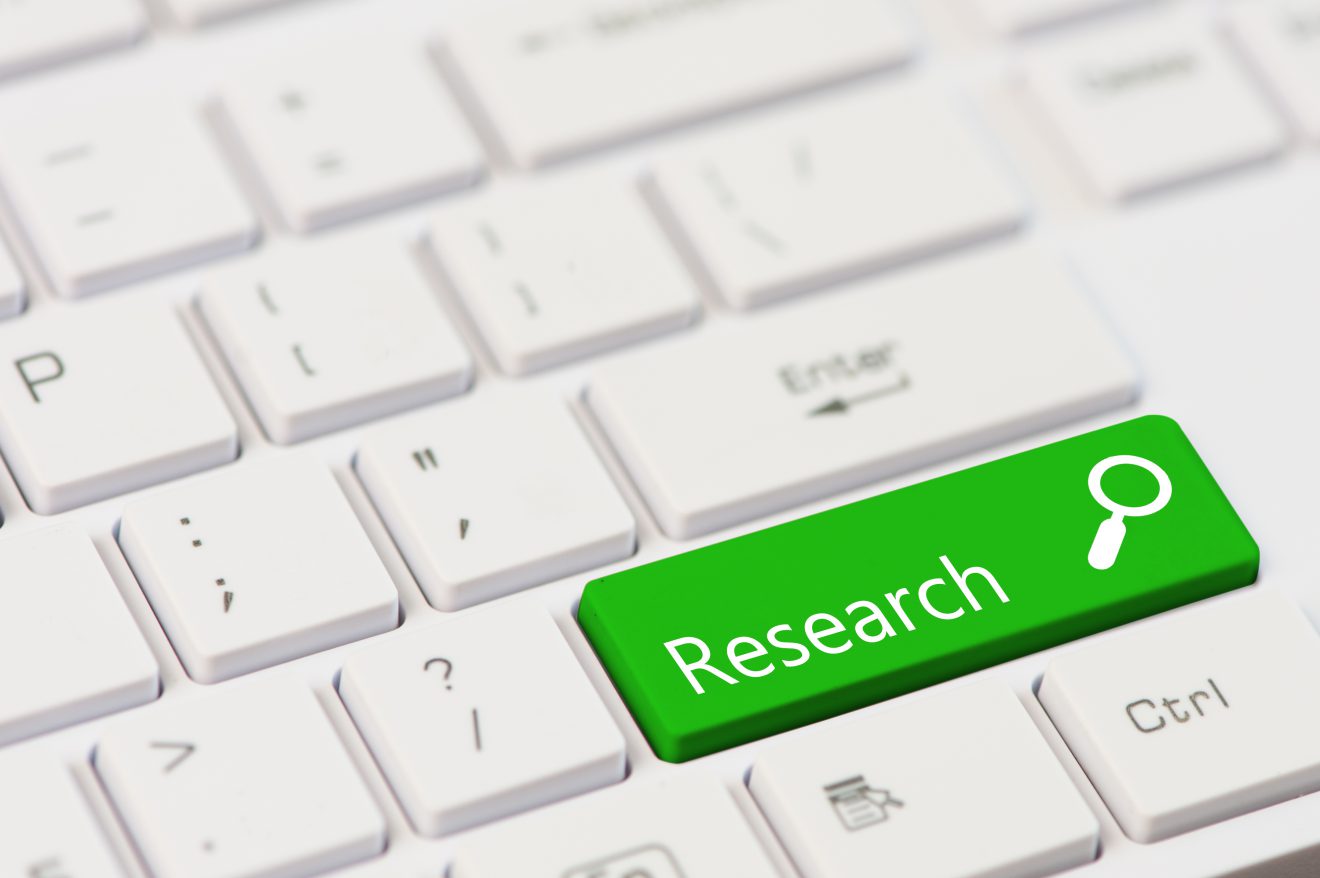 These publications include one or more ERN-RND member. Please note that once we are made aware of a new publication to which an ERN-RND member has contributed, we post the link to it in the news section of the ERN-RND website here and share via our social media channels.
You can also email us directly at communication@ern-rnd.eu to let us know that you have recently published a research article.
NEWSLETTER
ERN-RND Coordination team