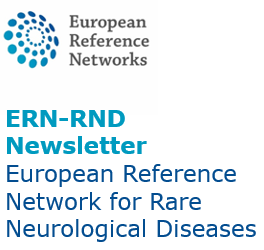 WEBINARS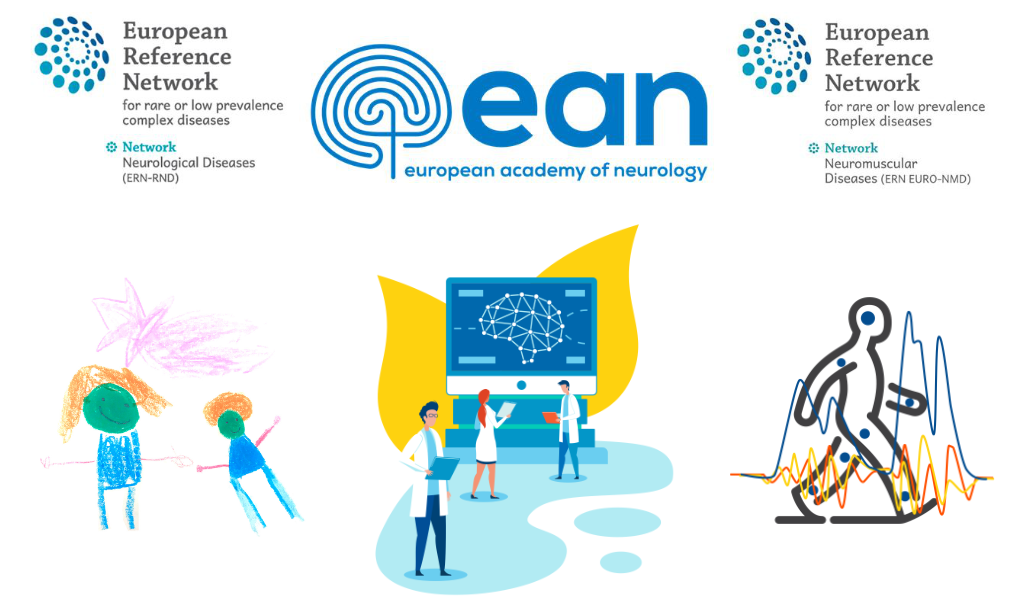 Upcoming joint webinars by ERN-RND, EURO-NMD, EAN
ERN-RND webinar, 9 March 2021, 3-4pm CET, Myoclonus dystonia, Belén Pérez Dueñas, Vall d'Hebron University Hospital, Barcelona, Spain (Chair: Marina de Koning-Tijssen, University Medical Centre Groningen, the Netherlands). Sign up here.
ERN EURO-NMD webinar, 11 March 2021, Telemedicine in NMD: state of the art, Sabrina Sacconi, Nice University Hospital, France and Gabriele Siciliano, University of Pisa, Italy. Sign up here.
ERN-RND webinar, 23 March 2021, 3-4pm CET, Challenges in Frontotemporal Dementia: clinical, genetic and pathological heterogeneity, Harro Seelaar, Erasmus Medical Center Rotterdam, the Netherlands. Sign up here.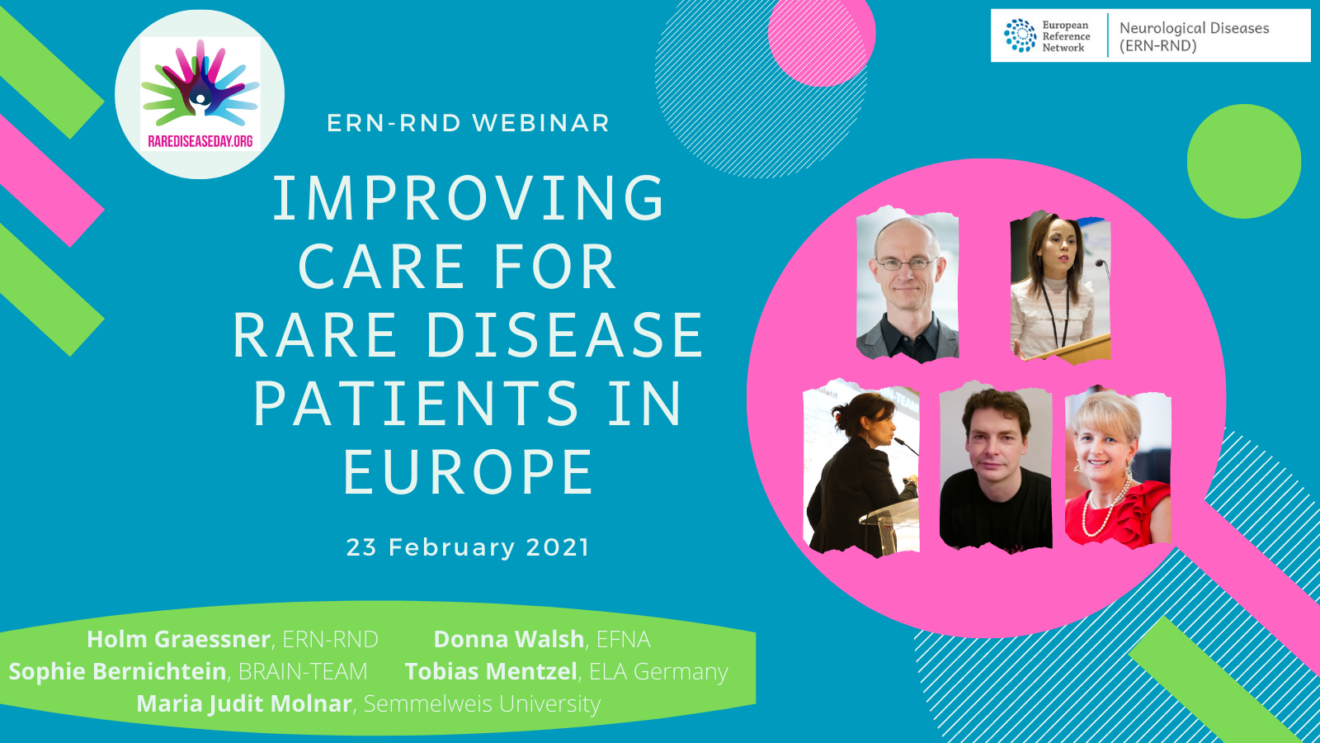 ERN-RND webinar for Rare Disease Day 2021 - recorded webinar
The ERN-RND webinar on "Improving care for rare disease patients in Europe" part of the Rare Disease Day campaign took place on 23 February 2021. The recorded webinar is now available.
ERN-RND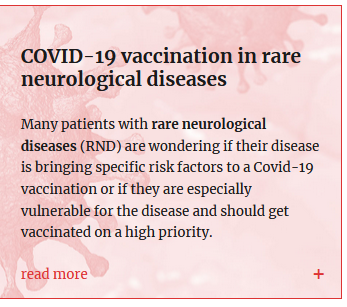 ERN-RND statement on COVID-19 vaccination
ERN-RND member clinicians have issued a statement on COVID-19 vaccination for patients with rare neurological diseases. It is available on the ERN-RND homepage.

ERN-RND Short Exchange Programme: call for applications!
The ERN Exchange Programme 2021-2022, funded by the European Commission, aims to support the sharing of knowledge and stimulate collaboration between healthcare professionals in European Reference Networks (ERNs). In the coming two years, healthcare professionals affiliated to ERN institutions (Full Members or Affiliated Partners) will receive organizational and financial support for secondments in ERN expert centers other than their home institution.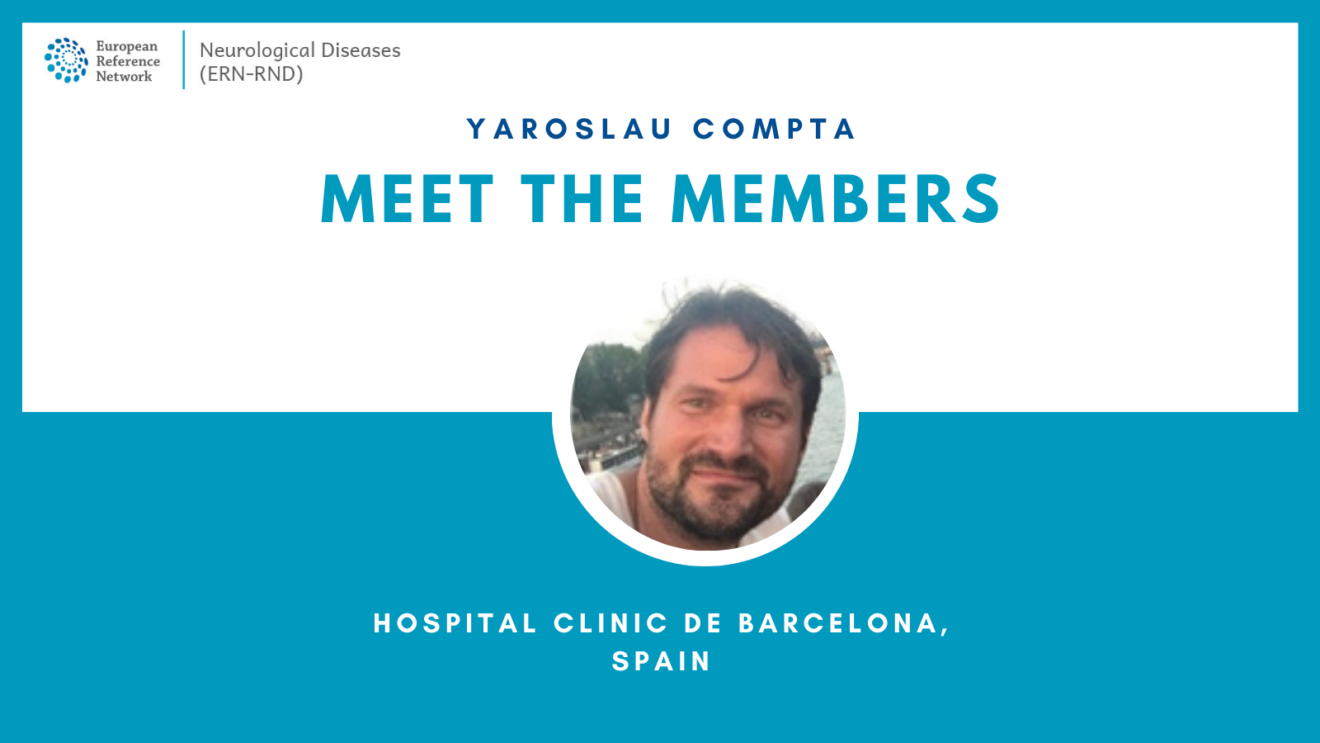 Meet the members - interview with Yaroslau Compta
In this month's edition of "meet the members", we interviewed Yaroslau Compta, neurologist at the Hospital Clinic de Barcelona, Spain. He talks about his work in the hospital, within ERN-RND and his expectations for the network.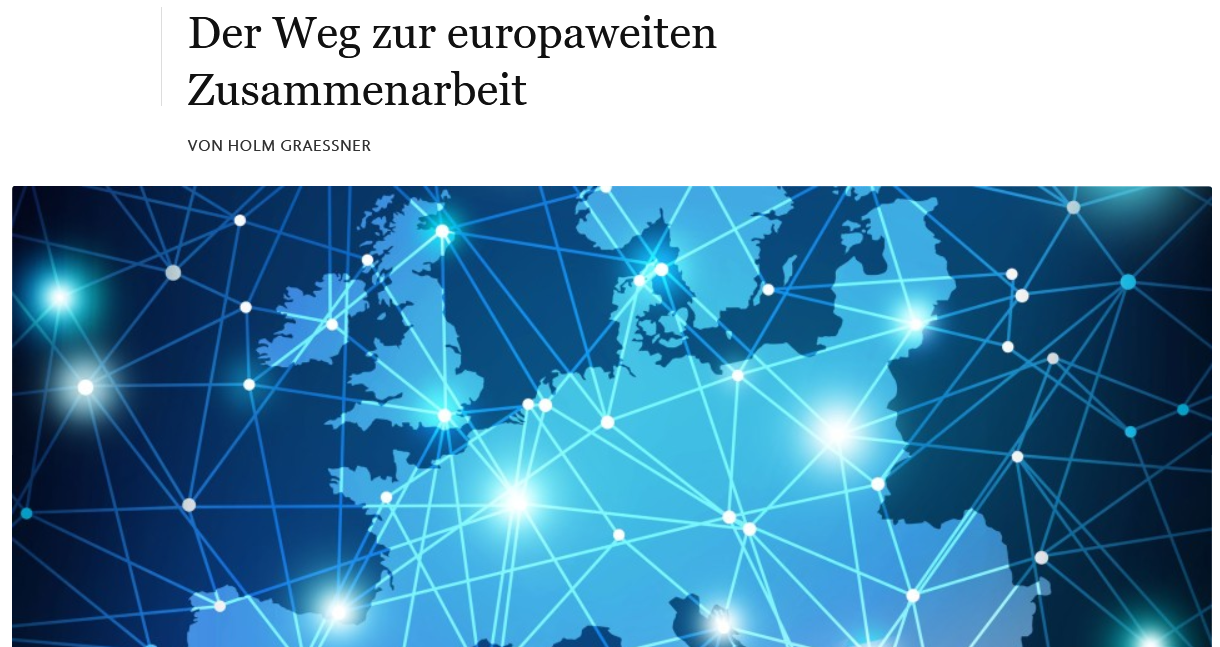 "Der Weg zur europaweiten Zusammenarbeit" by Holm Graessner
In the special "rare diseases 2021" edition of the Frankfurter Allgemeine newspaper, ERN-RND coordinator Holm Graessner wrote an article called "The way to Europe-wide cooperation". He talks about the benefits of the European Reference Networks for patient care, the difficulties of setting up german reference networks and how it can learn from Europe. The full article is available in German.
DISEASE KNOWLEDGE

The general ataxia booklet for patients created by Ataxia UK has been reviewed by the ERN-RND "Cerebellar ataxia & Hereditary Spastic Paraplegias" Disease Group and adapted for European dissemination. It is available on the "Cerebellar ataxia & Hereditary Spastic Paraplegias" Disease Knowledge page of the ERN-RND website.
Muscle tightness & stifftness – "spasticity" in ataxia leaflet
The Muscle tightness & stifftness – "spasticity" in ataxia leaflet for patients by ERN-RND, Ataxia UK and Euro-ataxia is now available.
New patient information webpages
A new « patient information » section has been added to the Disease Knowledge webpages on the ERN-RND website. They include external useful information on the different disease groups covered by ERN-RND but which has not been endorsed by ERN-RND members.
SURVEYS

ERN-RND survey on educational needs in RNDs
ERN-RND is about to plan and create an educational programme on rare neurological diseases.
In order to inform our plan, we have created a survey to first map the needs of the clinicians working in this area in Europe.
We would highly appreciate if you could take 5 minutes to fill it out. Your responses will give us very valuable input so that we can tailor the educational programme to the concrete, existing needs.

SMA Europe, an umbrella organisation which includes Spinal Muscular Atrophy (SMA) patient and research organisations from across Europe, has created a survey for neurologists on "Quality of life of people living with spinal muscular atrophy: a clinical perspective".
Answers will help to better understand how clinicians perceive the quality of life of SMA patients, and which factors or activities have the strongest impact on quality of life.
The survey is in English and it will take 5-10 minutes to complete. It is open until 20 March.
CAMPAIGN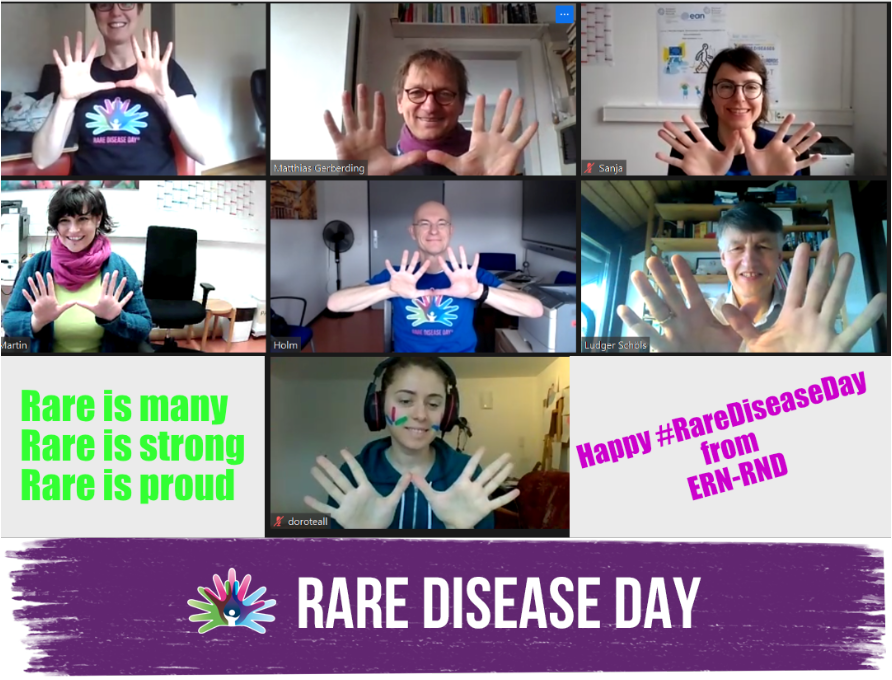 From top to bottom and left to right: Carola Reinhard, Matthias Gerberding, Sanja Hermanns, Tamara Martin, Holm Graessner, Ludger Schöls, Dorotea Lleshaj
Rare Disease Day took place on 28 February across the world. Throughout February the community organised various activities to raise awareness of rare diseases amongst the general public, policy makers and public authorities.
ERN-RND supports rare disease day every year!
Save the date in your agendas, Rare Disease Day 2022 will be on 28 February!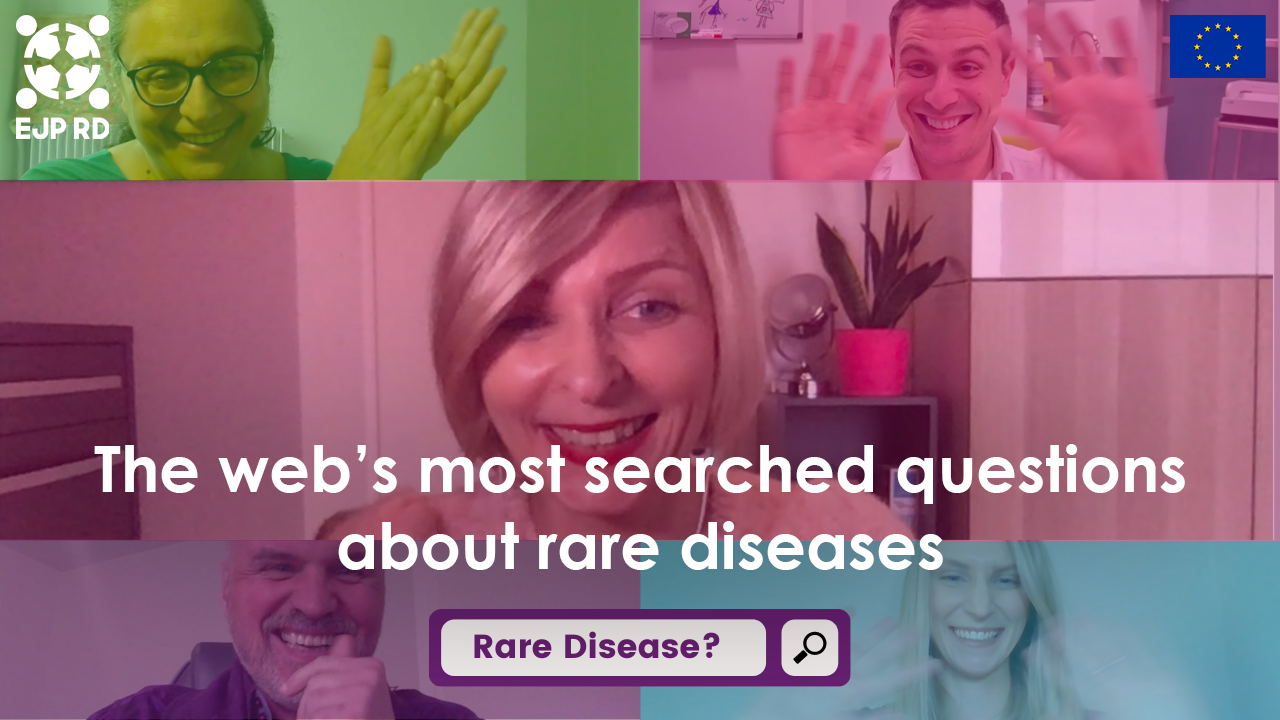 EJP RD Rare Disease Day Video
Watch EJP RD contributors answer the web's most searched questions about rare diseases in a new video that you can find HERE (subtitles available).
Like every year, EJP RD is proud to contribute to spreading awareness on Rare Disease Day.
Don't forget to share the video and subscribe to their Youtube channel and to their Twitter to be kept updated on their funding opportunities, trainings, services and news!
Watch also last year's Rare Disease Day video here.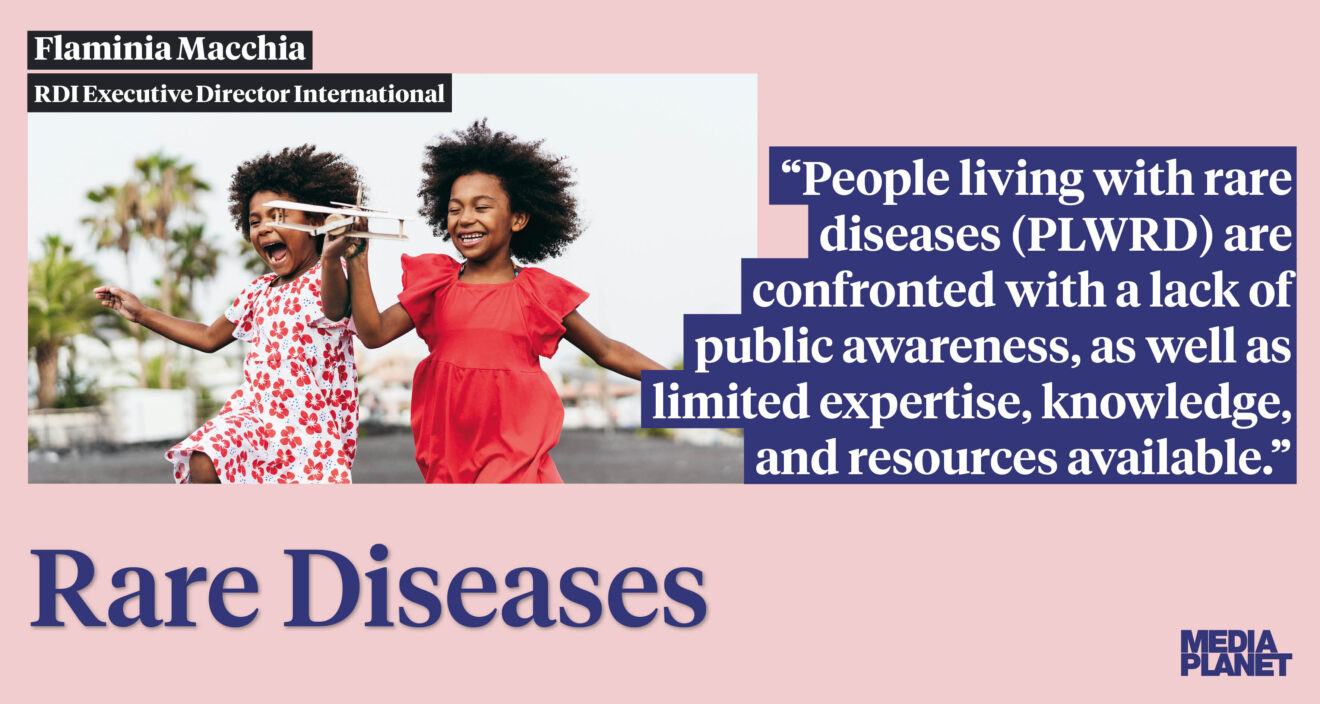 Health Awareness Rare Disease Day campaign
This year, we are supporting Health Awareness on the 2021 Rare Diseases campaign. A printed publication was enclosed within every copy of the Guardian newspaper and the content is available online. The campaign featured exclusive content from key thought leaders and industry voices about making rare diseases a human rights priority.
FUNDING


Training workshop topics on research in RD within the EJP-RD - open call
Applicants from ERN Full Members or Affiliated Partners can submit WORKSHOP TOPICS on rare diseases research to obtain funds (25.000€) in order to conduct a 2-day workshop.
The call is open until 7 March 2021.
Please note that due to the Covid-19 pandemic, selected proposals will have up to 18 months to conduct the research workshops.
EVENTS

MDS Virtual Congress 2021
The abstract submission process is open until 15 March, 2021 at 11:59 PM CST.
RECENT PUBLICATIONS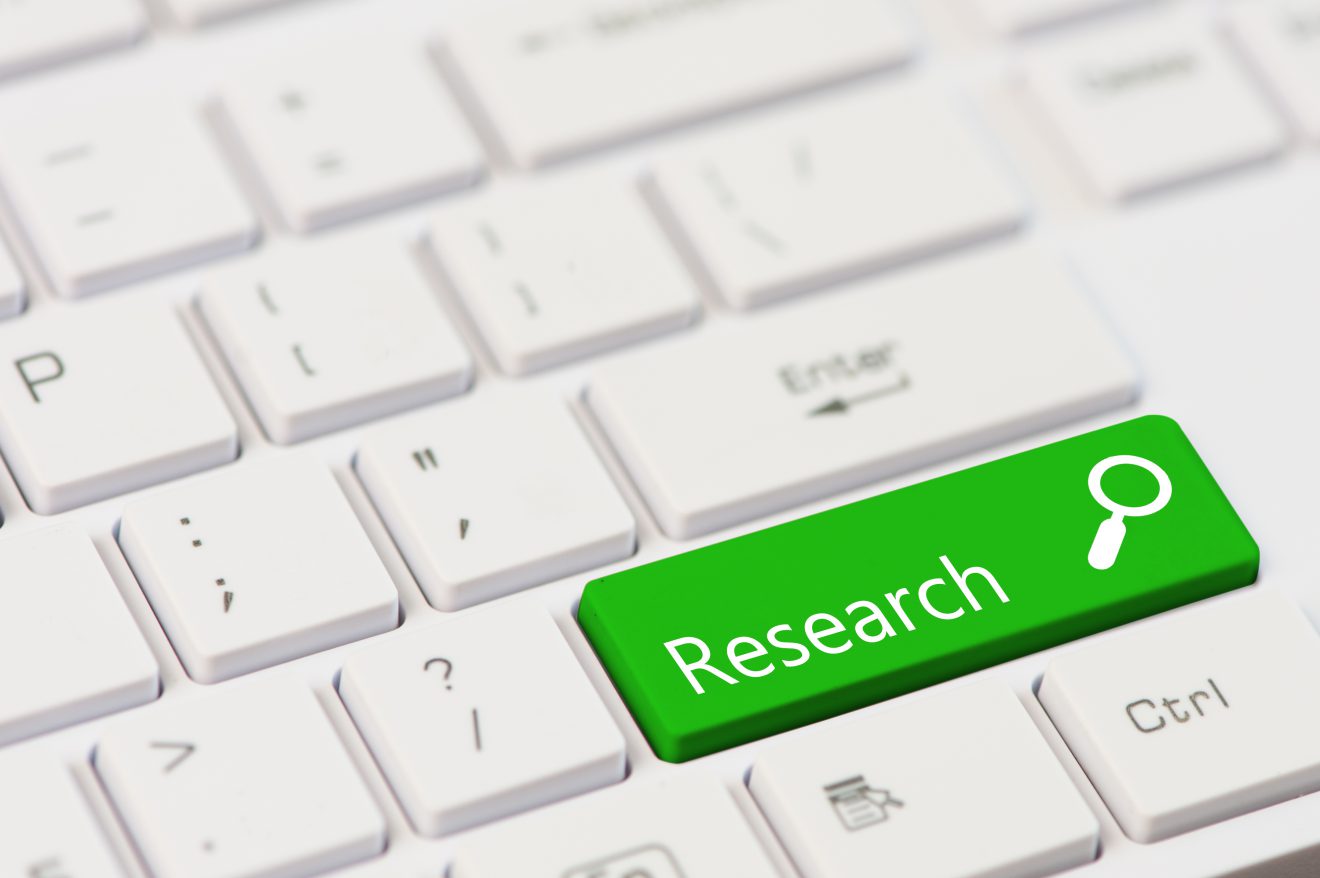 Marcus Grobe‐Einsler, Arian Taheri Amin, Jennifer Faber, Tamara Schaprian, Heike Jacobi, Tanja Schmitz‐Hübsch, Alhassane Diallo, Sophie Tezenas du Montcel, Thomas Klockgether, "Development of SARAhome, a New Video‐Based Tool for the Assessment of Ataxia at Home", Movement Disorders, January 2021
Lucy L. Russell, Caroline V. Greaves, Rhian S. Convery, Jennifer Nicholas, Jason D. Warren, Diego Kaski & Jonathan D. Rohrer , "Novel instructionless eye tracking tasks identify emotion recognition deficits in frontotemporal dementia", Alzheimer's Research & Therapy, February 2021
These publications include one or more ERN-RND member. Please note that once we are made aware of a new publication to which an ERN-RND member has contributed, we post the link to it in the news section of the ERN-RND website here.
You can also email us directly at communication@ern-rnd.eu to let us know that you have recently published a research article.
NEWSLETTER
Thank you for your support and take care.


ERN-RND Coordination team