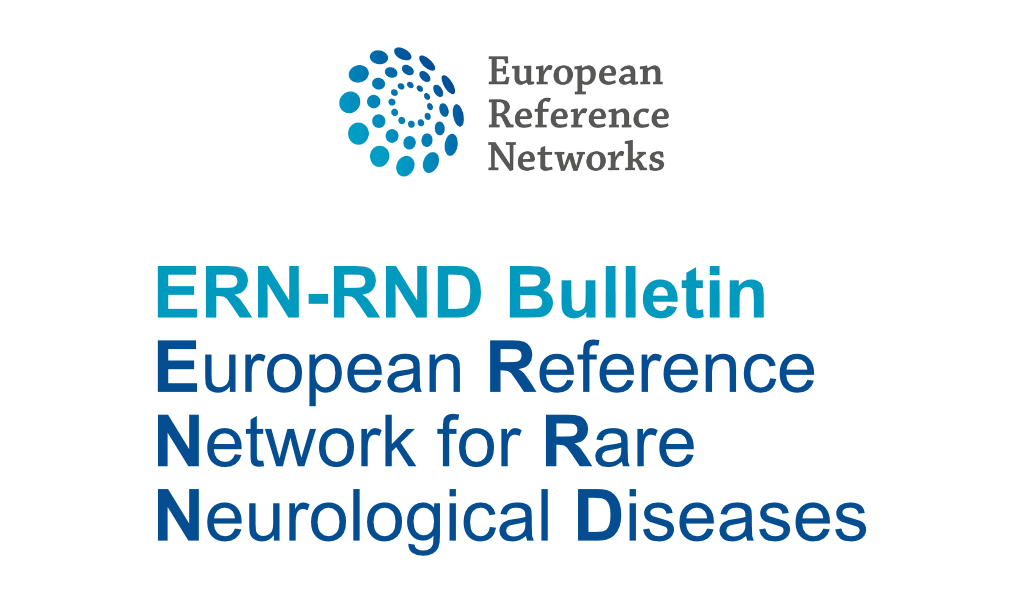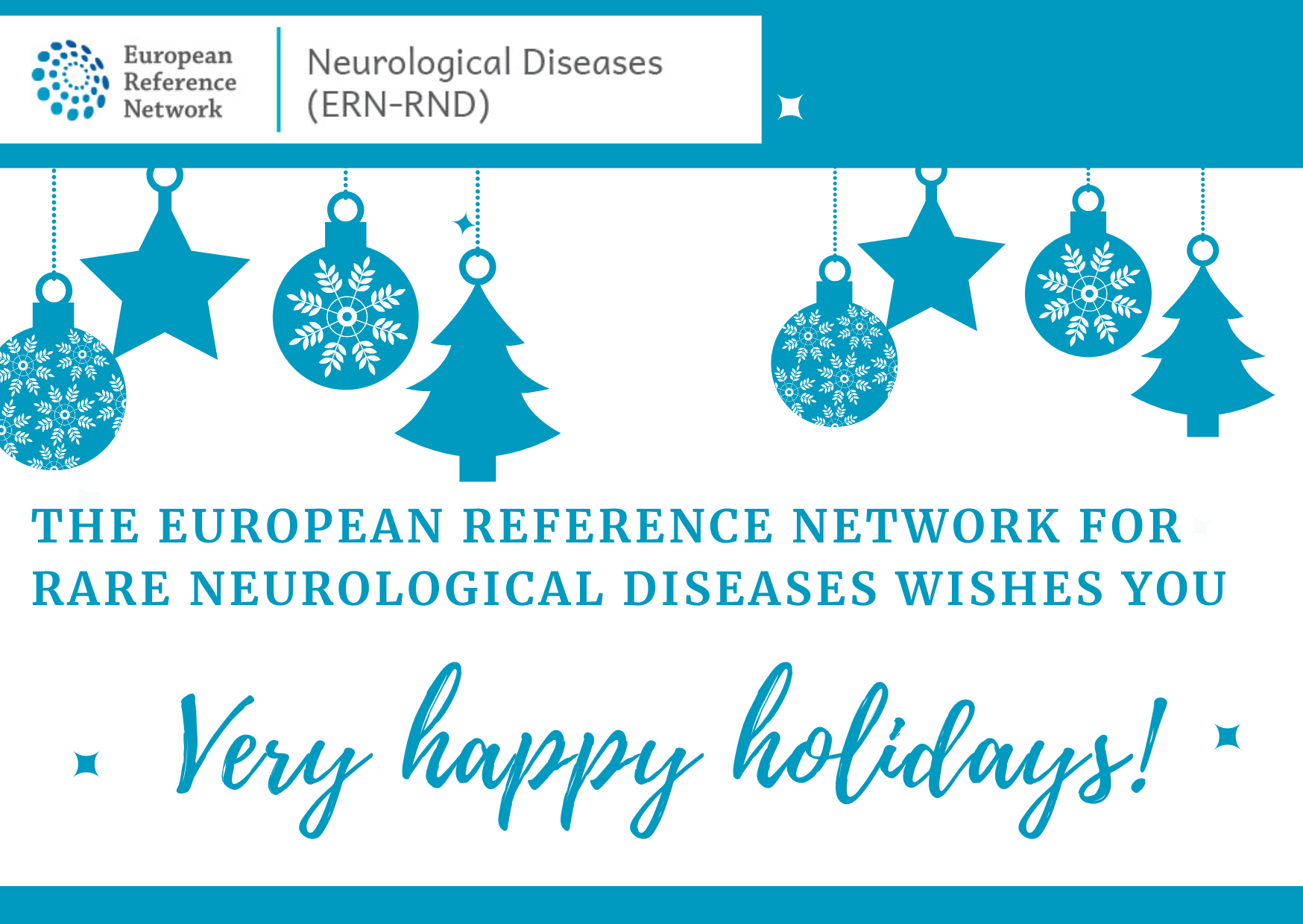 once again a year is coming to an end. In our last bulletin of the year, we look back on a powerful year for ERN-RND. We would like to take this opportunity to thank you for the good cooperation and your commitment to ERN-RND!
We look forward to continuing in the coming year. For now, however, we wish you happy holidays!


The ERN-RND Coordination Team
ERN-RND in 2022
ERN-RND Annual Meeting 2023
Documents



#ERNcare4U a survey/Rare Diseases Hub Ukraine

Survey
ERN-RND Disease Knowledge

Upcoming webinars

Online case discussions

ERN-RND Register

Funding

Events



partner Organisations
Publications

Acknowledgement
Information about evaluation
ERN-RND in 2022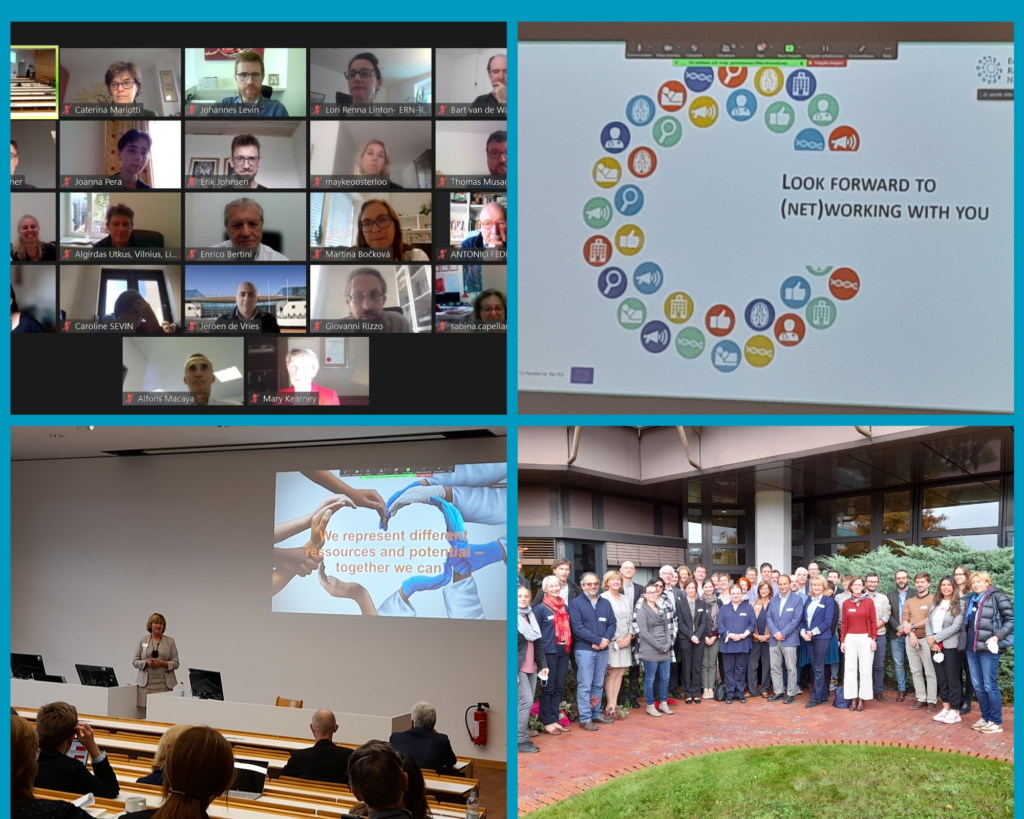 Together with you members, we were able to advance many valuable developments for ERN-RND in 2022. Thank you for your commitment to ERN-RND!


First of all we are happy to welcome new members: We integrated 37 new members into our network in 2022.


We were very pleased that our Annual Meeting could take place live and on site again after two years of pandemic. In Tübingen we had three valuable days with exchange, discussions and the opportunity to network.


We are happy about many new documents for our Disease Knowledge section, e.g. patient Journeys as well as translations of already existing documents.


We are pleased with the development of the ERN-RND Registry. In 2022 we implemented the Registry and uploaded pilot datasets of seven centers to check for completeness and plausibility.


The Disease Working Groups continued to be productive and valuable to the direction of the network in 2022.


With the new bridging grant starting in march, we are now able to reimburse the cost of activities conducted by our ERN-RND partners, such as CPMS case discussions and projects implemented by disease groups.


In 2022, we were pleased to welcome many new staff members to the ERN-RND coordination office.

So we are starting into a powerful year 2023!
ERN-RND Annual Meeting 2023

We are delighted to announce the next Annual Meeting in 2023 will be held in Belgium in September.


When? Tuesday, September 19 to Thursday, September 21, 2023
Where? Provinciehuis Leuven, Provincieplein 1, 3010 Leuven, Belgium


The personal participation on site of one representative per partner is obligatory.
We are looking forward to meeting you in Leuven!


More detailed information will follow.
Documents

Minutes WG Management of Transition 20221128
Minutes ERN-RND Management team meeting 20221128
#ERNcare4Ua survey/Rare Diseases Hub Ukraine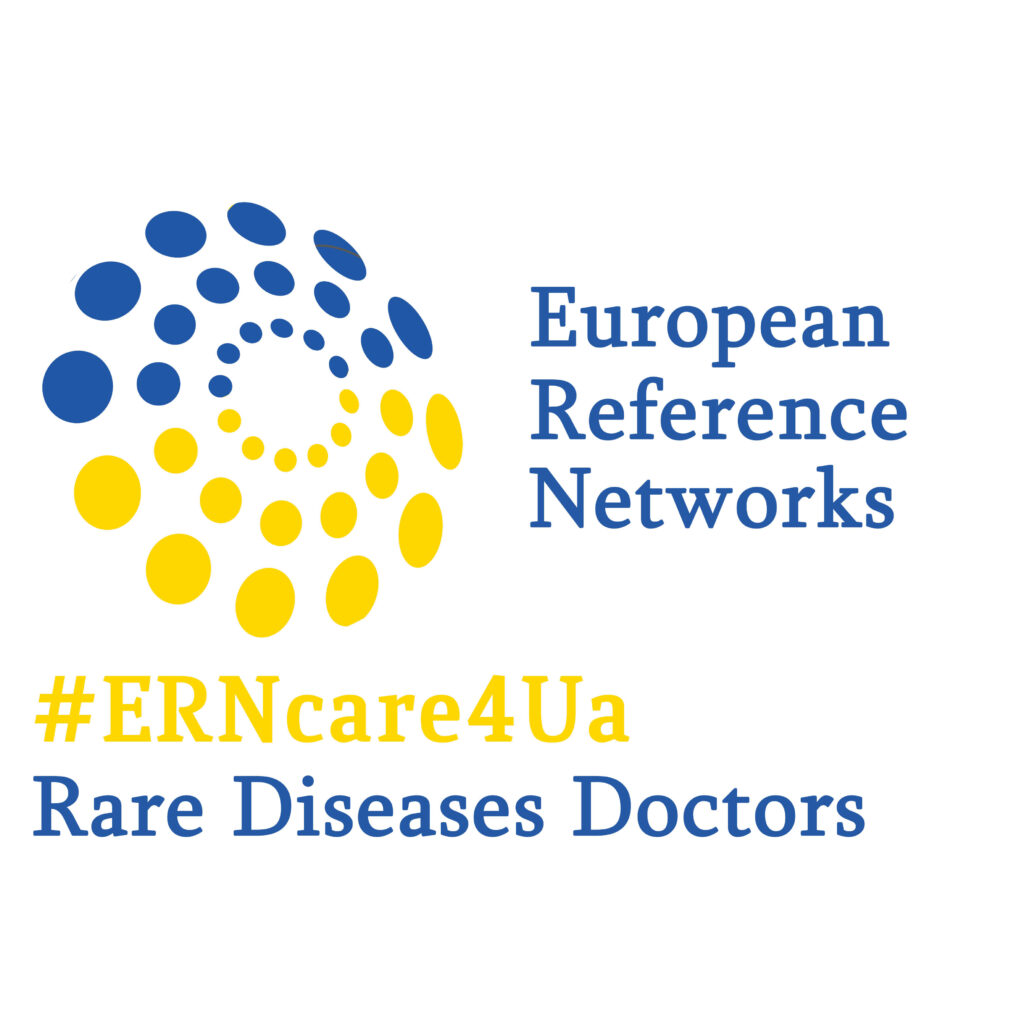 In the context of the Ukrainian crisis, as ERNs we need to know how many patients with rare diseases get care outside Ukraine. As more coordination should be soon coming it would be really important to know if initiatives are helping or not.


Please complete the survey continuously!

Rare Diseases Hub Ukraine
The Rare Diseases Hub Ukraine was created, in agreement with the European Commission and the ERN Coordinators Group.
The Hub connects patients from Ukraine with a rare disease with organizations and hospitals, members of the European Reference Network (ERN), with the aim to provide the specialized medical support they may need during this emergency.
Survey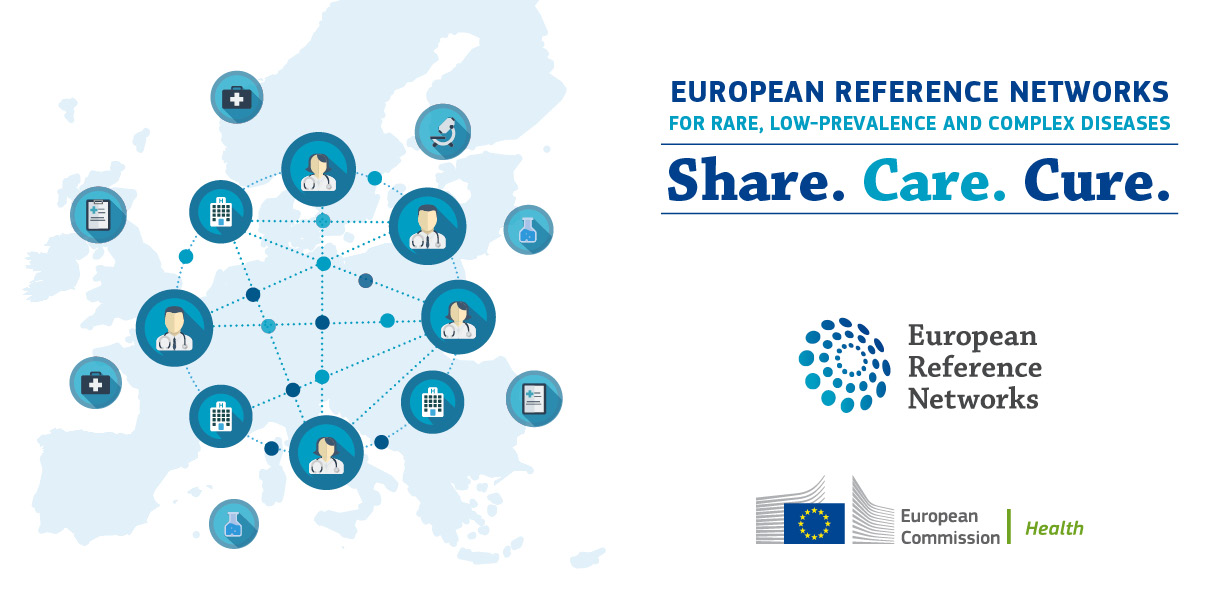 Survey on mitochondrial diseases management in Europe
Recently, several European Reference Networks for rare or low prevalence diseases (ERNs) decided to join forces. They created a joint work group dedicated to mitochondrial diseases, built by experts on Rare Neurological Diseases (ERN RND), Neuromuscular Diseases (ERN EURO-NMD), Rare and Complex Epilepsies (EpiCARE), Eye Diseases (ERN-EYE), Hereditary Metabolic Disorders (MetabERN), and by patient representatives.
Today, these experts call on you and your experience from everyday clinics, to get a clear picture on how mitochondrial diseases are managed throughout Europe. Please do help us get a maximum of input from clinicians, by answering the survey and do not hesitate to share the survey with your colleagues.


Answering the survey will take no more than 10 minutes. Your contribution is precious as the action of the experts towards harmonisation of mitochondrial diseases management in Europe will be based on your answers.
ERN-RND Disease Knowledge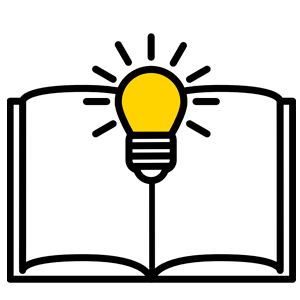 Information about Disease Groups

On our website, you can find information about the six Disease Groups covered in ERN-RND. New documents and/or translations are added continuously. If you have any comments or useful information that could be added, please contact us.
New Patient Journey about HSP

You can now find the Patient Journey for people living with Hereditary Spastic Paraplegias (HSPs) The Patient Journey for Hereditary Spastic Paraplegias (HSPs) was developed together with Lori Renna Linton, ERN-RND ePAG representative for: Ataxia/HSP.
If you would like to translate a patient journey in your own language, please contact us and we will send you the documents to do so
Upcoming Webinars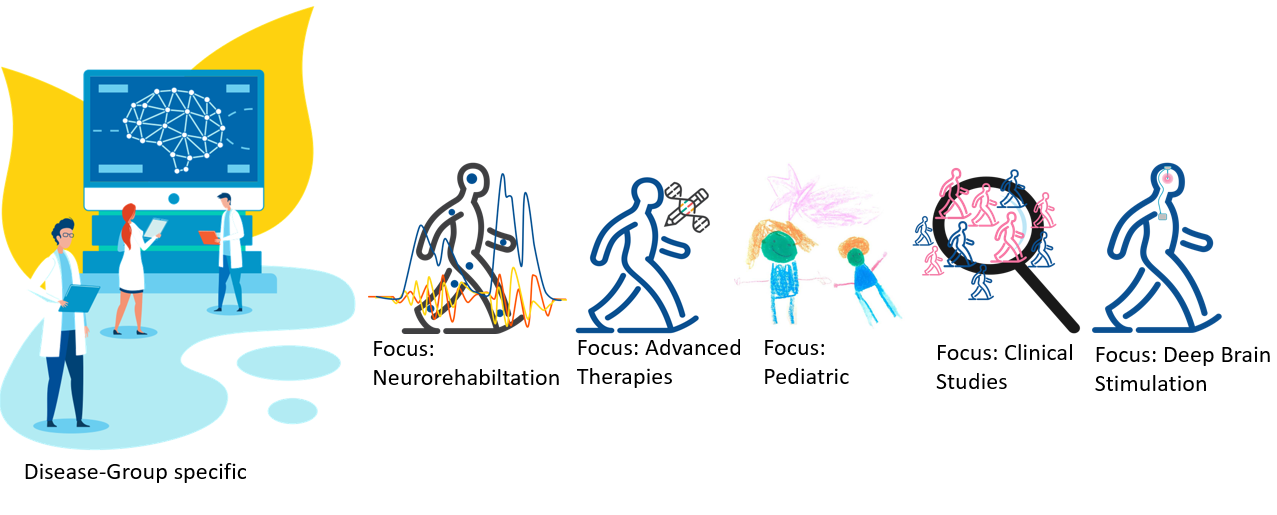 Upcoming joint webinars by ERN-RND, EURO-NMD, EAN:
The 2023 ERN-RND webinar schedule will be announced on our website soon.
Information about our past webinars can be found here .
Online Case Discussions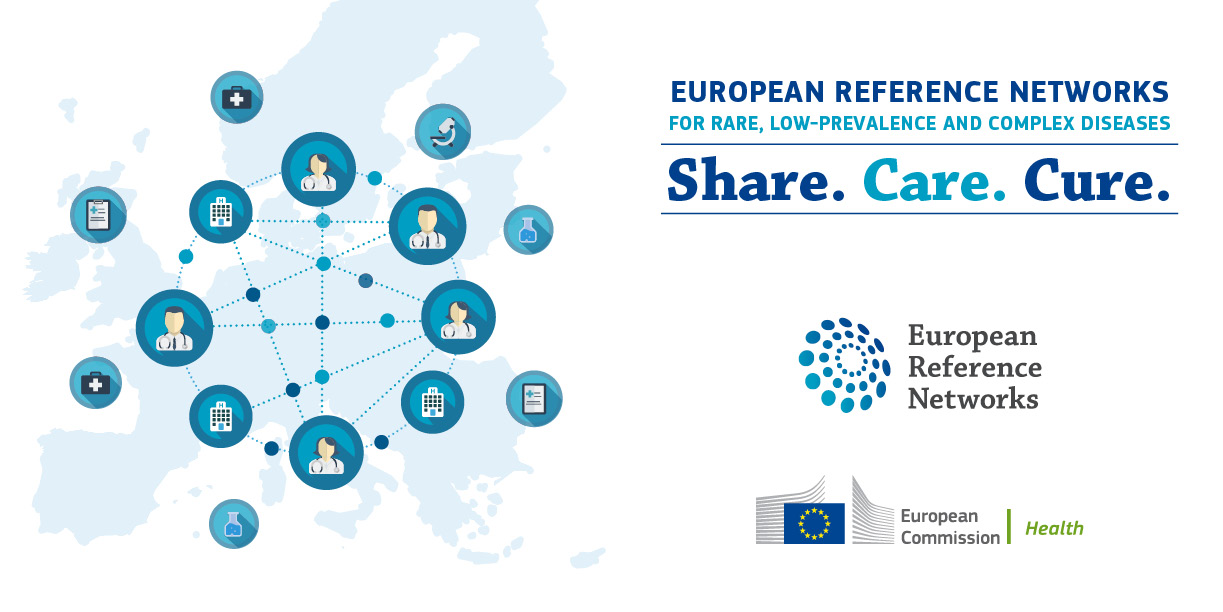 | | | |
| --- | --- | --- |
| | | "We have submitted several cases into the system and found it helpful to discuss the patients with eminent experts from all over Europe. We found the system intuitive and believe the exchange of ideas and knowledge will ultimately benefit our patients." – Fran Borovečki, Zagreb |
Online case discussions jour fixe
The regular Online Case Discussions are open to all clinicians from the ERN-RND network.
You would like to present a case to the discussion? All cases (unsolved and solved/disease management) are welcome.
Please contact us ASAP!
You would like to offer your advice for unsolved and complex cases? Complete this short survey to receive invitations according to your expertise.


Preliminary Schedule for January & February 2023:
Thursday, 26/01/23, 16 – 17:30 CET
Thursday, 02/02/23, 16 – 17:30 CET
ERN-RND Register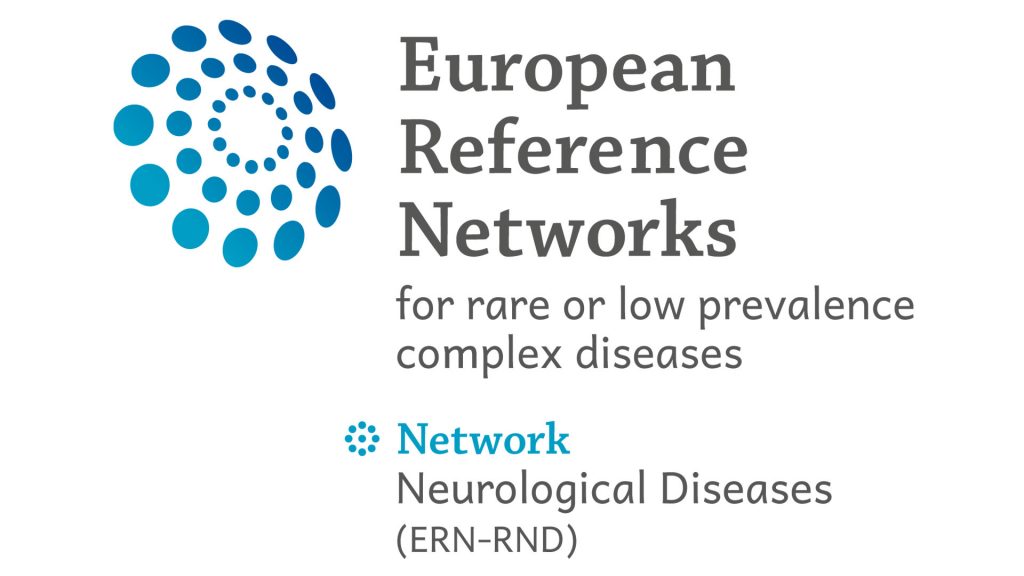 In 2022 we implemented the ERN-RND Registry and uploaded pilot datasets of seven centers to check for completeness and plausibility. In 2023 all HCPs have to submit their data to the Registry.
The ERN-RND Registry is collecting relevant core patient information covering children and adults based on the Minimal Data Set defined by the EU Rare Disease Platform . Pseudonymized datasets containing data of all ERN-RND patients seen at a HCP during one year will be uploaded in a REDCap database on the protected server system of the University Hospital Tübingen cloud.
With the ERN-RND Registry it is possible

to get information on how many patients per Disease Group covered by ERN-RND are seen in ERN-RND
to improve the medical care of patients in particular with regard to diagnosis and standards of care
to facilitate participation of patients with the rare neurological diseases in clinical trials and studies
To achieve these goals, it is essential that all HCPs submit their data to the Registry on annual basis. The Registry Office provides a template for the data upload to make it as easy as possible. The template together with a minimal data dictionary will be sent to all HCPs in January 2023. Applications for data access will be dealt with by the ERN-RND Registry Data Access Committee.
If you need help with the Data Sharing Agreement or the data upload, please get in contact with our Registry coordinator Christina Vossler-Wolf: ern-rnd-registry@med.uni-tuebingen.de
Deadline for data submission for all patients seen in 2022: 1st of April 2023.
Funding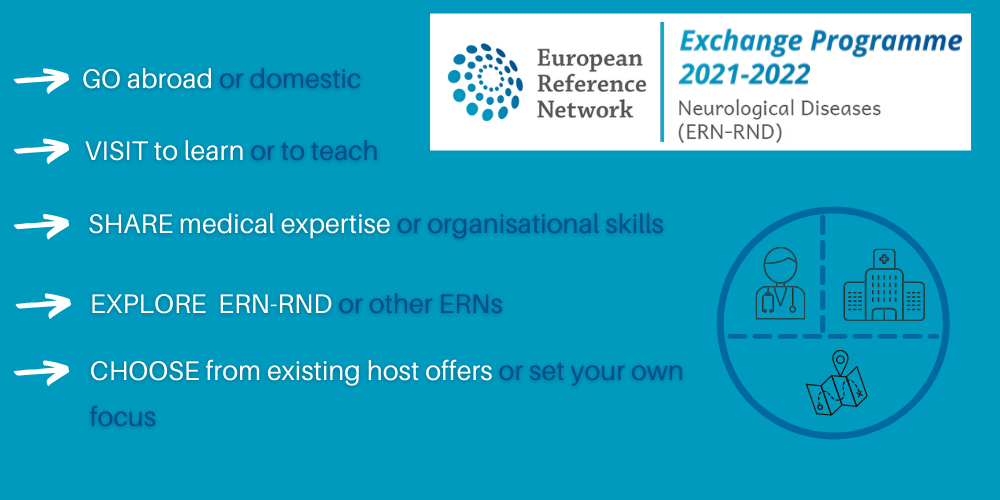 Short Exchange Programme – Last call!

Healthcare professionals such as clinicians, nurses, physiotherapists, etc. who are affiliated to ERN institutions (Full Members or Affiliated Partners) can currently apply for interregional or international exchange. Exchanges can be undertaken for hands-on-training purposes, meetings, workshops or complementary teaching purposes. Secondments to an ERN expert center other than the professional's home institution will emphasise a clinical focus and aims to share, spread and broaden knowledge and to strengthen collaborations. Participants of the Short Exchange Programme are supported in administration and are funded an exchange of up to six weeks.


Applications are open until 31st December 2022!

Exchanges can be undertaken until end of January 2023
Find more information about the programme at our webpage.
Q&A Sessions:
If you have any further questions you can also join our Q&A Sessions every Tuesday and Thursday between 12:30 and 13:30. These sessions are offered to comprehensively discuss all remaining questions regarding organisation and funding of exchanges. To join the sessions by Microsoft Teams click here or scan the QR Code below.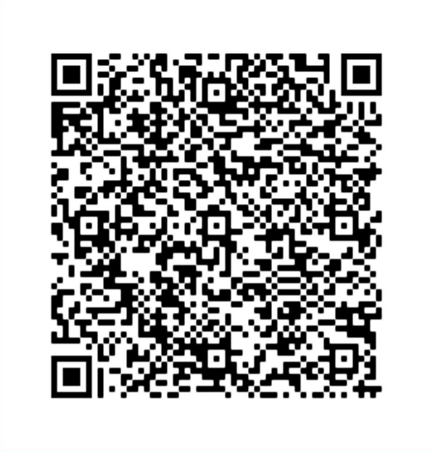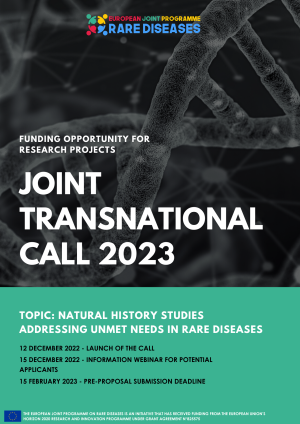 Call for Proposals 2023: "Natural History Studies addressing unmet needs in Rare Diseases"
The aim of the call is to enable scientists in different countries to build an effective collaboration on a common interdisciplinary research project based on complementarities and sharing of expertise, with expected impact to use the results in the future for benefit of patients.
Pre-proposal submission deadline: 15th February 2023
Events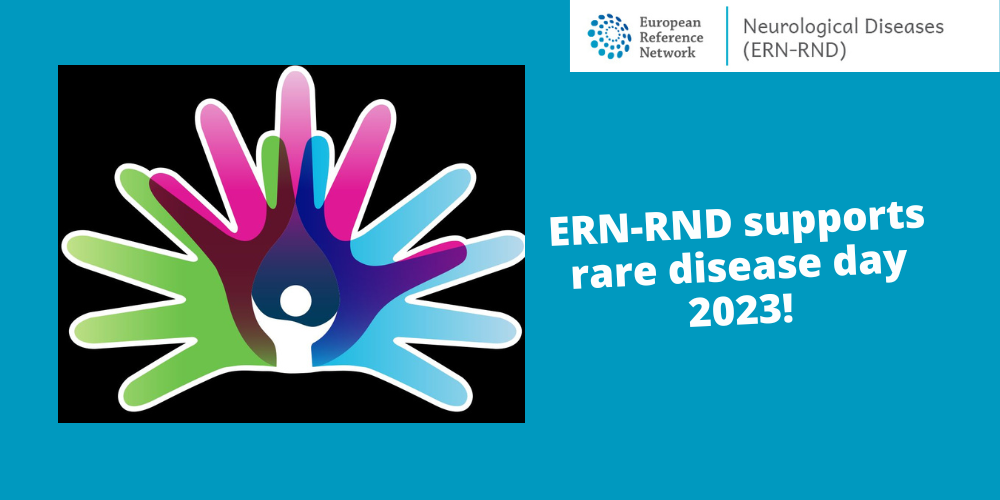 Join us and support rare disease day
Rare
Disease
Day
is
the
official
international
awareness-raising
campaign
for
rare
diseases
which takes place on the last day of February each
year.
The main objective of the campaign is to
raise awareness
amongst the general public and
decision-makers about rare diseases and their
impact on patients' lives.
Rare Disease Day was launched by EURORDIS-
Rare Diseases Europe and its Council of National
Alliances in 2008.

Abstract submission for the EAN 2023 is open
The 9th Annual Congress of the European Academy of Neurology will be held in Budapest in 2023.
The abstract submission is now open:
Presentations can be in the form of an oral platform presentation, an ePoster, or a virtual ePoster.
Deadline: 12 January 2023, 23:59 CET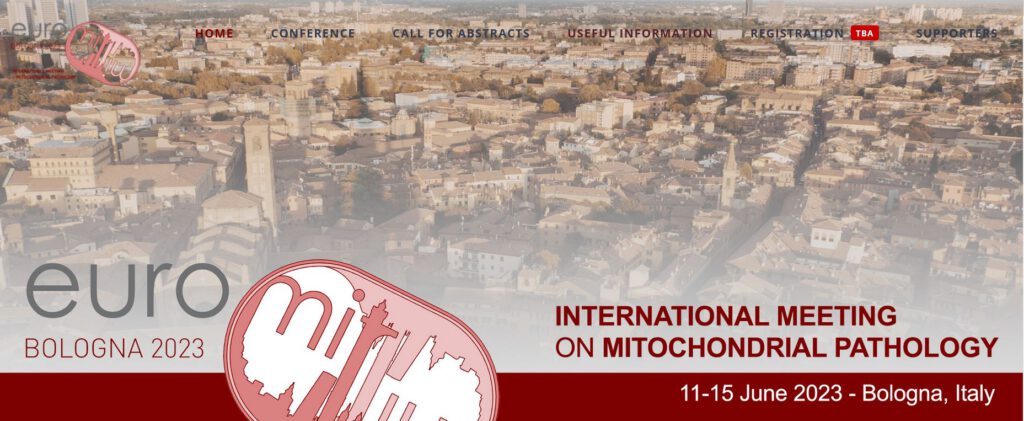 In the tradition of this meeting, the intent is to encourage the participation of diverse professional groups, from clinicians to clinical scientists, neuroscientists, and basic scientists.
Considering that there is likely to be an acceleration in the field of mitochondrial medicine in the next two years, leading to the availability of new technologies as well as new therapeutic approaches and possibly clinical trials, such contributions will be presented and explained in the scientific sessions.


Submission deadline for abstracts: 15th January 2023
Partner Organisations


EURODIS launches new podcast: Rare on Air
ERN-RND aims to address the unmet needs of more than 500,000 people with rare neurological diseases in Europe. 60% of them are still undiagnosed.The first podcast episode of the new podcast "Rare on Air" recalls the beginnings of the ERNs.
In their new monthly podcast, "Rare on Air", Communications Manager, Julien Poulain, meets with people who live with a rare disease, those who advocate for them, and experts on rare disease policy.
The podcast explores the unique experiences, challenges and successes of people from our community, and investigates how we can build a better world for those who have a rare condition.
Each episode focuses on a specific theme or policy area relating to the work and advocacy of EURORDIS.
PUBLICATIONS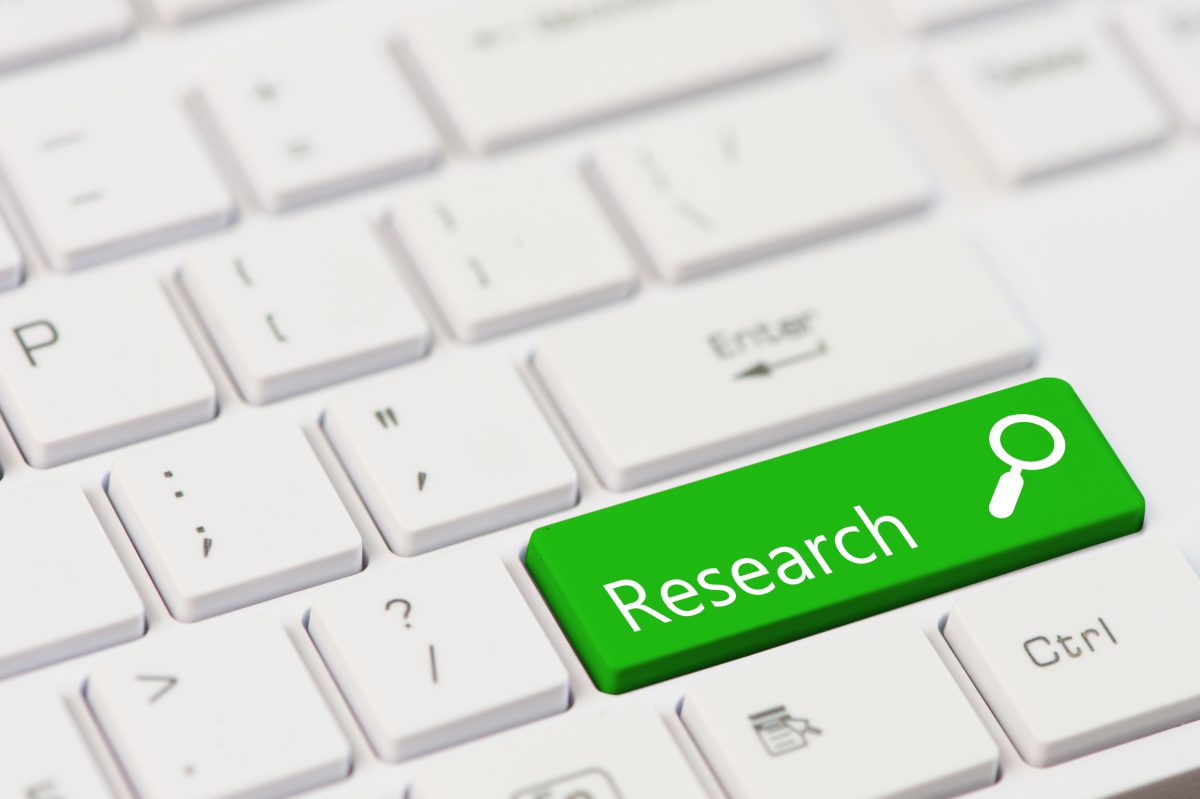 Once we are made aware of a new publication to which an ERN-RND member has contributed, we post the link to it in the news section of the ERN-RND website
here.
You can also
email us directly
to let us know that you have recently published a research article.
Acknowledgement
Please use one of the sentences below to acknowledge ERN-RND in all publications/presentations/clinical trials etc. (this document can also be found on the Collaborative Platform).
If possible, the logo should also be displayed.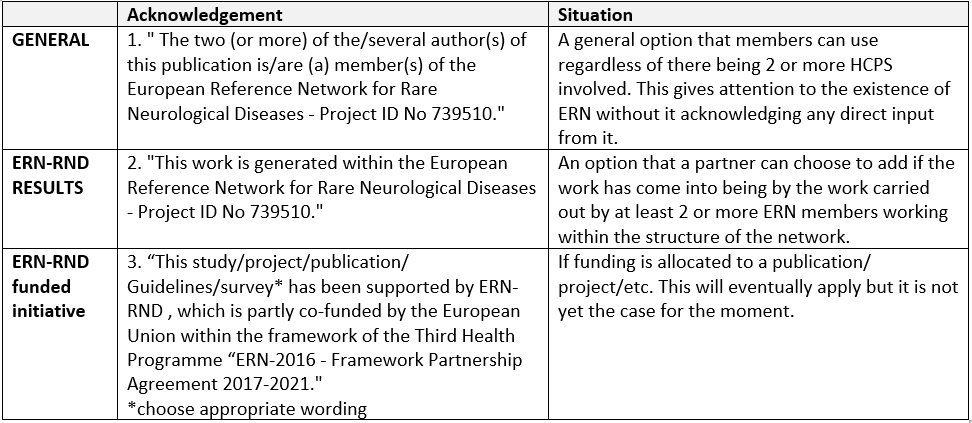 Information about evaluation
5-year evaluation of ERN-RND and it's Full Members that joined in 2017
The official process to evaluate the ERNs and their Full Members has started. Each Full Member that has joined ERN-RND in 2017 has to submit a self-evaluation form by 19th February. Login credentials to the online platform will be provided to you by the European Commission on 19th December.


To facilitate your preparations, we have set-up a cloud folder that contains
- an example evaluation template filled with information from Tuebingen
- the evidences that we have collected in Tuebingen


In addition, we will provide you with the monitoring data you have submitted in the previous years on an individual basis, as part of the evaluation refers to data already collected during the monitoring exercise.


If you have any questions, please do not hesitate to contact Carola or Sophie from the coordination office.
ERN-RND Coordination team
This is an internal email which was sent to ERN-RND full members, affiliated partners and ePAG patient representatives.