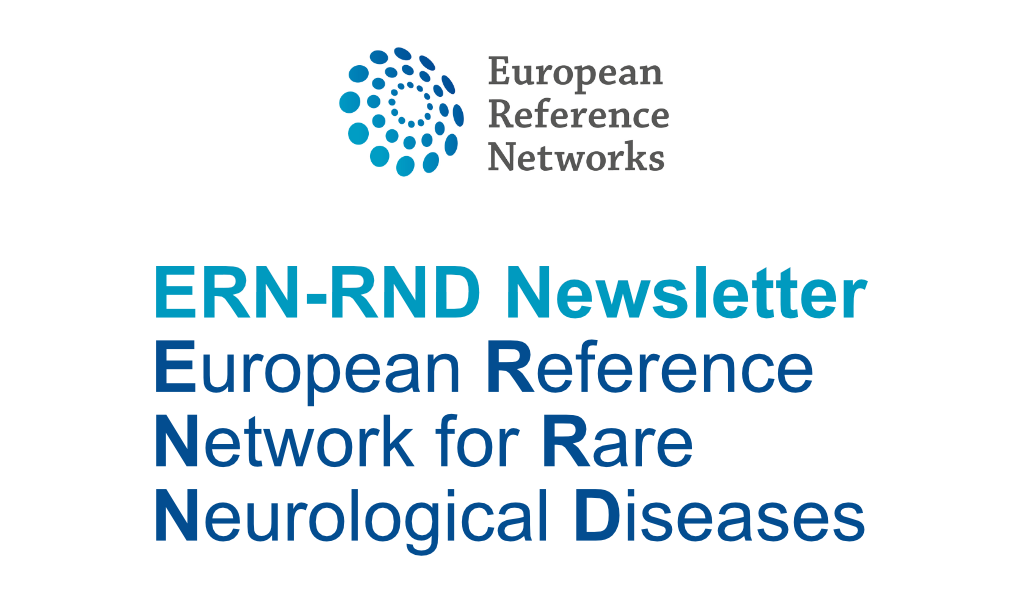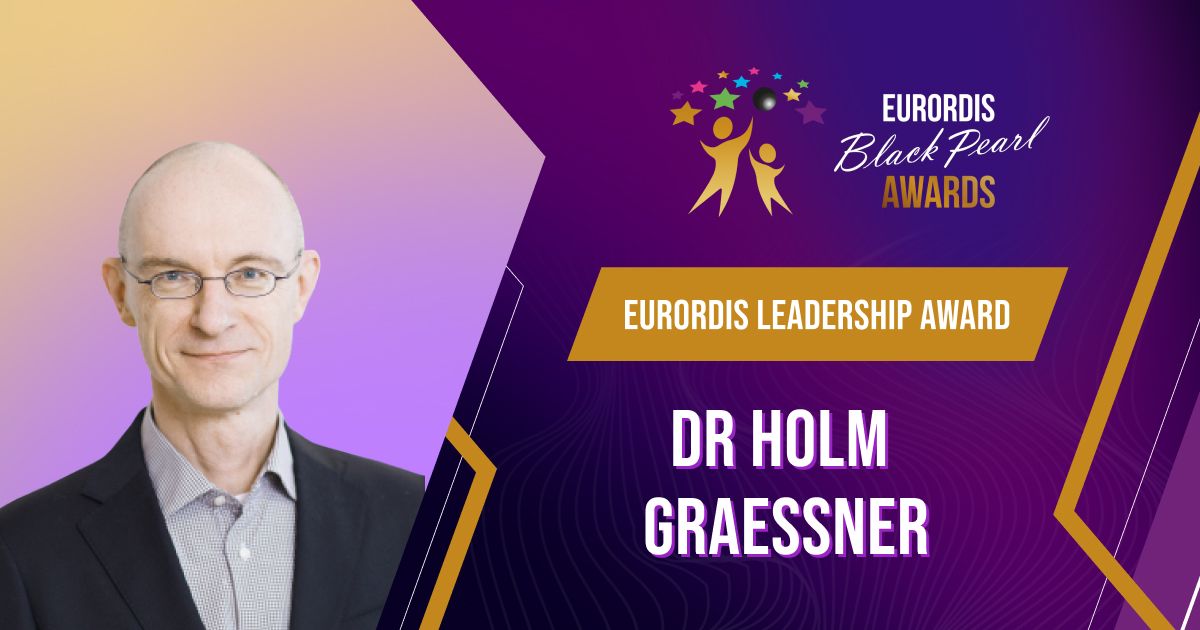 We start the new year with great news! Holm Graessner, coordinator of ERN-RND receives the EURODIS Black Pearl European Rare Disease Leadership Award. Holm has been a strong and dedicated advocate for the rare disease community for years. He has managed to make an impact on not just one aspect of Rare Diseases, but was involved in projects focusing on genetic diagnosis, infrastructure, therapy development and care. We are very pleased for the recognition and appreciation of these many years of work and congratulate Holm warmly!
In addition to this great award, we will provide information on other topics related to the ERN-RND in the January newsletter.


The ERN-RND Coordination team
Content

Survey: mitochondrial diseases management
ERN-RND Disease Knowledge
About us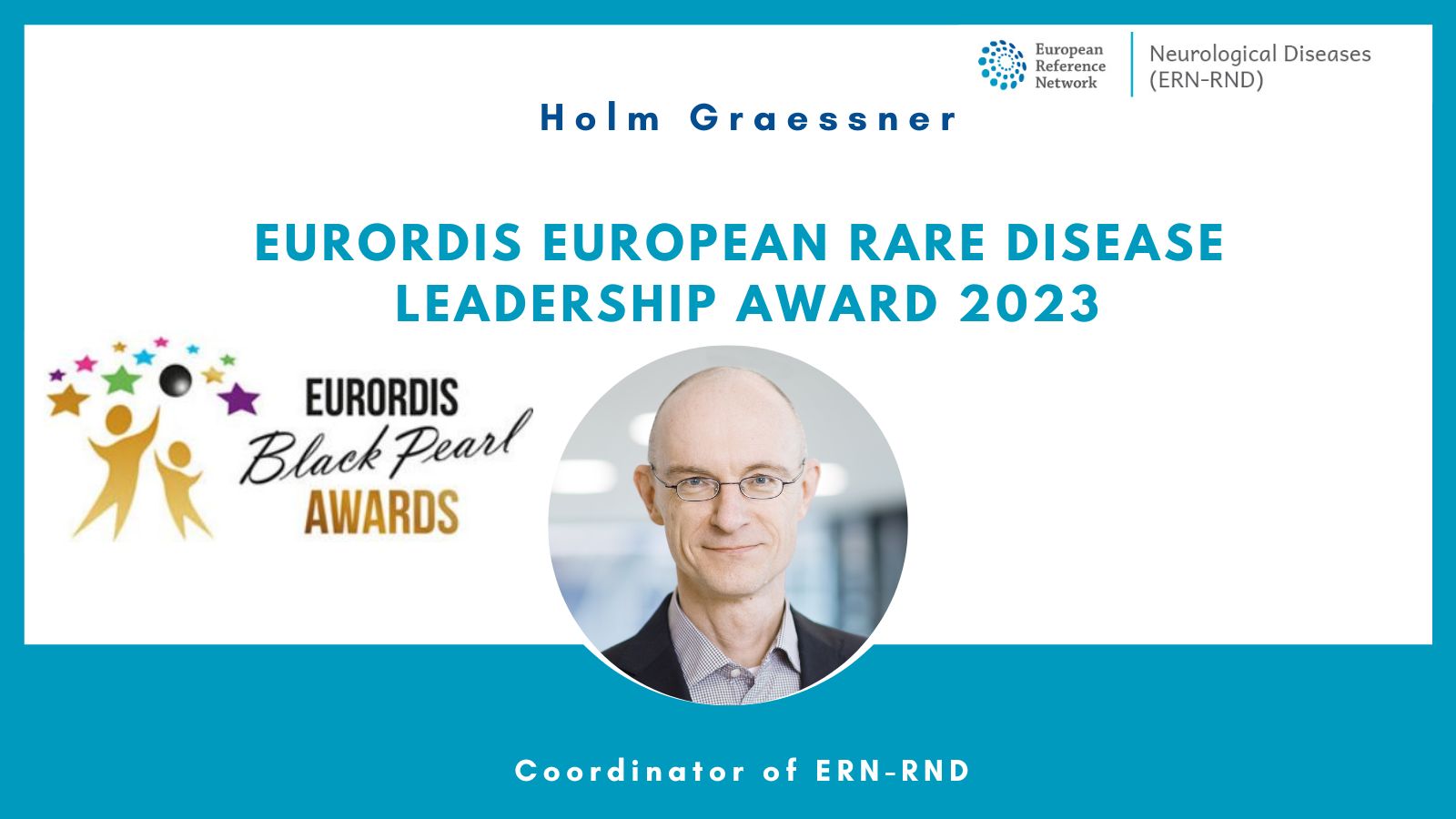 Holm Graessner, coordinator of ERN-RND, obtains the EURORDIS European Rare Disease Leadership Award 2023
| | | |
| --- | --- | --- |
| | | This is really a great honour, not just for me but for my team and the people I collaborate with. The dominating feeling is appreciation and gratefulness to the people I am privileged to work with in the area of rare diseases. And there are many nice and fit persons I collaborate with. |
This is how Holm Graessner describes his surprise and joy about the award.


Since 2012, EURORDIS has been recognizing patient advocates, patient organizations, policy makers, scientists, companies and media who are committed to making a difference for the rare disease community.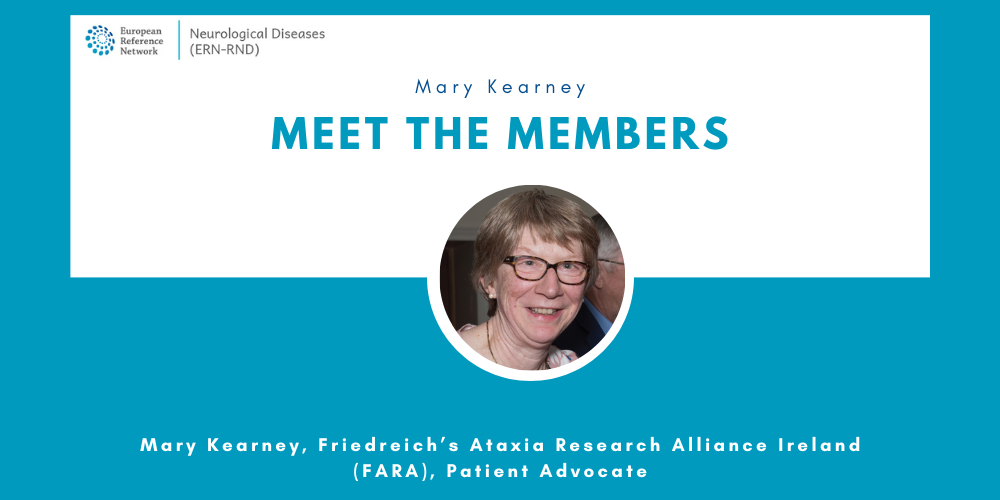 Mary Kearney, patient advocate at the ERN, provides an insight into the importance of
patient advocates
' work, her many years of experience in the field of
rare neurological diseases
, and her expectations of the network.

42 days until Rare Disease Day 2023
ERN-RND is committed to raising awareness of rare diseases and has supported Rare Disease Day for years. This year we are again involved.
The main objective of the campaign is to
raise awareness
amongst the general public and
decision-makers about rare diseases and their
impact on patients' lives.
Survey: mitochondrial diseases management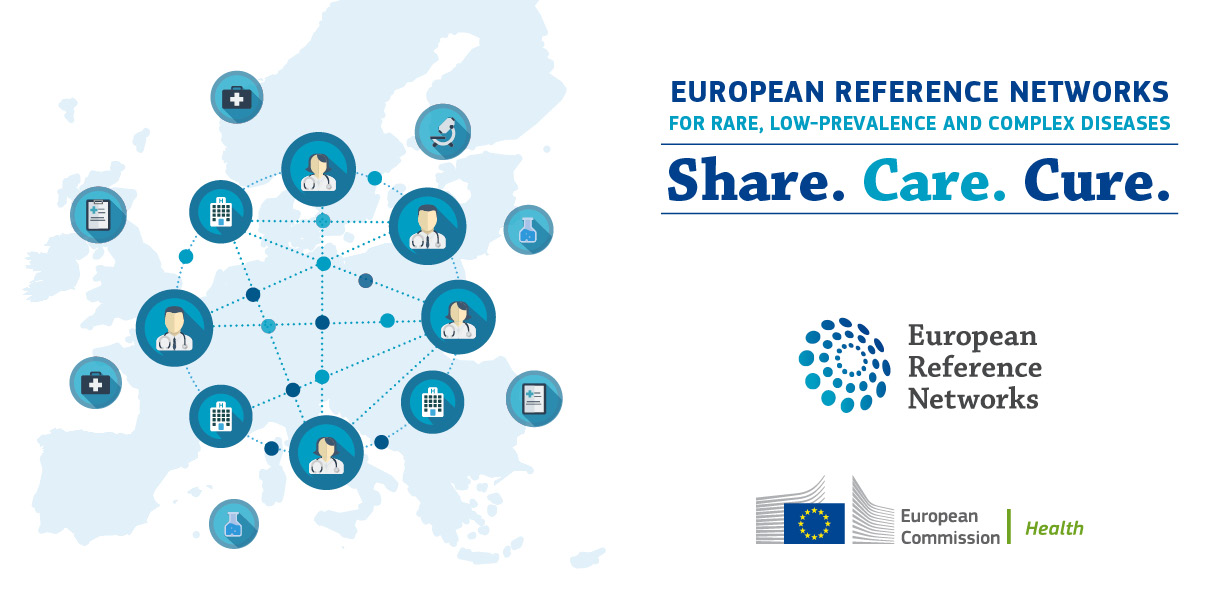 Survey on mitochondrial diseases management in Europe
Recently, several European Reference Networks for rare or low prevalence diseases (ERNs) decided to join forces. They created a joint work group dedicated to mitochondrial diseases, built by experts on Rare Neurological Diseases (ERN RND), Neuromuscular Diseases (ERN EURO-NMD), Rare and Complex Epilepsies (EpiCARE), Eye Diseases (ERN-EYE), Hereditary Metabolic Disorders (MetabERN), and by patient representatives.


Today, these experts call on you and your experience from everyday clinics, to get a clear picture on how mitochondrial diseases are managed throughout Europe. Please do help us get a maximum of input from clinicians, by answering the survey until January 26th

and do not hesitate to share the survey with your colleagues.


Answering the survey will take no more than 10 minutes. Your contribution is precious as the action of the experts towards harmonisation of mitochondrial diseases management in Europe will be based on your answers.
ERN-RND Disease Knowledge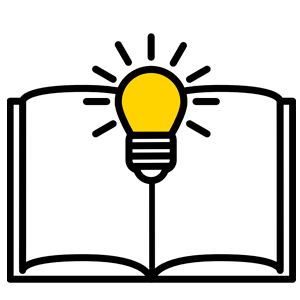 On our website, you can find information about the six Disease Groups covered in ERN-RND:

ERN-RND Patient Journeys

If you would like to translate a patient journey in your own language, please contact us and we will send you the documents to do so.
WEBINARS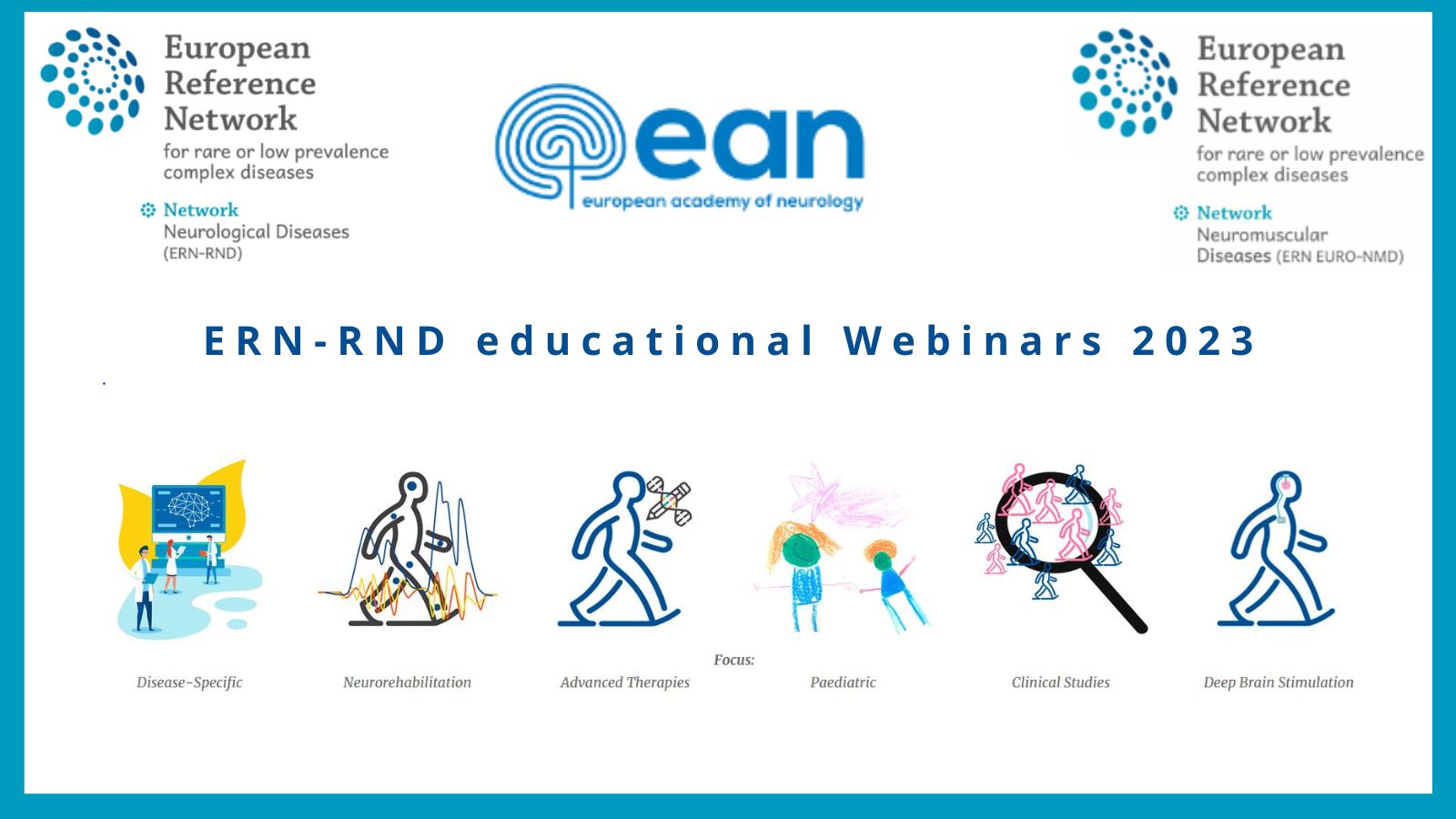 Upcoming joint educational webinars

ERN-RND provides free educational webinars on rare neurological and neuromuscular diseases - in collaboration with the European Reference Network for Rare Neuromuscular Diseases (EURO-NMD) and the European Academy of Neurology (EAN). The goal is to share knowledge on rare neurological, movement and neuromuscular disorders via a series of webinars presented by expert members of both networks.


07.03.2023, 3-4 pm CET| 'Towards precision medicine in NBIA' by Manju Kurian, GOS Institute of Child Health, University College London, UK. SIGN UP here


09.05.2023, 3-4 pm CET| 'Non-pharmacological approaches to treatment in svPPA' by Ana Sofia Costa, RWTH-University Hospital Aachen, Germany. SIGN UP here


23.05.2023, 3-4 pm CET| 'Frontotemporal dementia vs. primary psychiatric disorders' by Tim van Langenhove, University Hospital Ghent, Belgium. SIGN UP here


20.06.2023, 3-4 pm CET| 'Haematopoietic Stem Cell Transplantion in Leukodystrophies' by Jörn-Sven Kühl, University Hospital Leipzig, Germany. SIGN UP here


27.06.2023, 3-4 pm CET| 'Huntington disease: new insights into molecular pathogenesis and therapeutic opportunities' by Sarah Tabrizi, UCL Queen Square Institute of Neurology, London, UK. SIGN UP here


12.09.2023, 3-4 pm CET| 'Friedreich Ataxia' by Kathrin Reetz, RWTH-University Hospital Aachen, Germany. SIGN UP here


24.10.2023, 3-4 pm CET| 'Newborn screening in leukodystrophies' by Lucia Laugwitz, University Hospital Tübingen, Germany. SIGN UP here
ERN-RND Winter School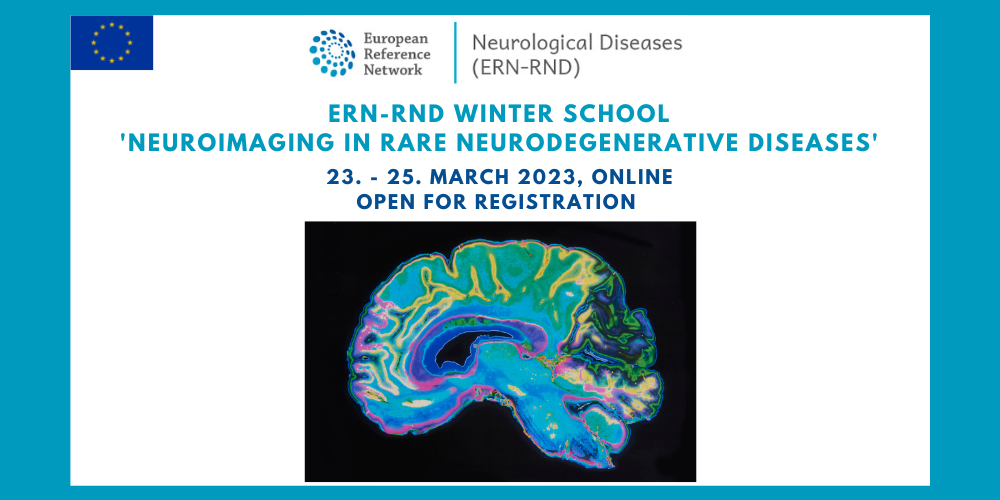 4th ERN-RND Winter School 'Neuroimaging'
23. - 25. March 2023, Online
The 4th ERN-RND Winter school in 2023 is dedicated to neuroimaging issues in patients with symptoms of a rare neurodegenerative /genetic disorders.
Due to the variety of clinical symptoms that occur in rare neurodegenerative diseases and difficulties in the correct diagnosis, there is a need to learn their characteristic imaging findings based on the appropriate imaging technique. The goal of this winter school is to learn the typical neuroimaging signs of selected rare neurodegenerative disorders and to elaborate with the participants a practical approach to apply neuroimaging in clinical practice. The winter school in 2023 will address basic technological and methodological aspects of neuroimaging techniques and their application to the diagnostic work up and management of rare neurodegenerative diseases' patients. Common misconceptions, pitfalls and the prognostic values of imaging features will also be tackled.
Funding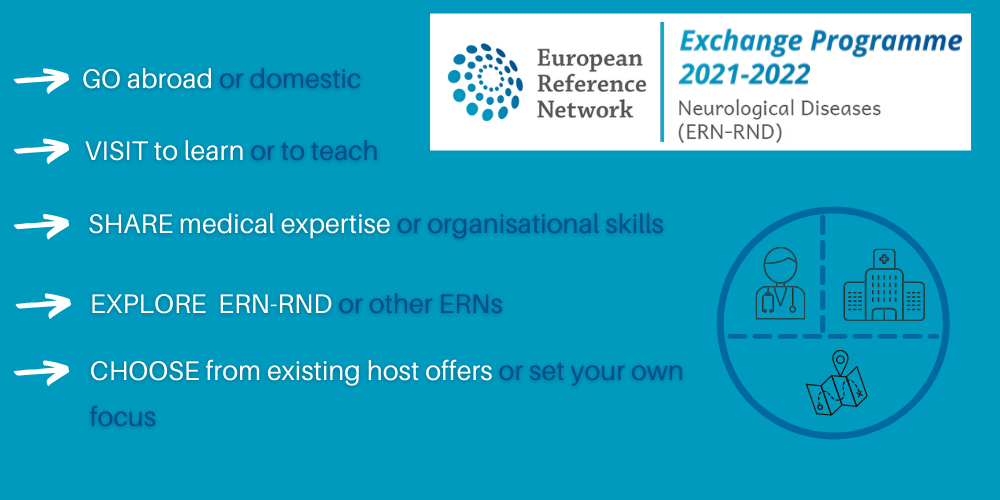 Successful closure of the ERN-RND Short Exchange Programme
We are pleased that we were able to bring together 17 visitors and 13 hosts from 13 different countries across Europe to collaborate in a variety of educational areas. They made the programme very valuable and useful!
The ERN-RND Short Exchange Programme ran from 2021 to the end of 2022. A number of exchanges will still take place by the end of January. In cooperation with Ecorys Ltd. and the EU HaDEA we established the programme for young researchers to gain experience and knowledge about patient care. 13 host institutions shared their expertise in one or more of a wide range of training areas with the visitors. How beneficial the programme was, is shown by the quote below of our very first participant, Belen Perez from Vall d'Hebron University Hospital in Barcelona, Spain, who visited University Medical Center Groningen in the Netherlands.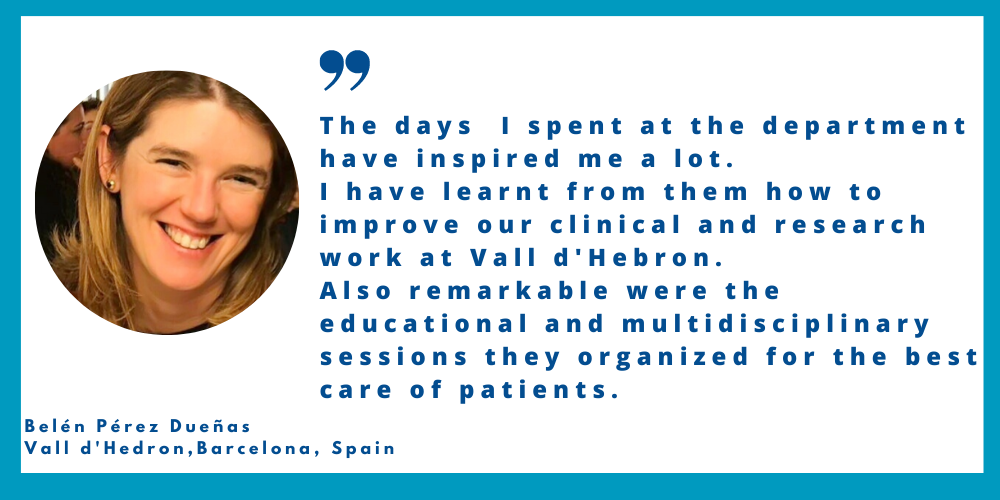 Webinars & Trainings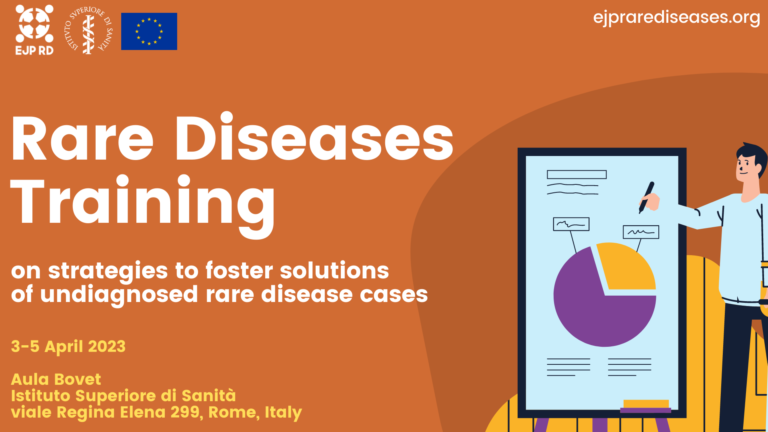 Training on strategies to foster solutions of undiagnosed rare disease
Rome, Italy on 3-5 April 2023.
As part of the training activities proposed by EJP RD, an 3-day training course on "Training on strategies to foster solutions of undiagnosed rare disease cases" is being organised by Istituto Superiore di Sanità (ISS) in close collaboration with EJP RD partners.
Through the presentation of sample use cases that have long eluded diagnosis, the course will provide participants with with useful tools, instruments and knowledge on novel strategies to foster solutions of undiagnosed rare diseases cases. Moreover, the course will facilitate networking among professionals involved in undiagnosed rare conditions.
Registration is mandatory and is currently open. Registration closes on February 15th.
Upcoming EVENTS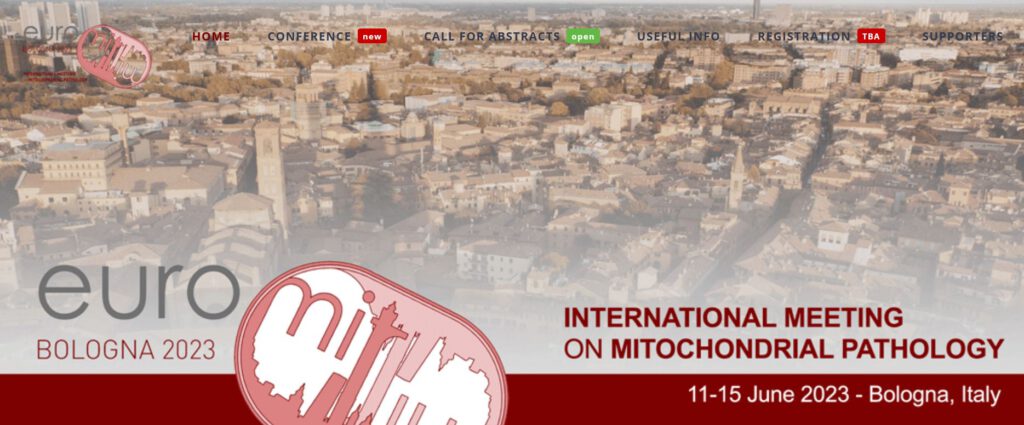 In the tradition of this meeting, the intent is to encourage the participation of diverse professional groups, from clinicians to clinical scientists, neuroscientists, and basic scientists.
Considering that there is likely to be an acceleration in the field of mitochondrial medicine in the next two years, leading to the availability of new technologies as well as new therapeutic approaches and possibly clinical trials, such contributions will be presented and explained in the scientific sessions.
Submission deadline for abstracts:
January 29th, 2023.

Congress of the Euorpean Paediatric Neurology Society
The main theme of the congress is "From genome and connectome to cure".
Be the next winner! During the Congress three prizes will be awarded: Outstanding abstract, Best ePoster, Best Oral Presentation. The Awards will be presented during the congress. The three winners will receive a free registration for the 16th EPNS Congress in Munich, Germany. What you need to do for your chance to win?
Registration: opens end of January 2023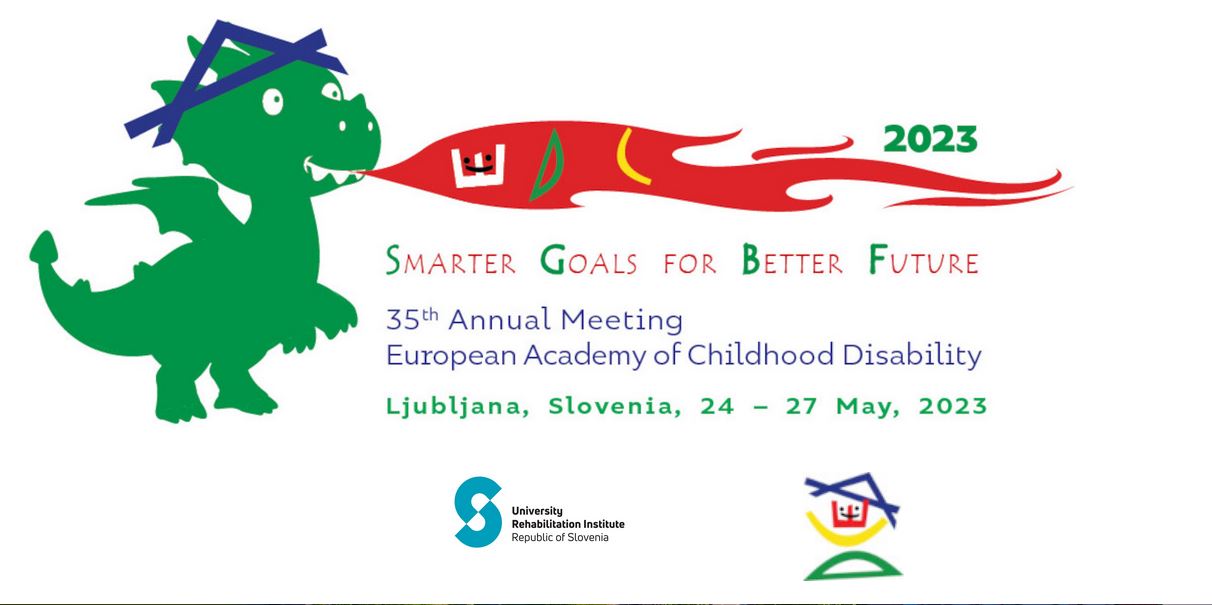 35th Annual Meeting European Acacemy of Childhood Disability

24 – 27 May 2023 in Ljubljana
The motto of this EACD annual meeting is "Smarter Goals for Better Future", with the intent to emphasize the importance of goal setting in all processes of care in the rehabilitation of children and youth. The program in Ljubljana will be divided into five main thematic modules:

The importance of timely intervention
Advances in the management of orphan diseases
Management of pain in children with developmental disorders and chronic pain syndromes in otherwise normally developing children
Goal setting: active role of the child and parent in (re)habilitation process
Advances in technological support of the rehabilitation process
Early Bird Registration Deadline:
20 February 2023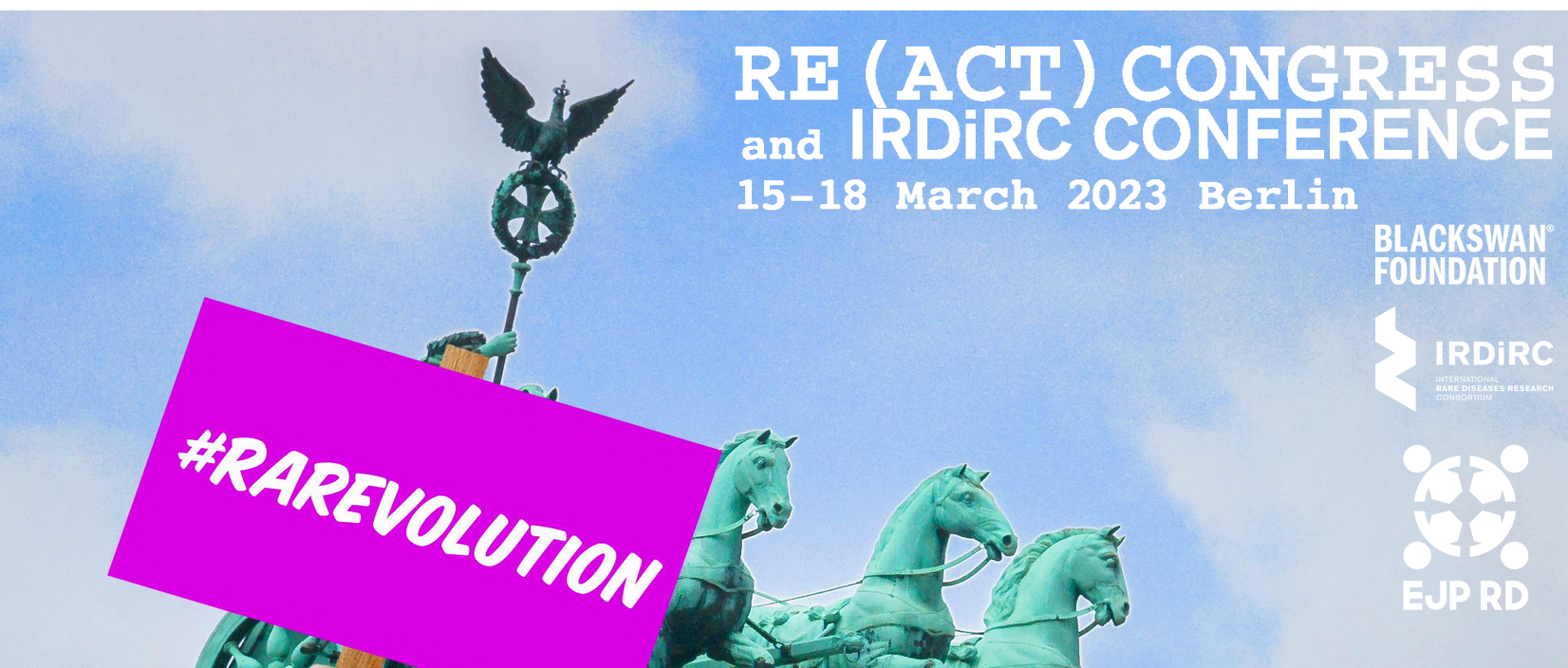 This joint event continues the IRDiRC Conference series (5th edition) and the RE(ACT) Congress series (7th edition). It aims to bring together scientific leaders, experts, and young scientists from various breakthrough scientific fields to present cutting-edge research, exchange ideas, and discuss policies related to rare diseases research. Patients and patient organizations committed to research will also attend to share their experiences and perspectives.
Abstract submission deadline: EXTENDED to January 31, 2023
PARTNER ORGANISATIONS


Solve-RD Final Meeting 2023 – Registration now open!
We are happy to invite you all to the Solve-RD Final Meeting 2023!
The meeting will take place from Monday to Wednesday 24-26 April 2023 at the Orea Hotel Pyramida in Prague, CZ and online.
Scientific Meeting – open to all Solve-RD partners & RD researchers
24-25 April 2023 | Fully dedicated to the scientific results Solve-RD achieved and based on submitted abstracts. Solve-RD beneficiaries, associated partners and collaborators but also other interested Rare Disease researchers are invited to attend. Apart from the welcome reception, poster session and meeting dinner the event can be followed online.
The impact of Solve-RD on research & care of RD patients – public symposium
26 April 2023 | Public symposium "The impact of Solve-RD on research & care of RD patients": two keynote lectures given by Ines Thiele from the University of Galway and Timothy Yu from Harvard Medical School will be followed by reports on the future of Solve-RD and the patients perspective. Major achievements of Solve-RD will be presented and a round table will discuss the future of rare disease diagnostics in Europe. This event is open to the public and can be attended by all interested parties via a Zoom webinar. All presentations will be given on-site in Prague.
Register here.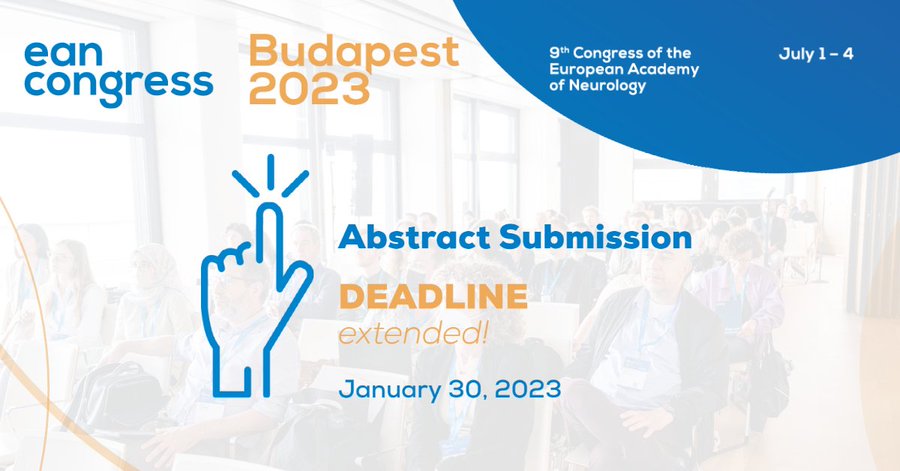 Presenting your research at Europe's largest neurology forum has always been exciting, and this year will be even more so.
Whether you wish to present your work as an oral platform presentation, an ePoster or as a virtual ePoster format, this is the ideal time to share your latest study results with the enthusiastic neurology community.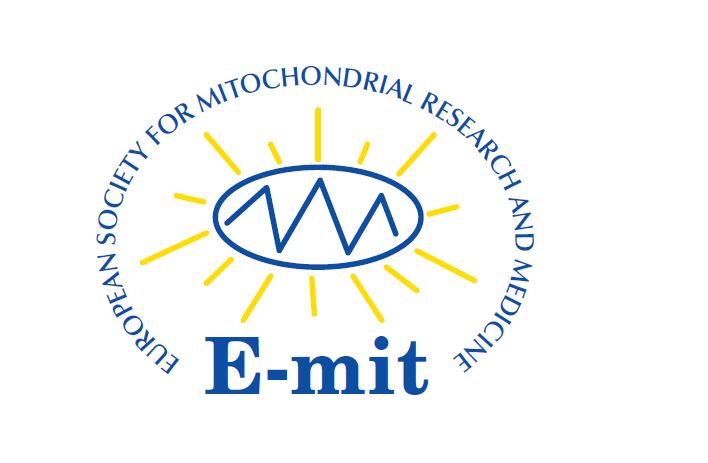 22 European Countries have created the European Society for Mitochondrial research and Medicine (E-mit).
The aim of the society is to promote research in mitochondrial biology and medicine in Europe, and to be a reference and voice for mitochondrial research both here and abroad. Mitochondrial research today is diverse and multifaceted, and we aim to highlight and accelerate this growing and ever-expanding scientific field by
● establishing, strengthening, and sustaining connections between mitochondrial researchers, clinicians, patient associations, and all other stakeholders involved in the field.
● developing and fostering training activities and workshops for ECRs and clinicians
● promoting equal access to high standards of specialist care, treatments, drugs, clinical trials, research opportunities, infrastructure and funding, internationally.
● communicating with the wider public about the key role of mitochondrial research and medicine through outreach and community activities.
NEWSLETTER
The ERN-RND Newsletter is published monthly. Please forward this newsletter to your colleagues who can also sign up to receive it directly here or by emailing communication@ern-rnd.eu
Thank you for your support and take care.


ERN-RND Coordination team