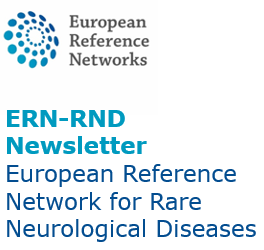 We hope you had a nice summer and wish you a pleasant reading!
ABOUT US
New ERN-RND affiliated partner
We are pleased to announce that the Pauls Stardins Clinical University Hospital in Riga, Latvia, and ERN-RND have signed a bilateral cooperation agreement. Pauls Stardins Clinical University Hospital will be added as an Affiliated Partner to ERN-RND.
ERNs
3rd ERN Hospital Managers meeting
The 3rd meeting of the ERN Hospital Managers took place in Hôpital Saint Louis (Assistance Publique – Hôpitaux de Paris) on 16 and 17 May 2019. The main aim of this meeting was to consolidate their role in the ERN system and to help facilitate the activities and strategic position of those hospitals hosting an ERN member and those who will be doing it in the future.
The report and the presentations are available on the EUROPA website.

Publication of the Commission implementing Decision on ERN
On Friday 26 July 2019, the Commission adopted the Commission Implementing Decision (EU) 2019/1269 of 26 July 2019 amending Implementing Decision 2014/287/EU which was published in the Official Journal of the European Commission.
Announcement of the call for new members to join the existing ERNs
On Monday 29 July 2019 the European Commission published information on the EUROPA website on the call for new members to join existing ERNs. The exact date of the launch of the call will be announced soon. Three additional documents for applicants are now available:

Read more about the call here.
ePAGs

September is Dystonia Awareness Month! Our ePAG Dystonia Europe has created "Dystonia Talks", a video series including short interviews with patients, practitioners and care takers. Please help raise awareness of dystonia by watching, commenting, liking, sharing or subscribing. You can find the videos on their YouTube channel as well as on their other social media channels as they share them during the month of September.
European Commission
Horizon Europe co-design 2021-2024 questionnaire
The Commission is preparing the implementation of Horizon Europe, the next EU research and innovation programme (2021-2027) and has launched an online consultation for anyone interested in research to help shape European research and innovation investments in the next few years. We encourage our members and the wider brain community to take part in this survey. The consultation will close on 8 September.
Solve-RD
Treatabolome database
The Treatabolome Task Group from Solve-RD "aims at changing patient lives via the establishment of a treatabolome database flagging treatable genes and variants, which will contribute to the translation of genomics data into the clinical setting".
Experts are invited to contribute and provide a systematic review of their expertise area to feed the treatabolome database. You will find more information about the Treatabolome database here and about Solve-RD here.
Solve-RD is collecting unsolved rare disease cases
Solve-RD's aim is to collect and re-analyse 19,000 unsolved exomes/genomes from rare disease patients and their family members. So far, they collected more than 6,600 datasets. Partners from the ERN-RND have contributed more than 2,000 datasets.
If you have exome/genome sequencing data from unsolved rare disease cases you would like to contribute and you are from one of the four core ERNs in Solve-RD (ERN-RND, ERN EURO-NMD, ERN-ITHACA, ERN-GENTURIS) please get in touch with Tina: tina.harmuth@med.uni-tuebingen.de
The first meeting of the Data Interpretation Task Forces (DITFs) in Solve-RD will take place on 10 September 2019 at the Crowne Plaza Hotel Amsterdam-Schiphol. The DITF meeting is a working meeting of the Data Interpretation Task Forces of the four core ERNs in Solve-RD: ERN-RND, ERN EURO-NMD, ERN-ITHACA and ERN-GENTURIS. We will discuss cohorts, omics slots and requirements of sample shipment, data upload, use cases and analyses planned!

EVENTS FROM PARTNERS
8th October: training offered to registries by the EU RD Platform for Rare Disease registration on the European Rare Disease Registry Infrastructure tools. This training is directed to participants who's registries are ready to become part of the EU RD Platform through the ERDRI tools. A hands-on module is also delivered during this training. You can express interest for this training here outlining clearly your motivation in the free text box.
9th October: setting-up a registry using OSSE. This training is directed to participants who are interested in starting a new registry. You can express your interest for this training here outlining clearly your motivation in the free text box.

For these training sessions, the Joint Research Centre of the European Commission (JRC) will be covering travel and accommodation costs.
Deadline for expression of interest: 3 September 2019
Maximum no of participants: 15
RESEARCH
MSA Trust Research Grant Round 2019
MSA Trust, a UK charity supporting people affected by Multiple System Atrophy (MSA), is accepting new and innovative project grant applications for Research Grant Round 2019. They welcome grant funding applications up to the value of £150,000 on any aspect of basic, translational or clinical neuroscience, aimed at better understanding the cause and/or improving treatment of MSA.

Applications open: 1st September 2019
Applications close: 30th November 2019, 5pm


NEWSLETTER
Please circulate this newsletter to your colleagues who can also sign up to receive it directly here or email alicia.brunelle@med.uni-tuebingen.de
ERN-RND Coordinating team