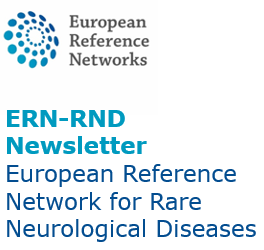 ABOUT US
ERN-RND Annual Meeting 2019
The annual meeting will take place on 17-19 June 2019 in Siena, Italy gathering ERN-RND members including the coordinating team, clinicians, researchers and European Patient Advocacy Group representatives. The format of the meeting is as follows:
- Day 1: scientific symposium and poster session
- Day 2: annual meeting sessions
- Day 3: board meeting

We look forward to seeing you all in Siena!


Interview of ERN-RND coordinator Holm Graessner with the EAN
To mark the recent signature of a MoU between the European Reference Network for Rare Neurological Diseases and the European Academy of Neurology, ERN-RND coordinator Holm Graessner was interviewed by Dafin Muresanu, Chair of the EAN Communication Committee. Read the full interview describing the work of ERN-RND here.


KNOWLEDGE

One of the aims of this year's ERN-RND activities is to develop therapeutic algorithms for the different rare neurological diseases. This will be done using the Delphi process, a structured consensus method, based on a panel of experts. It consists of multiple rounds of expert surveys, with the anonymous results being aggregated and fed back to the experts after each round.
CPMS
CPMS getting started guide for hospitals
You can find the new CPMS technical guide on our CPMS webpage which includes information on recommended browsers for CPMS best user experience, IP addresses to be whitelisted by hospitals and bandwith requirements.


The next webinar "CPMS FAQ & As" organised by the ERN IT support for member hospitals will take place on 23 May 2019, 14h CET.
EVENTS FROM PARTNERS
ERN-RND at the EAN Conference 2019

We are pleased to announce that the ERN-RND will be sharing a stand with fellow ERN, EURO-NMD at EAN 2019! You cand find us at booth C61.
The 5th Congress of the European Academy of Neurology is taking place in Oslo from 29 June - 2 July 2019. The overarching theme is "Neuroinflammation - Science, Synergies, Solutions".
If you are attending the conference, don't miss the session "The lesson from Rare Neurological Diseases for understanding nervous system functions and dysfunctions" on 29 June at 16h45 CEST chaired by and with presentations of ERN-RND members.
Find more information on the EAN website.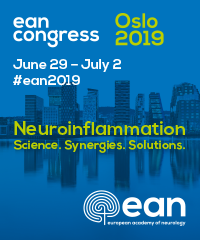 International Summer School on Rare Disease Registries and FAIRification of Data

The
International Summer School on Rare Disease Registries and FAIRification of Data, proposed by the European Joint Programme on Rare Diseases (EJP RD) is taking place on 23 - 27 September 2019, Istituto Superiore di Sanità in Rome, Italy.
Please find more information about the Summer School on the EJP RD website.

Call for interest for EU RD platform training
The European Commission has launched a call for interest for their next EU RD platform training on 25 June. Express your interest here.
NEWSLETTER
Please circulate this newsletter to your colleagues who can also sign up to receive it directly here or email alicia.brunelle@med.uni-tuebingen.de
ERN-RND Coordination team