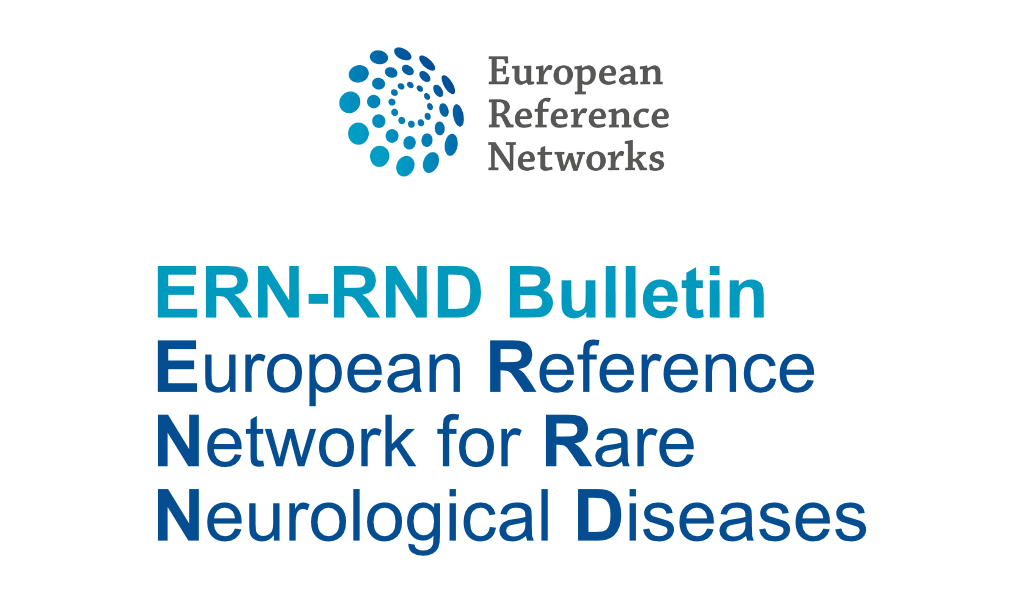 ERN-RND Annual Meeting
Documents
The CPMS in numbers
Upcoming webinars

CPMS case discussions

Funding
Events
Ongoing surveys
Job opening: project manager and communication manager ERN-RND
Research articles
Acknowledgement
ERN-RND Annual Meeting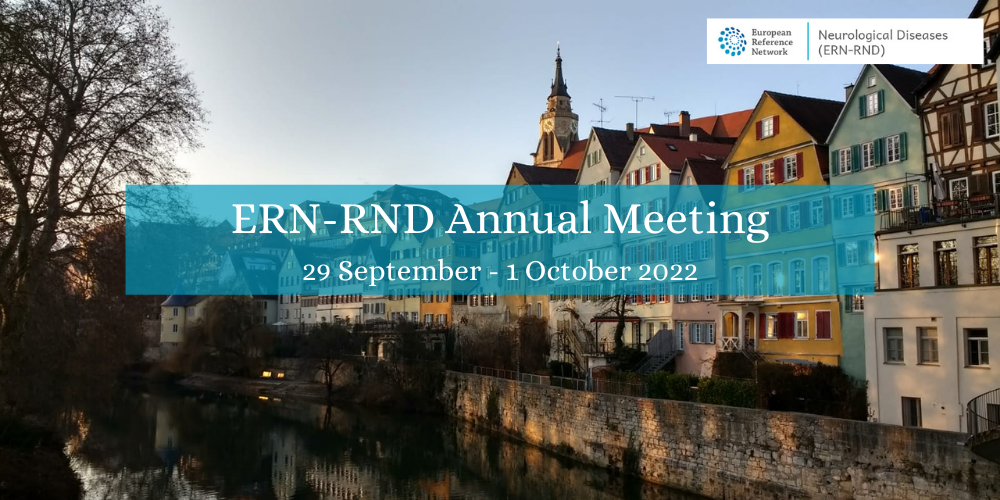 The ERN-RND Annual Meeting is scheduled for 29 September – 01 October 2022 in Tübingen, Germany. To enable participation of as many members as possible, we plan a hybrid event with one representative per HCP on-site.


Please mark your calendars – more information will follow.
DOCUMENTS

Minutes brainstorming meeting EURO-NMD, EpiCARE & ERN-RND - May & June 2021

Minutes call Dystonia, Paroxysmal Disorders & NBIA - 6 December 2021

Minutes call Leukodystrophies - 8 December 2021

Minutes call FTD - 16 December 2021

Minutes call Neurophysiology/myoclonus - 7 December 2021 & 17 January 2022

Minutes meeting 1 & 2 Postgraduate Curriculum
THE CPMS IN NUMBERS

The Clinical Patient Management System (CPMS) is the secure IT platform of the ERNs for exchanging clinical data, allowing ERN clinicians to view and discuss unsolved and complex cases online – and thus the heart of cross-border healthcare in ERN-RND.
With a fresh start in the new year and many exciting advances in ERN-RND and CPMS, it is time to look back on CPMS usage in ERN-RND since its introduction in 2017.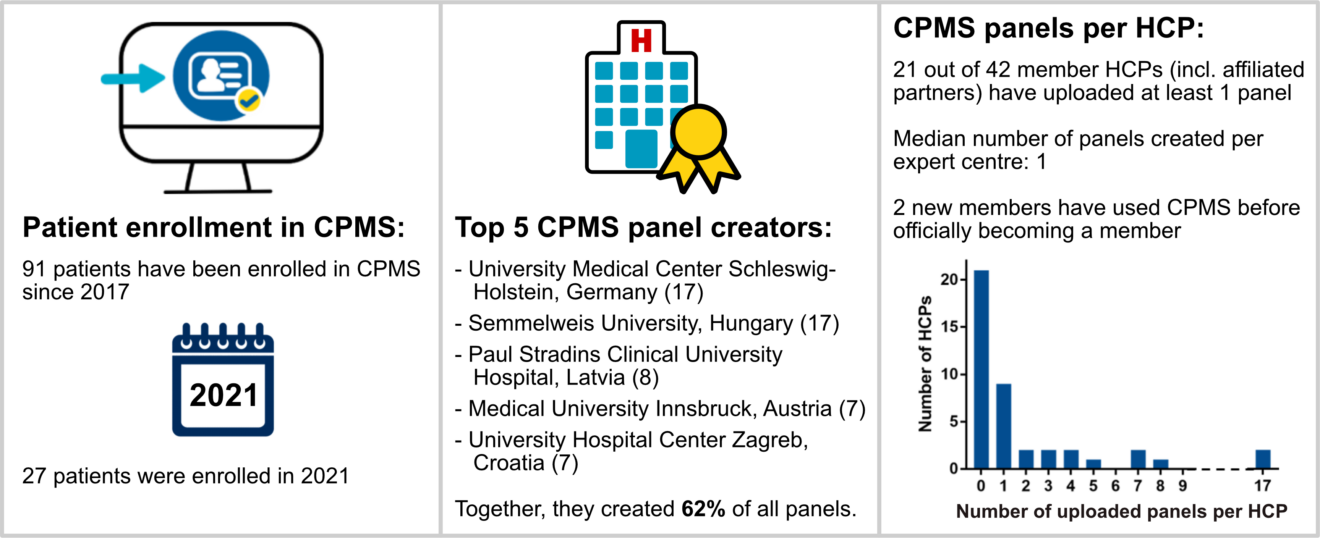 You can find the complete overview of CPMS panels per HCP here.


We invite especially those centres that have not yet used CPMS to enroll patients and benefit from cross-border healthcare.
This concerns our members in Aarhus, Bonn, Bordeaux, Bruxelles, Copenhagen, Groningen, Ljubljana, Luxembourg, Prague (Motol), München, Oulu, Paris, Rome, Rotterdam, Rozzano, Siena, Sofia and Toulouse as well as our warmly welcomed new members.


The CPMS helpdesks

Alisa, Sanja and Tamara are always happy to help you to get familiar with the system!
UPCOMING WEBINARS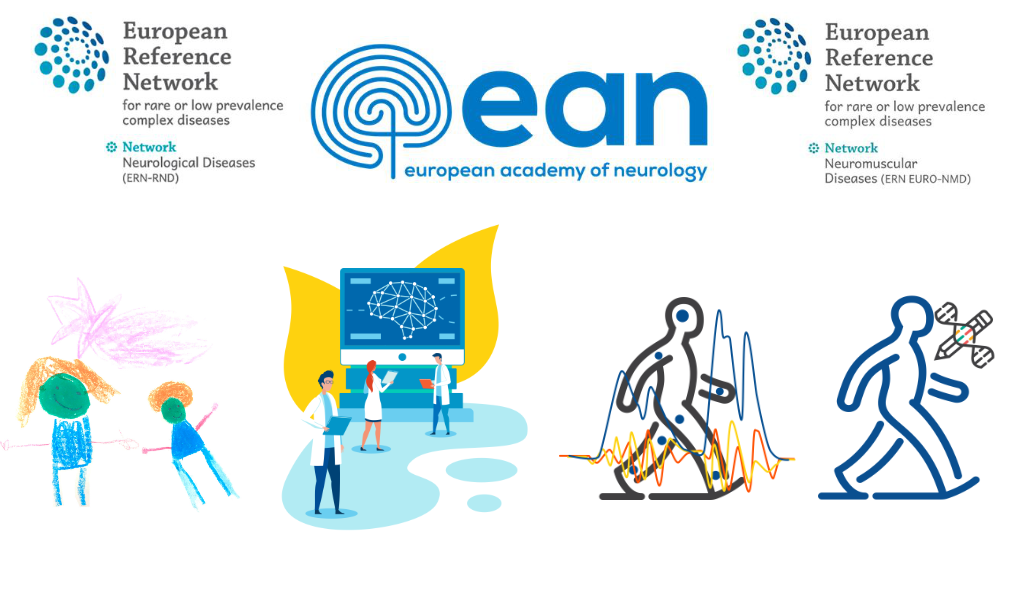 Upcoming ERN-RND, ERN EURO-NMD and EAN joint webinars:
CPMS CASE DISCUSSIONS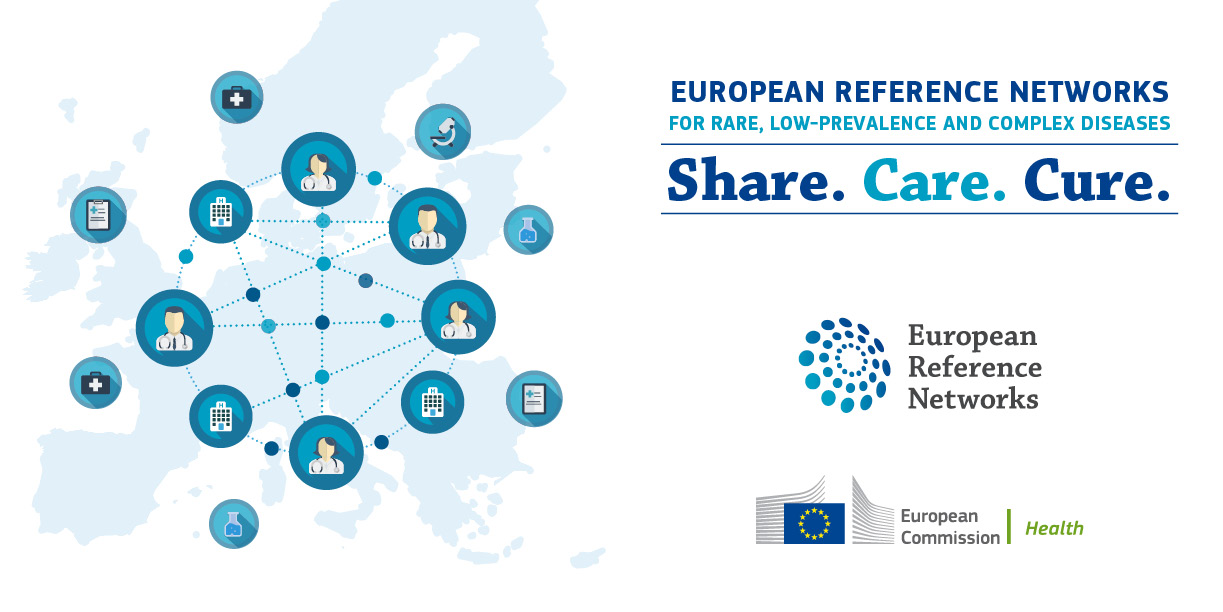 "In CPMS, I have contributed on both sides, first as an expert and also by presenting a clinical case. I have already used the previous CPMS, and the new one is more user-friendly. Preparing a clinical case for the current CPMS takes about the same amount of time as for other types of meetings." – Juan Dario Ortigoza Escobar, Barcelona


Online case discussions jour fix
Recently, regular Online Case Discussions were added to the ERN-RND activities. Any clinician from the ERN-RND network is welcome to join, contribute to the discussion and learn from the approaches of their colleagues.


You would like to contribute with a case to the discussions?
Please contact us ASAP!


Dystonia, NBIA & Paroxysmal Disorders (disease management):
03.02.2022, 16:00 – 17:30 CET


Ataxia & HSP (unsolved/complex case):
10.02.2022, 16:00 – 17:30 CET


Leukodystrophies (disease management):
17.02.2022, 16:00 – 17:30 CET


Atypical Parkinsonism (disease management):
03.03.2022, 16:00 – 17:30 CET


Choreas and Huntington's disease (disease management):
11.03.2022, 10:00 – 11:30 CET


More information and registration via

this link

.
FUNDING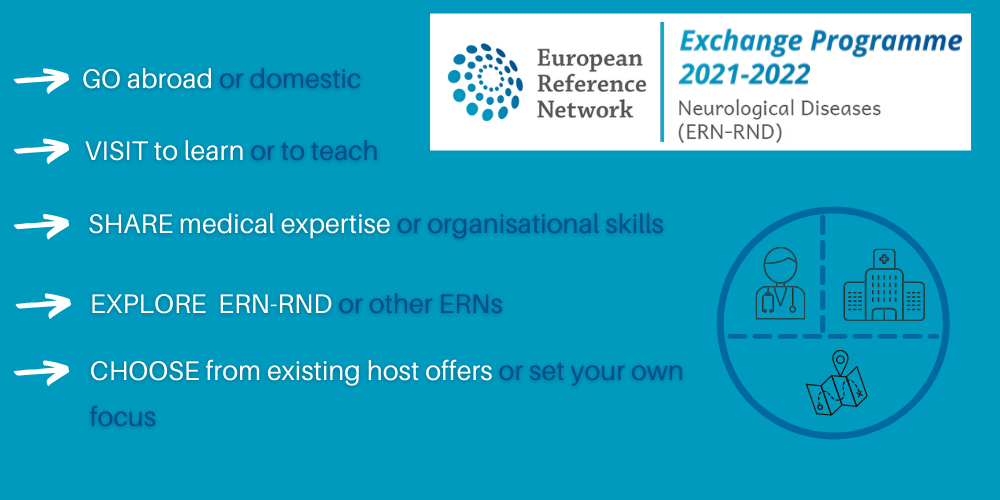 ERN-RND Short Exchange Programme: call for applications!
Healthcare professionals (clinicians, nurses, physiotherapists, etc.) affiliated to ERN institutions (Full Members or Affiliated Partners) can receive organizational and financial support for secondments with clinical focus lasting up to four weeks in ERN expert centres other than their home institution, supporting the sharing of knowledge and stimulating collaboration.


Belén Perez Dueñas from Barcelona visited the University Medical Centre in Groningen within the programme – here is what she has to say about her 13-days stay focusing on DBS in children and young adults with dystonia:
"The days I spent at the department with Marina, Martje and the rest of the group have inspired me a lot; I have learnt from them how to improve our clinical and research work at Vall d'Hebrón. They are a highly qualified team that takes care of people to make them feel comfortable and motivated. The ability they have to guide and supervise the research and clinical studies of so many doctors and students, and to strengthen their focus of interest in the field of movement disorders was amazing. Also remarkable were the educational and multidisciplinary sessions they organized for the best care of patients. And last for not least, I will always be grateful for the breaks they organized for having lunch and fun together."
Are you inspired to go on a trip yourself? Please find more information about the programme on our

website!


Please note: due to the current COVID-19 situation, secondments in the period of December to April will not be supported by the ERN Exchange Programme.

However,

the online application portal

remains open during the winter months and we highly encourage applications for secondment in the period from May to August 2022!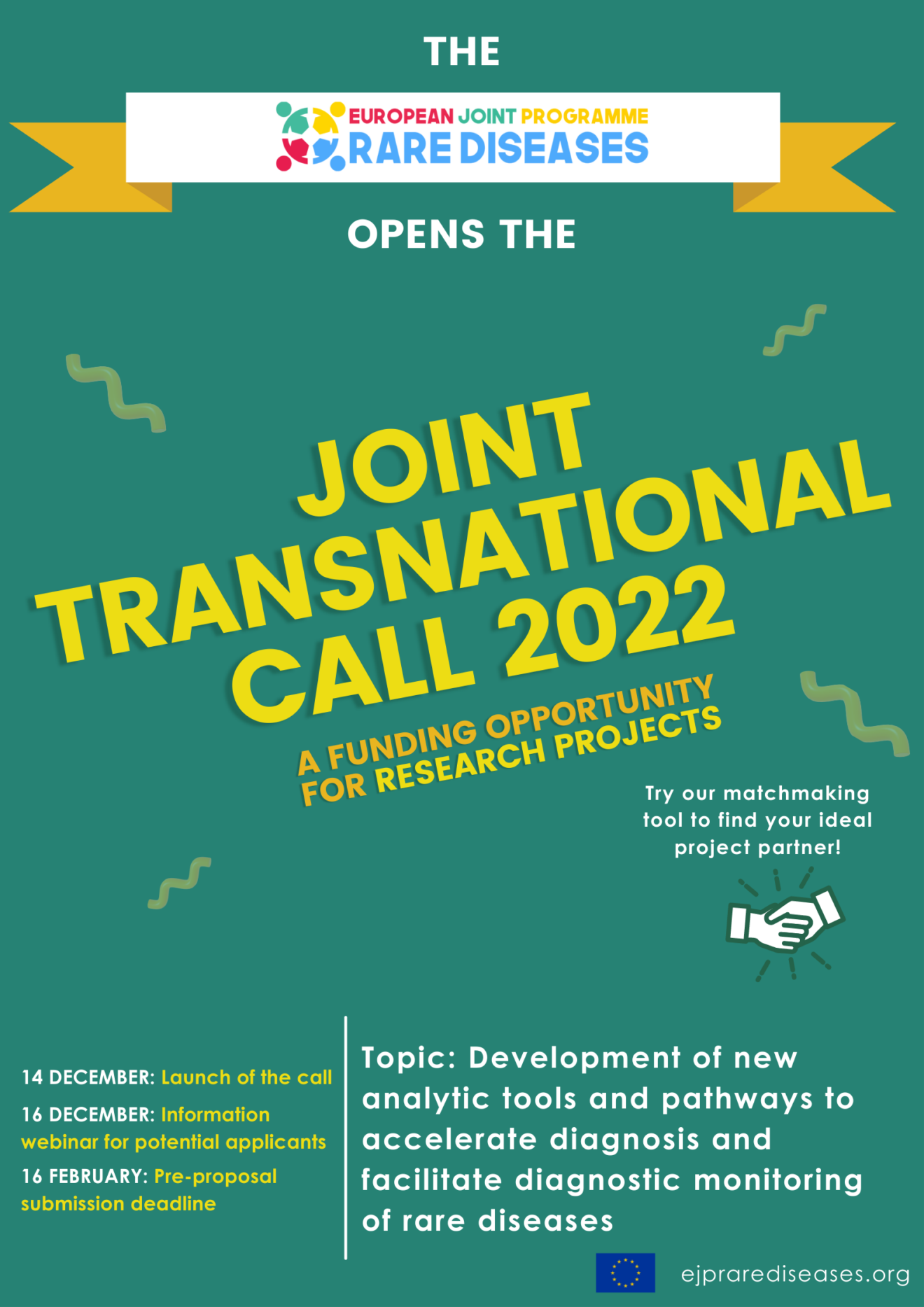 The European Joint Programme on Rare Diseases announced the official launch of the Joint Transnational Call 2022, a funding opportunity for research projects on the development of new analytic tools and pathways to accelerate diagnosis and facilitate diagnostic monitoring of rare diseases.
The aim of the funding opportunity is to enable scientists in different countries to build an effective collaboration on a common interdisciplinary research project based on complementarities and sharing of expertise, with expected impact to use the results in the future for benefit of patients


Topic: Development of new analytic tools and pathways to accelerate diagnosis and facilitate diagnostic monitoring of rare diseases


JTC2022 timetable, contact, and more information here.
EVENTS

Despite the inherent rarity of a rare disease, it is not rare to have a rare disease. The same is true for its impact on daily life and psychosocial burden. Research shows remarkable similarities in the need for care across different rare diseases (e.g., coping with uncertainty, quality of life, holistic care, and social support). In this webinar, we will address these needs for rare diseases, and shed light on how to reach and support as many patients as possible

EURORDIS Black Pearl Awards Ceremony
Registration is now open for the next EURORDIS Black Pearl Awards ceremony.

You can register for free by clicking on the button below.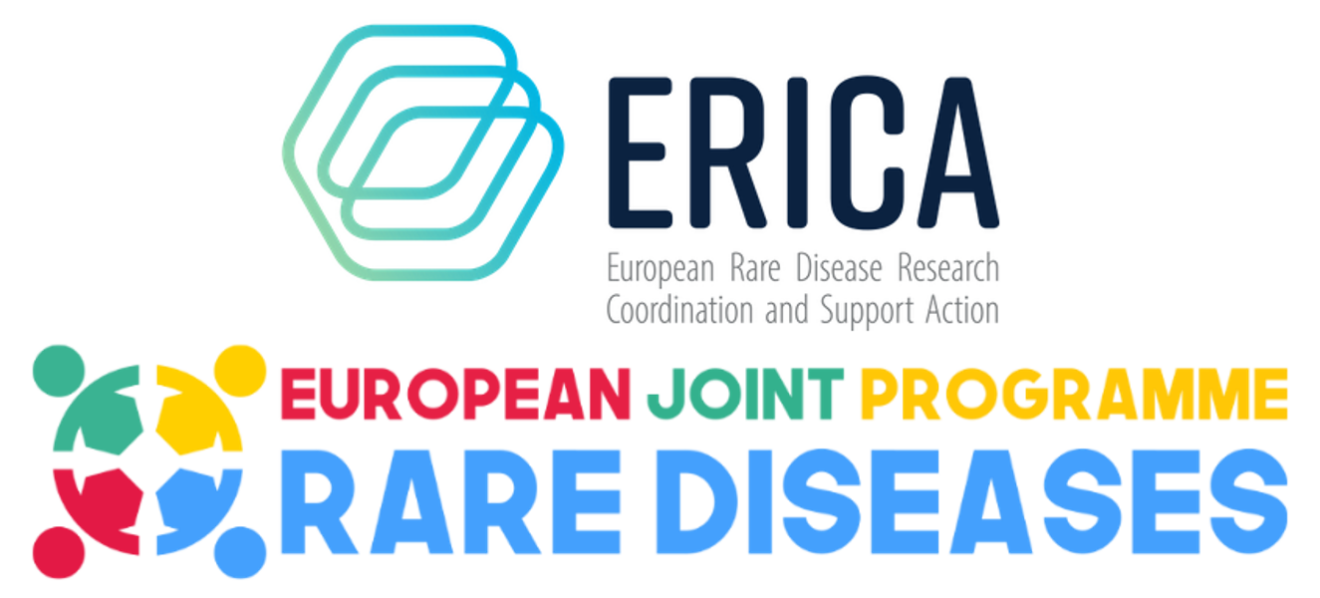 EJPRD- ERICA Joint Workshop "Finding RD registry data in the Virtual Platform"
A hands-on session will be held for you (as Virtual Platform (VP) end-users) to test the first version of the VP, provide feedback and address any further open questions.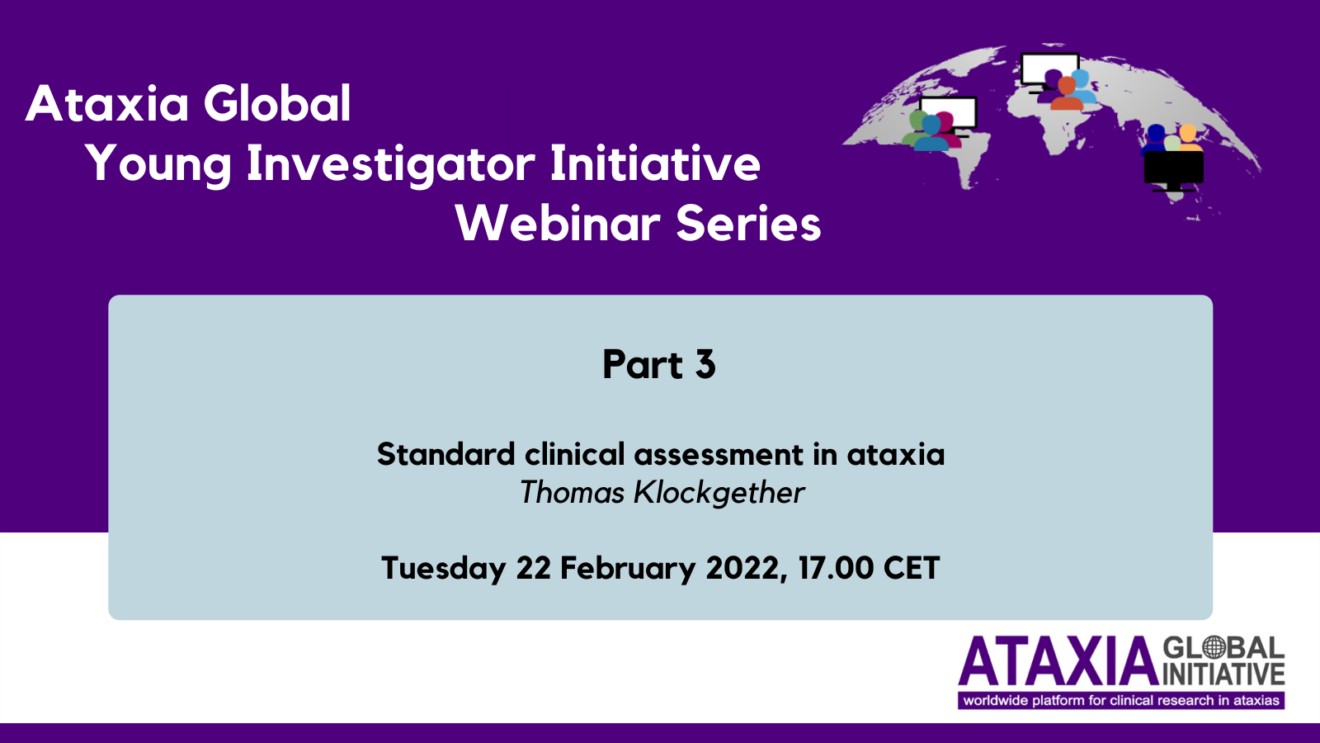 Scope of the seminar is to introduce and present a standard clinical assessment program for ataxia studies. Focus will be on the discussion of the strengths and weaknesses of available clinical scales. The seminar will provide an outlook of further development of scales and their use in upcoming clinical trials.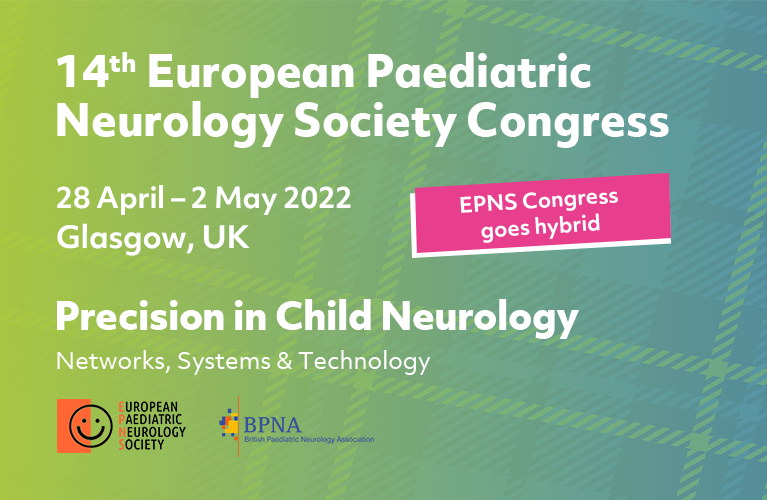 Date: 28 April - 2 May 2022
Venue: Glasgow, UK & online
Registration for the

14

th

Congress of the European Paediatric Neurology Society (EPNS) is now open for onsite and virtual participation.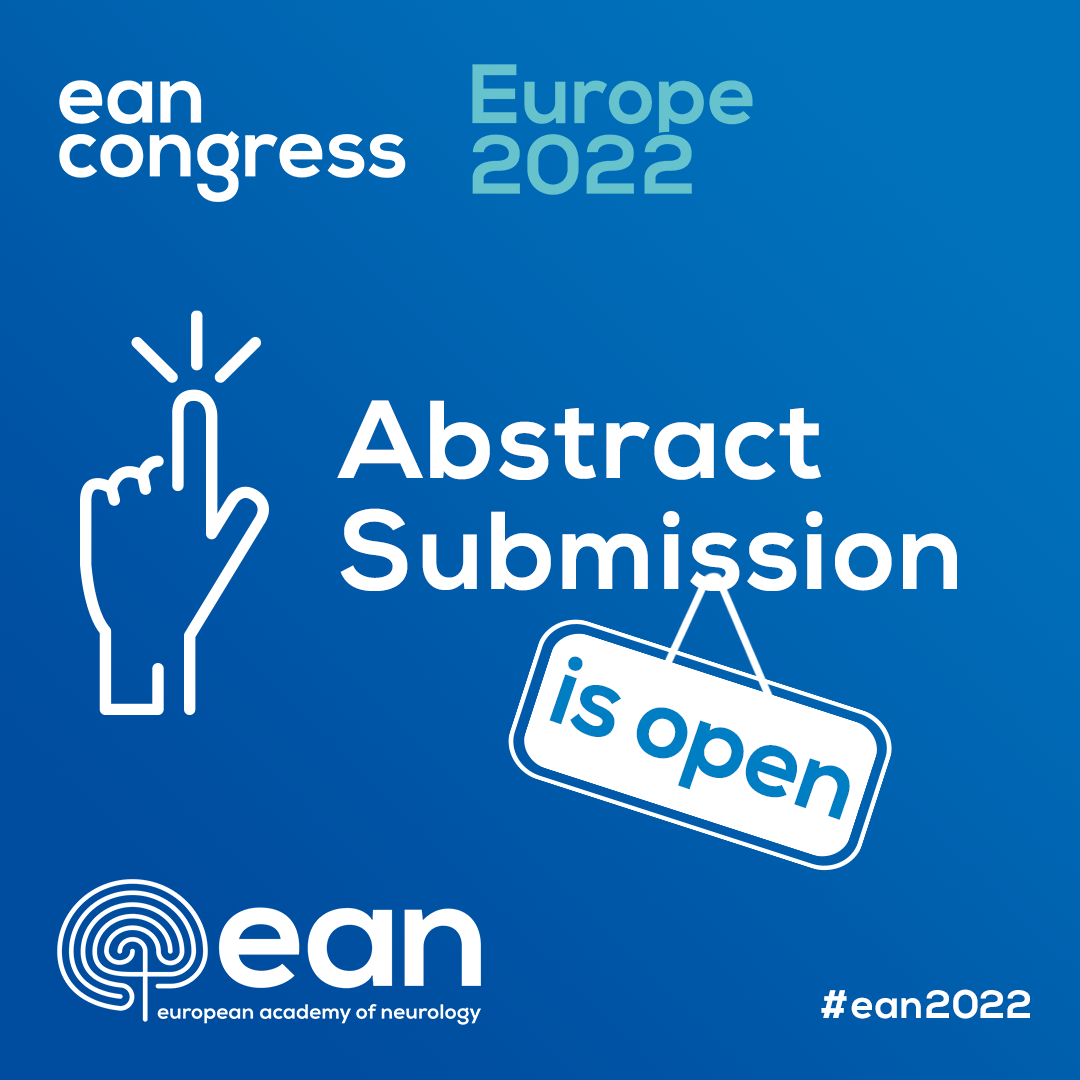 Date: 25 - 28 June 2022
Venue: Vienna, Austria


Abstract submission has been extended until 2 February 2022.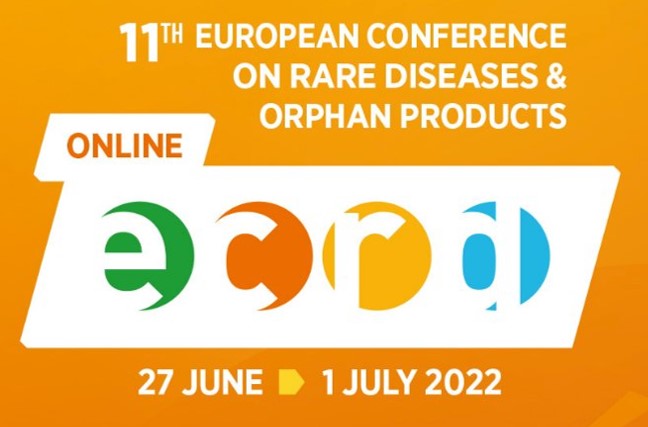 Date: 27 June - 1 July 2022
Poster abstracts submissions for the ECRD 2022 are now open until 31st March 2022.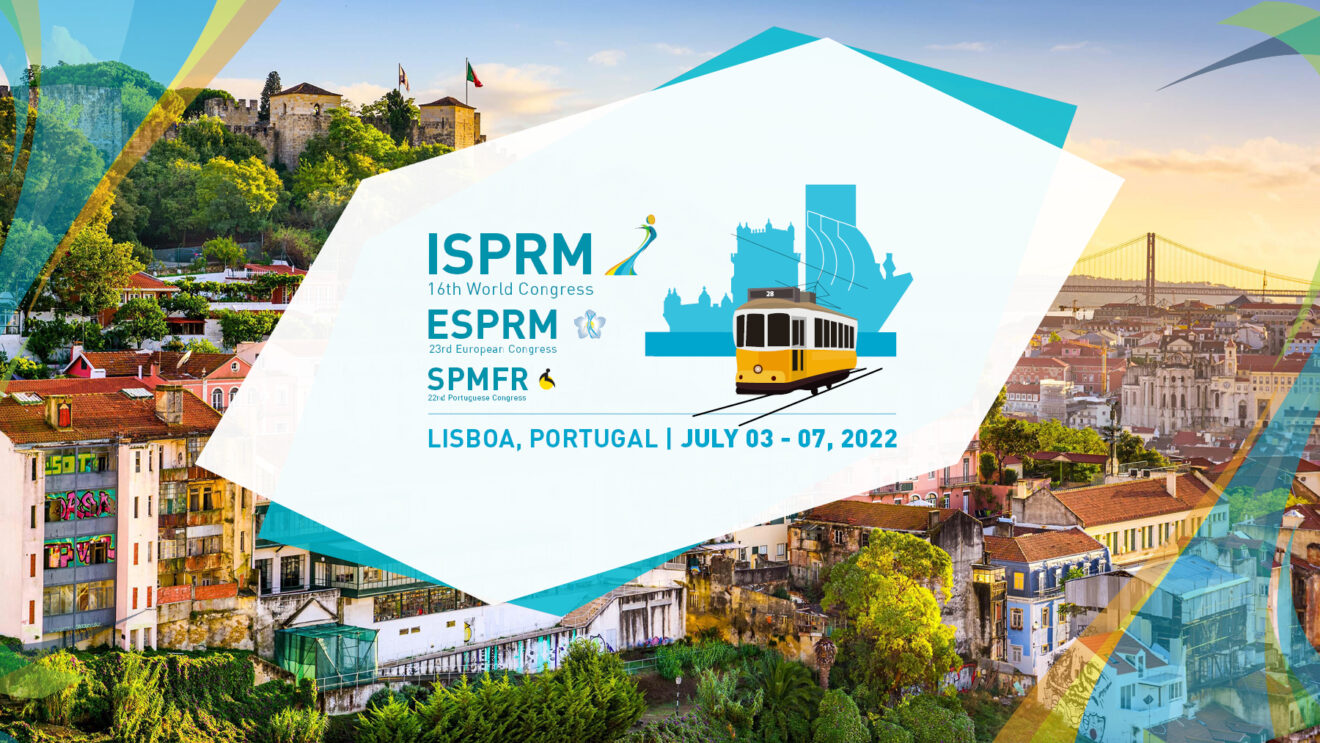 Register via the button below.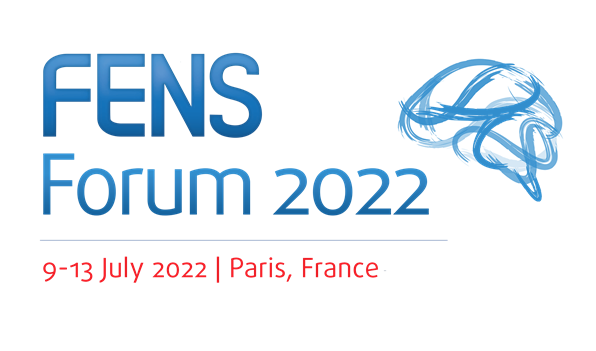 Date: 9 - 13 July 2022
Venue: Paris, France


Abstract submission is open until 22 February 2022.
ONGOING SURVEYS
For members of the Ataxia/HSP and paediatric issues group:
The ERN-RND Disease Group Ataxia and HSP has started a Guideline Development about the Management of Transition

from Pediatric to Adult Care

in Ataxia and HSP and in other rare neurological disorders. To get an overview about the current management of transition in the HCPs of ERN-RND, a questionnaire is collecting answers from pediatric and adult neurologists.


Deadline for responding: 1 February 2022.
For members of the FTD group:
The ERN-RND Disease Group FTD is planning an expert opinion paper on the management of behavioral disturbance in FTD. A survey has been designed to collect the state-of-the-art drug and non-drug management for the respective behavioral disturbances in the different centers.


Deadline for responding: 1 February 2022.
Share4Rare study on health-related quality of life in people living with rare diseases
This new Share4Rare study will gather specific information on the effects of the disease on people's quality of life, which will help professionals and policymakers to make more accurate decisions and design suitable recommendations. Will you join us to do some research?


If you are a patient or a caregiver and you would like to participate in this challenging project, you can register here.
The study is available in Spanish and English and will close on 14th February, as the results will be disseminated on Rare Disease Day 2022.
JOB OPENING ERN-RND COORDINATION OFFICE
We are looking for a project manager and a communication manager based in Tübingen, Germany.
Applications are open until 1 February. More information via the buttons below.
RESEARCH ARTICLES
Once we are made aware of a new publication to which an ERN-RND member has contributed, we post the link to it in the news section of the ERN-RND website here.
You can also email us directly to let us know that you have recently published a research article.
ACKNOWLEDGEMENT
Please use one of the sentences below to acknowledge ERN-RND in all publications/presentations/clinical trials etc. (this document can also be found on the Collaborative Platform).
If possible, the logo should also be displayed.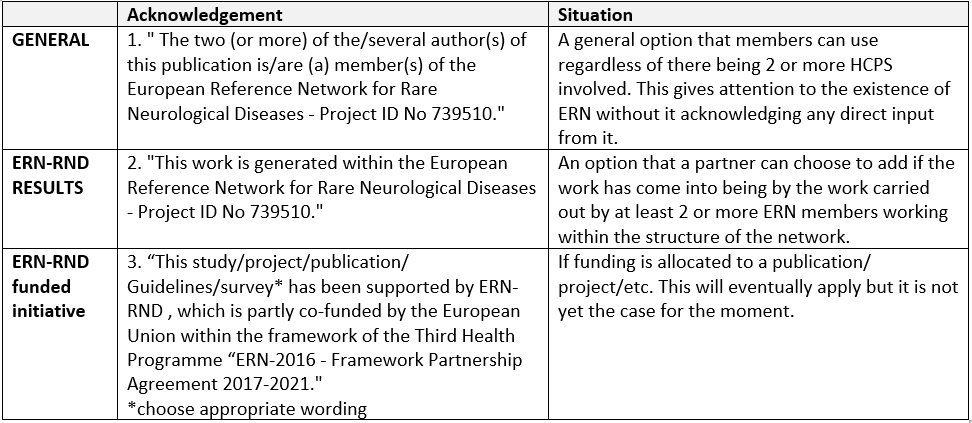 ERN-RND Coordination team
This is an internal email which was sent to ERN-RND full members, affiliated partners and ePAG patient representatives.