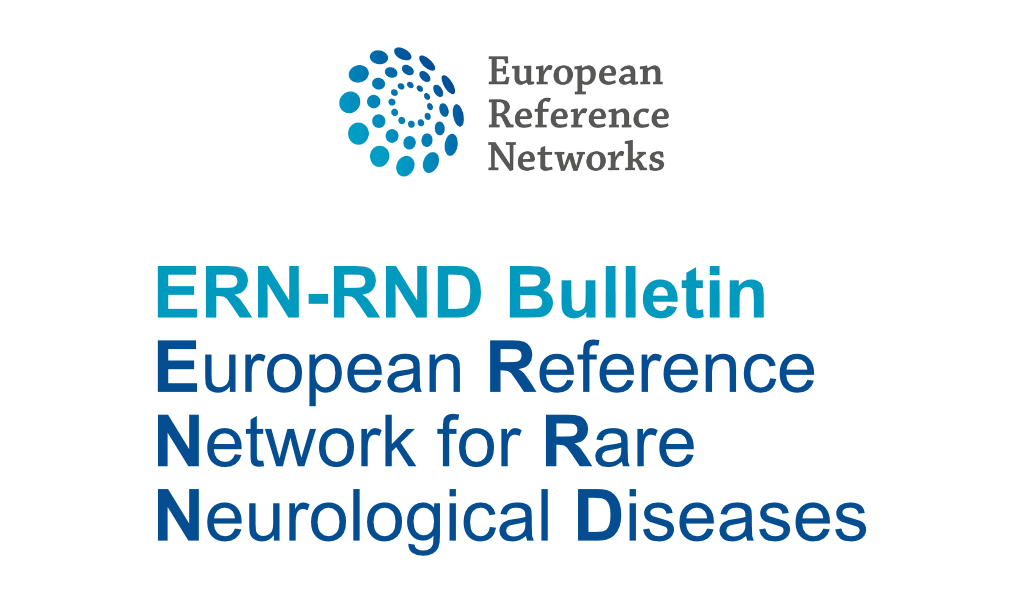 Meetings
Documents
Upcoming webinars

CPMS

Funding
ERICA WP5 Survey
Events
Research articles
Acknowledgement
MEETINGS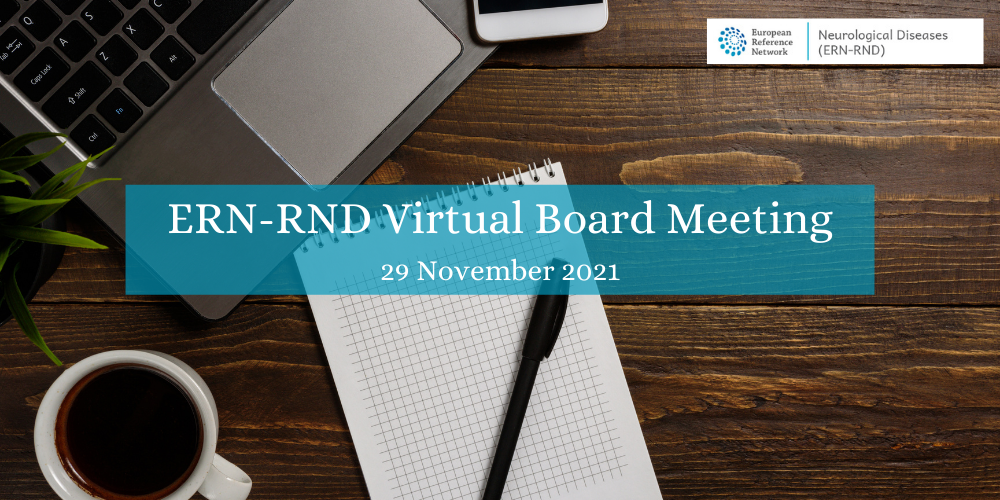 ERN-RND board meeting (fall)
Monday 29 November, 13.00 - 17.00 CET
Online via Zoom
DOCUMENTS

Methodological toolkit (handbooks) for guideline development
Minutes Annual Meeting:

Call Registries (30 June)
RND Diagnostic Pathway - EQA NGS (1 July)
Board meeting
All other minutes and slides from the Annual Meeting will also be uploaded to the CP when finalised.
UPCOMING WEBINARS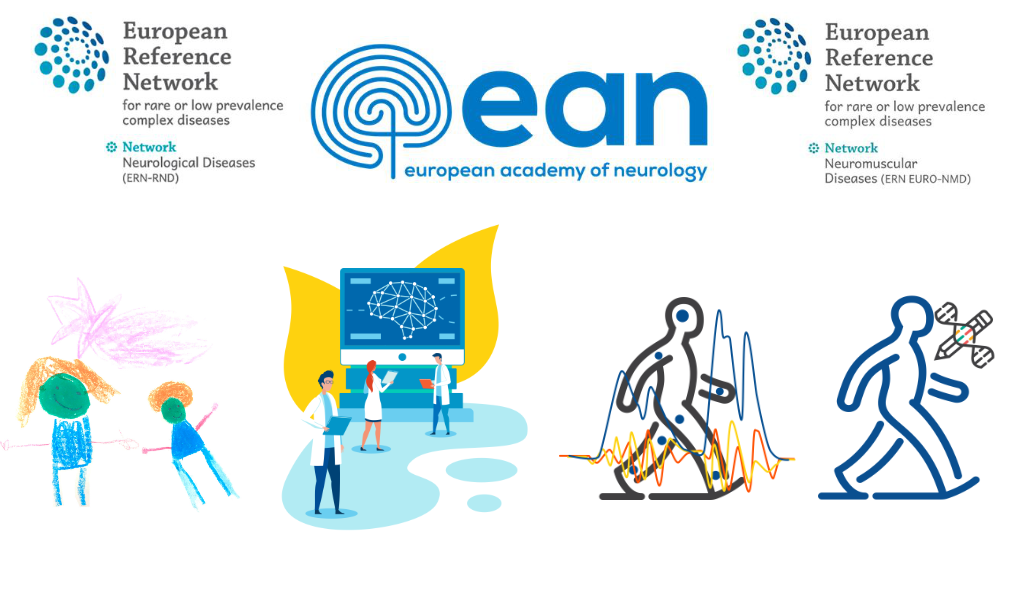 Upcoming ERN-RND, ERN EURO-NMD and EAN joint webinars:

ERN-RND webinar, 19 October 2021, Oligonucleotide therapies: a new class of drugs that allow precise genetic targeting by Annemieke Aartsma-Rus, Leiden University Medical Center, the Netherlands. Sign up here.
EURO-NMD webinar, 21 October 2021, Rare Diseases' therapies integration in diagnostic support tools through the Treatabolome platform by Gisele Bonne, Carles Hernandez-Ferrer, and Katja Lohmann. Sign up here.
ERN-RND webinar, 26 October 2021, Pelizaeus-Merzbacher disease and related disorders by Nicole Wolf, Amsterdam University Medical Centre, the Netherlands. Sign up here.
CPMS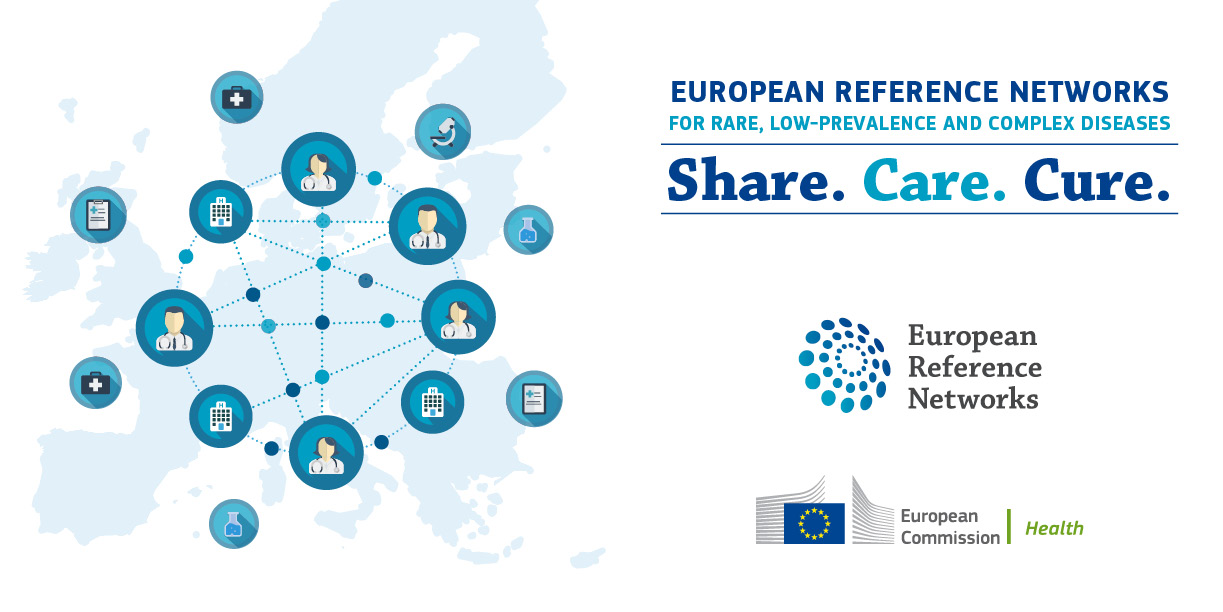 CPMS Case discussions jour fix
Recently, regular Online Case Discussions were added to the ERN-RND activities. Any clinician from the ERN-RND network is welcome to join, contribute to the discussion and learn from the approaches of their colleagues.


You would like to contribute with a case to the discussions? Please contact us as soon as possible!


Choreas and Huntington's disease (disease management):
08.10.21, 10:00 – 11:30 CET
Cases presented by:
- Lisa Lerjefors, Neurology Clinic, University Hospital Padua: Chorea in a patient with antiphospholipid syndrome - diagnosis and challenges in management
- Juan Darío Ortigoza-Escobar, Hospital Sant Joan de Déu Barcelona: Girl treated with deep pallidal stimulation for drug-resistant choreodistonia caused by GNAO1.

Registration link:
https://us02web.zoom.us/meeting/register/tZctdemhrz0pGdKlnlqg4aOQMAy2RZxHc4Jn
Atypical Parkinsonism (disease management):


04.11.21

, 16:00 – 17:30 CET
(Attention! Meeting date was changed since last bulletin!)
Cases presented by:
- Bart Post, Radboud University Medical Center, Nijmegen: MSA in daily practice- a multidisciplinary approach
- Irena Rektorová, St. Anne's Faculty Hospital, Brno: Parkinsonism in primary progressive aphasia: challenges in diagnosis and management

Registration link:
https://us02web.zoom.us/meeting/register/tZwkd--grTItHtADiGjqaPy6_iUQqMQF6pNa
Ataxia and HSP (unsolved & complex cases):
18.11.2021, 16:00 – 18:00 CET
Leukodystrophies (unsolved & complex cases):
case submission still possible
25.11.2021, 16:00 – 18:00 CET
Atypical Parkinsonism (unsolved & complex cases):
Case submission still possible
02.12.2021, 16:00 – 18:00
Choreas and Huntington's disease (unsolved & complex cases):
17.12.2021, 10:00 – 12:00
FUNDING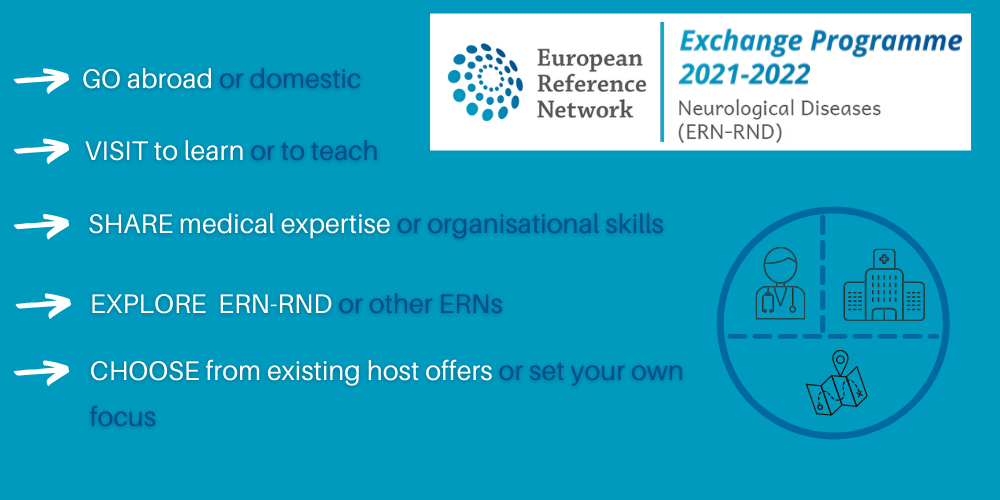 ERN-RND Short Exchange Programme: call for applications with clinical objectives!
Until August 2022, healthcare professionals (clinicians, nurses, physiotherapists, etc.) affiliated to ERN institutions (Full Members or Affiliated Partners) can receive organizational and financial support for secondments with clinical focus lasting up to four weeks in ERN expert centres other than their home institution, supporting the sharing of knowledge and stimulating collaboration.


You already made plans to visit another ERN centre? Apply any time (but at least eight weeks prior to your trip) via our online portal.


You want to explore ERN-RND but do not know where to go? Check the ERN-RND host offers on neurorehabilitation, on

autonomic failure in atypical parkinsonism,

and on DBS for Dystonia on our website or contact us to find a suitable host centre from the network for your exchange need.


As increasing vaccination rates and the EU Digital COVID Certificate finally allow safe travelling within the EU again, we are looking forward to your application!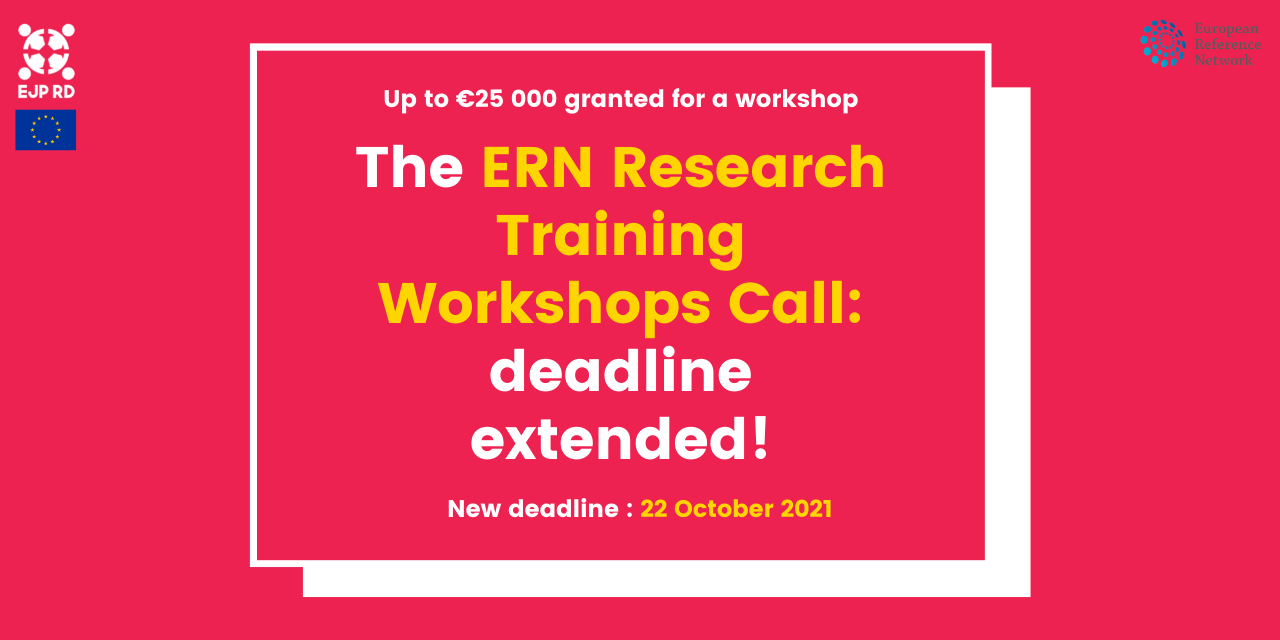 EJP RD ERN Research Training Workshops Funding Opportunity: Deadline extended!
The deadline for European Joint Programme on Rare Diseases ERN Research Training Workshops funding opportunity has been extended to October 22nd. The goal of the workshops is to train researchers and clinicians affiliated to ERN- Full  Members or – Affiliated Partners in relevant topics on research in rare diseases. Training themes may include innovative research methodologies, diagnostic research methodologies, interdisciplinary treatment approaches, such as gene therapy and transplantation, etc. Moreover, the workshops will be aiming to provide a cross-ERN added value. 


The workshops will be delivered as two-day events. The costs for the workshop organization will be covered up to a limit of €25.000 (venue, administrative, audio-visual and IT facilities essential for the workshop, catering, travel and accommodation expenses of workshops participants and invited speakers, if envisaged).
The workshops selected for funding will be attended only by individuals affiliated to ERN institutions. Participants will be selected by the coordinator of the ERN managing institution and the workshop organizer based on pre-defined criteria.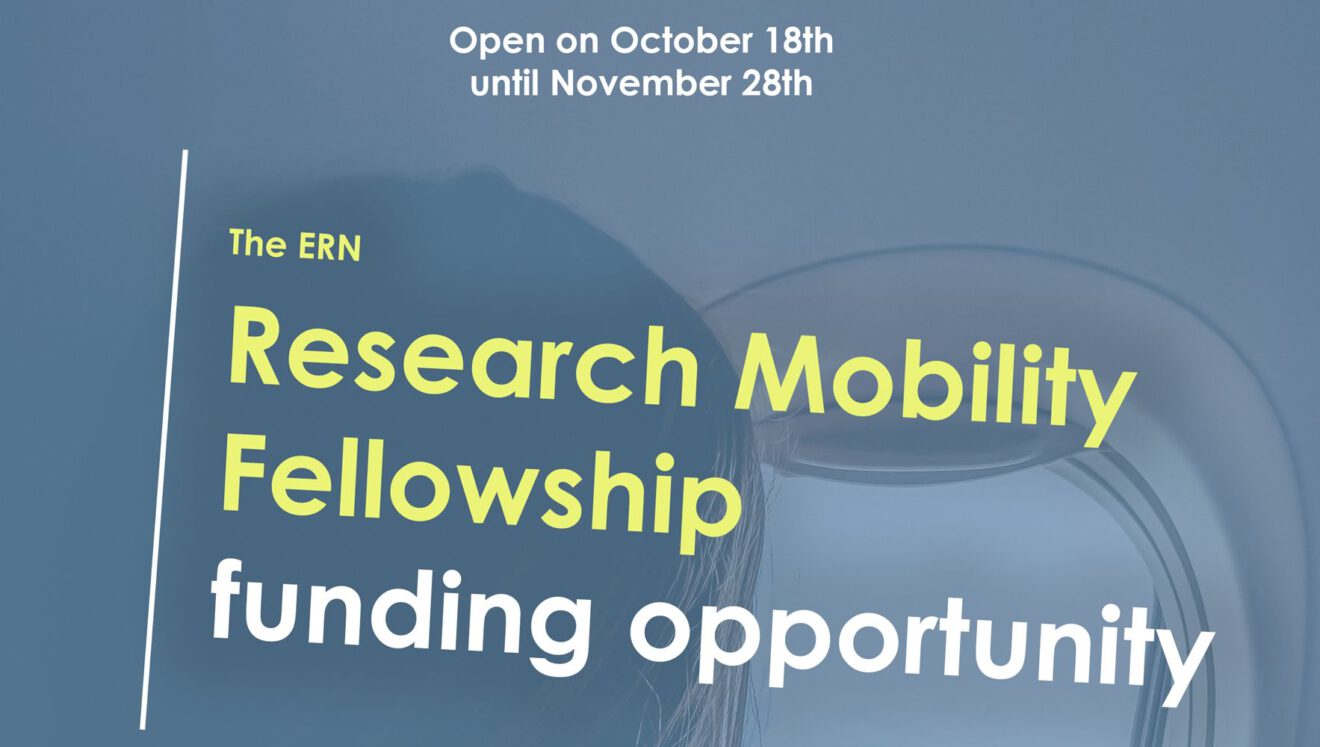 The EJP RD Research Mobility Fellowships funding opportunity is now open until November 28th! The call aims to support PhD students, Postdocs and medical doctors in training to undertake scientific visits fostering specialist research training outside their countries of residence.


The exchange can be carried out within the same ERN (Full Members and Affiliated Partners), between different ERNs (Full Members and Affiliated Partners) and between ERN Full Members / Affiliated Partners and non-ERN institutions.
Either home or host (secondment) institution must be a Full Member or Affiliated Partner of an ERN at the time when the application is submitted, as well as during the proposed period of the training stay.


Successful applicants should acquire new competences and knowledge related to their research on rare diseases, with a defined research plan and demonstrable benefit to the ERN of the home and/or host institution.


The research mobility fellowships are meant to cover stays of 4 weeks to 6 months duration.
ERICA WP5 Survey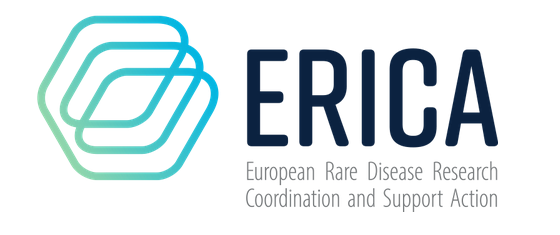 ERICA WP5 - Translation and Innovation plans to organize a series of Webinars and Workshops. Topics selection will rely on RD community needs and will be guided by this survey.


The survey aims to understand the current research activities in the RD community, to identify the knowledge gaps and (educational) needs from the different ERNs and to find success stories that might help guide and support others in the areas of proof-of-concept stage, preclinical research, clinical research and drug development.


Completing the survey will not take more than 10 minutes. The deadline for submitting the survey is November 30th, 2021.
EVENTS
GHGA VIRTUAL MINI-SYMPOSIUM: UNLOCKING THE POWER OF GENOMIC MEDICINE VIA FAIR DATA SHARING
27 October 2021, 14.00 - 17.30 CEST
FINAL EVENT ERN ITALY (in Italian)
30 November 2021, 16.00 - 18.00 CET
In the last year five workshops were organised to discuss the perspectives and concrete actions to be put in place in view of the integration of ERNs in the Italian national health system, focusing on the needs of the rare disease Italian community. The workshops addressed 5 main topics that are relevant and transversal across the ERN Community: patient involvement, care pathways, education and training, clinical trials and research and guidelines.




In this final event, there will be a discussion on the points raised during the

workshops and to provide an important opportunity for rare disease stakeholders to network and understand more about the ERNs.

I

t will be attended by rare disease coordinators of Italian regions, patients' associations, hospital managers, health directors/chief medical officers, Rare Disease Registry and rare disease centres managers, political representatives, pharmaceutical industries, general practitioners, etc. Every Italian stakeholder involved in the rare diseases field will be very welcome to attend the event.


RESEARCH ARTICLES
Once we are made aware of a new publication to which an ERN-RND member has contributed, we post the link to it in the news section of the ERN-RND website here.
You can also email us directly to let us know that you have recently published a research article.
ACKNOWLEDGEMENT
Please use one of the sentences below to acknowledge ERN-RND in all publications/presentations/clinical trials etc. (this document can also be found on the Collaborative Platform).
If possible, the logo should also be displayed.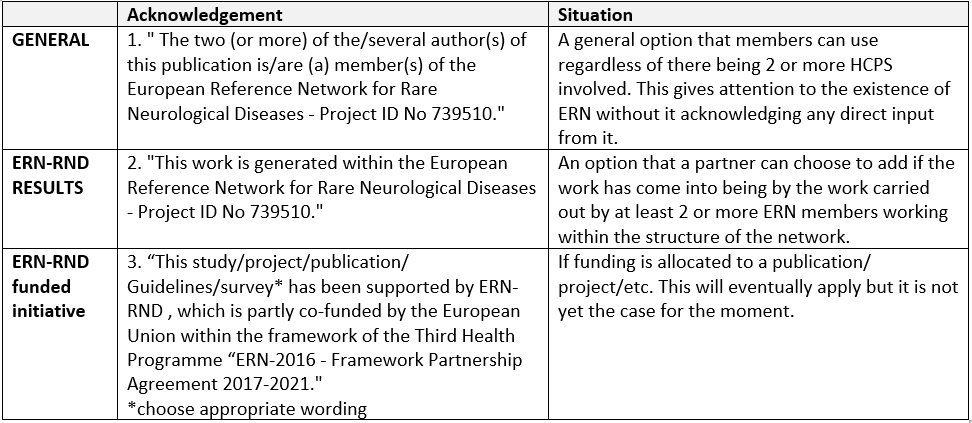 ERN-RND Coordination team
This is an internal email which was sent to ERN-RND full members, affiliated partners and ePAG patient representatives.