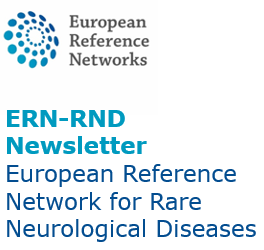 The ERN-RND team wishes you a Happy New Year!
ABOUT US
A document outlining the indicators for monitoring the ERNs has been adopted by the Board of Member States. It is available on the ERN-RND website here.


4th European Reference Networks Conference
The 4th ERN Conference "ERNs in action" took place on 21-22 November 2018 in Brussels, Belgium to discuss the results achieved so far and challenges ahead. You can find the three posters that the ERN-RND presented at the conference on our website here.


The ERN-RND is made up of 31 healthcare expert centres located all across Europe. We will introduce centres in one country in each newsletter. This month we are introducing our partner hospital in Bulgaria: University Neurological Hospital "St Naum", Sofia.
KNOWLEDGE
Atypical PD diagnostic flowchart
The diagnostic flowchart for Atypical Parkinsonism and genetic Parkinson's disease has been developed by the ERN-RND disease group expert in order to help guide the diagnosis. It is now available on our website.
CPMS
Last December, 3 CPMS case discussions have been held, one in each of the three different RND disease groups: "Leukodystrophies", "Dystonia/Paroxysmal disorders/NBIA" and "Choreas and HD".


If you are participating in a case discussion and are unsure of how the CPMS works, please visit our webpage for supporting documents which are constantly being updated.
If you have any questions, please contact the ERN-RND CPMS Helpdesk:
Sanja Hermanns, sanja.hermanns@med.uni-tuebingen.de , +49-(0)7071-2983003
Péter Balisza, baliczap@gmail.com , +36-1-4591492
SOLVE-RD
"Solve-RD - solving the unsolved rare diseases" is a research project funded by the European Commission for 5 years (2018 to 2022). It echoes the ambitious goals set out by the International Rare Diseases Research Consortium (IRDiRC) to deliver diagnostic tests for most rare diseases by 2020. Four ERNs (ERN-RND, EURO-NMD, ITHACA and GENTURIS) build the core of Solve-RD. Read more on the Solve-RD website.
16 January 2019, 12:00 CET, PhenoTips & Data submission to GPAP, sign up here
18 January 2019, 12:00 CET, data analysis in GPAP, sign up here
EVENTS FROM PARTNERS
The 5th Congress of the European Academy of Neurology is taking place in Oslo from 29 June - 2 July 2019. The overarching theme is "Neuroinflammation - Science, Synergies, Solutions". The role of neuroinflammatory process is currently a hot topic in both understanding neurological diseases and in developing new therapies for nervous system diseases. Different aspects of neuroinflammation but also other diseases will be highlighted during the congress across a broad spectrum of sessions. Find more information on the EAN website.


Every year, Rare Disease Day takes place around the world on the last day of February with the objective of raising awareness about rare diseases and its impact on patients' lives among the general public and decision makers. This year, it is taking place on 28 February 2019. Find more information and how you can get involved here.
NEWSLETTER
Please circulate this newsletter to your colleagues who can also sign up to receive it directly here or email alicia.brunelle@med.uni-tuebingen.de
ERN-RND Coordination team