"Пътят на пациента" са информационни графики, които визуализират нуждите на пациентите при лечението на тяхното рядко заболяване. Тъй като материалите  "Път на пациента" са разработени от гледна точка на пациента и неговите близки, те позволяват на лекарите ефективно да отговорят на нуждите на пациентите с редки болести.
Инфографиките отчитат, че нуждите на пациентите могат да се различават на различните етапи на заболяването – напр. първоначални симптоми срещу лечение. Те отразяват и личния опит на пациентите, който може да варира в зависимост от лицето, клиниката и страната.
ERN-RND счита, че материалите "Пътят на пациента"  са работни документи, които пациентите и лекарите могат да използват заедно, за да идентифицират пропуските в грижите и да адаптират пътеките за грижи, за да отговорят по-добре на нуждите на пациентите, живеещи с тези заболявания. Поради това инфографиките могат да се разглеждат като първа стъпка към системно ангажиране на пациентите в разработването на пътищата за грижи.
Освен това "Пътят на пациента" са полезен ресурс за пациентите, семействата, лекарите неспециалисти и широката общественост, за да разберат нуждите от грижи на пациентите, живеещи с редки неврологични заболявания.
Пъттят на пациента за болестта на Хънтингтън е разработено съвместно с Астри Арнесен, представител на ERN-RND ePAG и президент на Европейската Хънтингтън Асоциация , Наталия Григорова пациентски застъпник от Българска Хънтингтън Асоциация и членовете на работната група "Хорея и болест на Хънтингтън".
Можете да изтеглите инфографиката и таблицата като pdf файл, като кликнете върху изображенията.
Ако желаете да преведете това пътуване на пациента на собствения си език, моля, свържете се с нас и ние ще ви изпратим документите за това.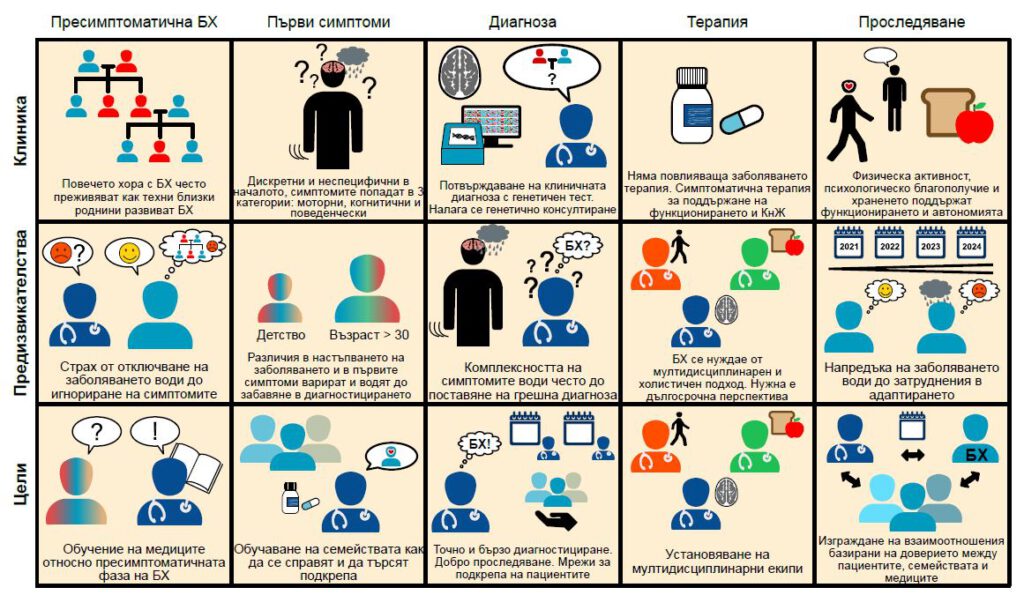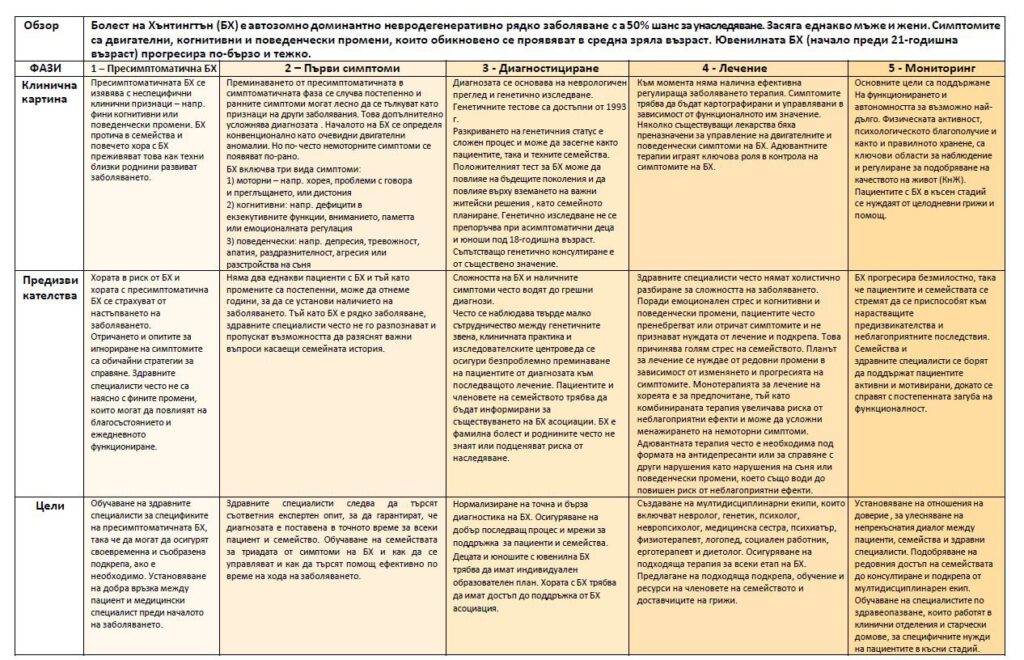 You can download the infographic and table as pdf file by clicking on the images.
Find the Flyer of the patient journey here.
If you would like to translate this patient journey in your own language, please contact us and we will send you the documents to do so.