EJP RD-funded training events
For a complete list of the currently open and upcoming ERN-workshops, visit the EJP RD website.
Liste EJP RD Workshops (ERN-RND, EURO-NMD or EpiCARE related)
| Date | Topic | Organizer | Institution | ERN | Website |
| --- | --- | --- | --- | --- | --- |
| | | | | | |
| Q4 2022 / Q1 2023 | Challenges and barriers for gene therapies in rare neurological disorders: preparing the next generation of clinicians and researchers. | David Gómez Andrés | University Hospital Vall d'Hebron, Barcelona, Spain | ERN-RND | More information |
| 18.-19. May 2023 | Genetics and precision medicine in rare diseases | Ana Caroline Pereira Neves | Associação Protetora dos Diabéticos de Portugal, Lisbon, Portugal | Endo-ERN | More information |
| t.b.d. | Blended learning: Workshop how to design and evaluate an e-learning for rare diseases taking hemoglobinopathies as an example | Isa Houwink | Leiden University Medical Center, the Netherlands | ERN-EuroBloodNet | More information |
RESEARCH TRAINING WORKSHOPS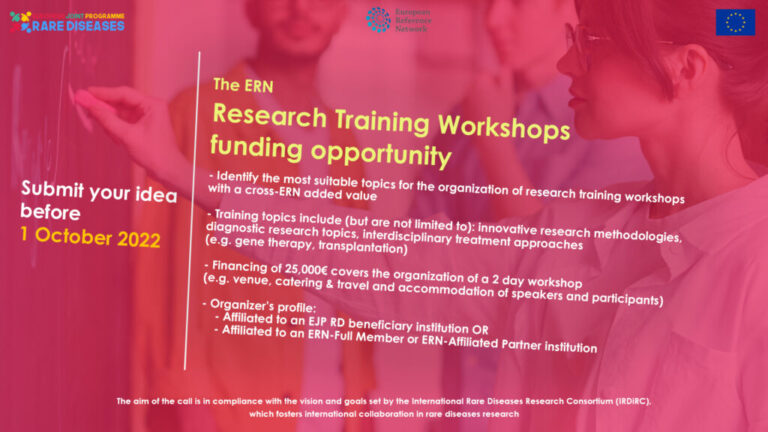 The goal of the workshops is to train researchers and clinicians affiliated to ERN- Full  Members or – Affiliated Partners in relevant topics on research in rare diseases. The workshops selected for funding will be attended only by individuals affiliated to ERN institutions. Participants will be selected by the coordinator of the ERN managing institution and the workshop organizer based on pre-defined criteria. 
The 6th call for this funding opportunity is now open. The deadline for submitting applications is the 1. October 2022. For further information and in order to apply please visit this website.
Research Mobility Fellowships
The call aims to support PhD students, Postdocs and medical doctors in training to undertake scientific visits fostering specialist research training outside their countries of residence.
Either home or host (secondment) institution must be a Full Member or Affiliated Partner of an ERN at the time when the application is submitted, as well as during the proposed period of the training stay.
Successful applicants should acquire new competences and knowledge related to their research on rare diseases, with a defined research plan and demonstrable benefit to the ERN of the home and/or host institution.
The research mobility fellowships are meant to cover stays of 4 weeks to 6 months duration.
The 6th call for this funding opportunity will open in Q4 2022. Further information will follow here and at https://www.ejprarediseases.org/our-actions-and-services/funding-opportunities/calls/