Los Patient Journeys son panoramas infográficos que visualizan las necesidades de los pacientes en el cuidado de su enfermedad rara. Dado que los Patient Journeys están diseñados desde la perspectiva del paciente, permiten a los médicos abordar eficazmente las necesidades de los pacientes con enfermedades raras.
Los Patient Journeys tienen en cuenta que las necesidades de los pacientes pueden diferir en las distintas fases de la enfermedad, por ejemplo, los síntomas iniciales frente al tratamiento. También reflejan las experiencias personales de los pacientes, que pueden variar según la persona, la clínica y el país.
ERN-RND considera que los Patient Journeys son documentos de trabajo que los pacientes y los médicos pueden utilizar conjuntamente para identificar lagunas en la asistencia y adaptar las vías asistenciales para satisfacer mejor las necesidades de los pacientes que viven con estas enfermedades. Por lo tanto, los Patient Journeys pueden considerarse un primer paso hacia la participación sistemática de los pacientes en el diseño de las vías asistenciales.
Además, los Patient Journeys son un recurso útil para que los pacientes, las familias, los médicos no especialistas y el público en general comprendan las necesidades asistenciales de los pacientes que viven con una enfermedad neurológica rara.
El Patient Journey para Paraplejías Espásticas Hereditarias (HSPs) fue desarrollado junto con Adam Lawrence, presidente del Grupo de Apoyo HSP del Reino Unido y Lori Renna Linton, representante de ERN-RND ePAG para: Ataxia/HSP.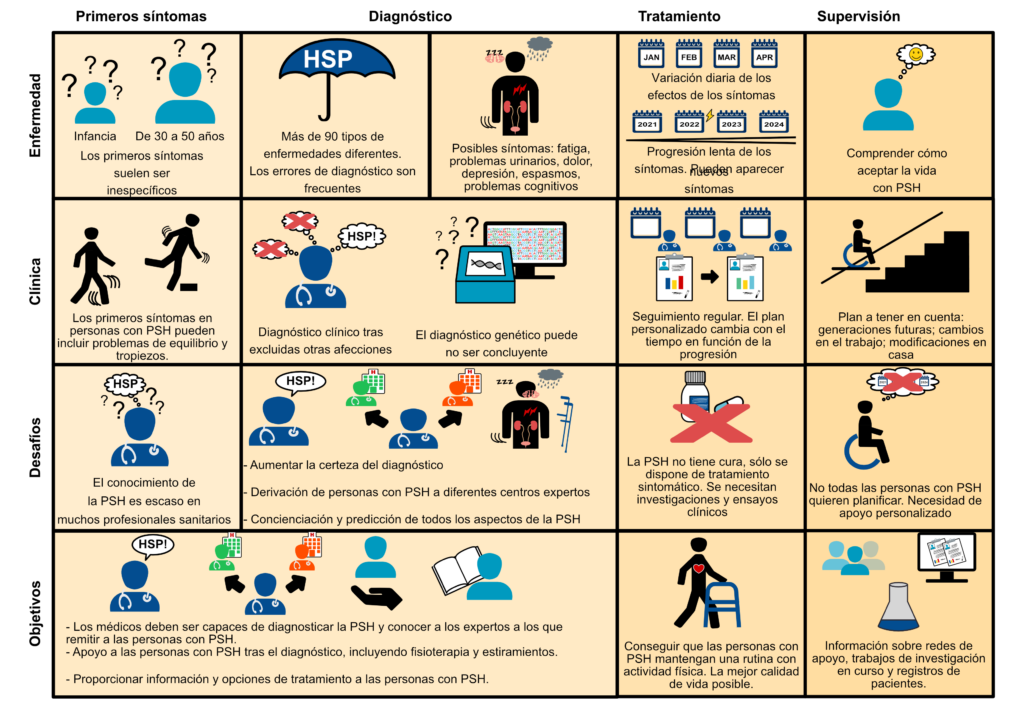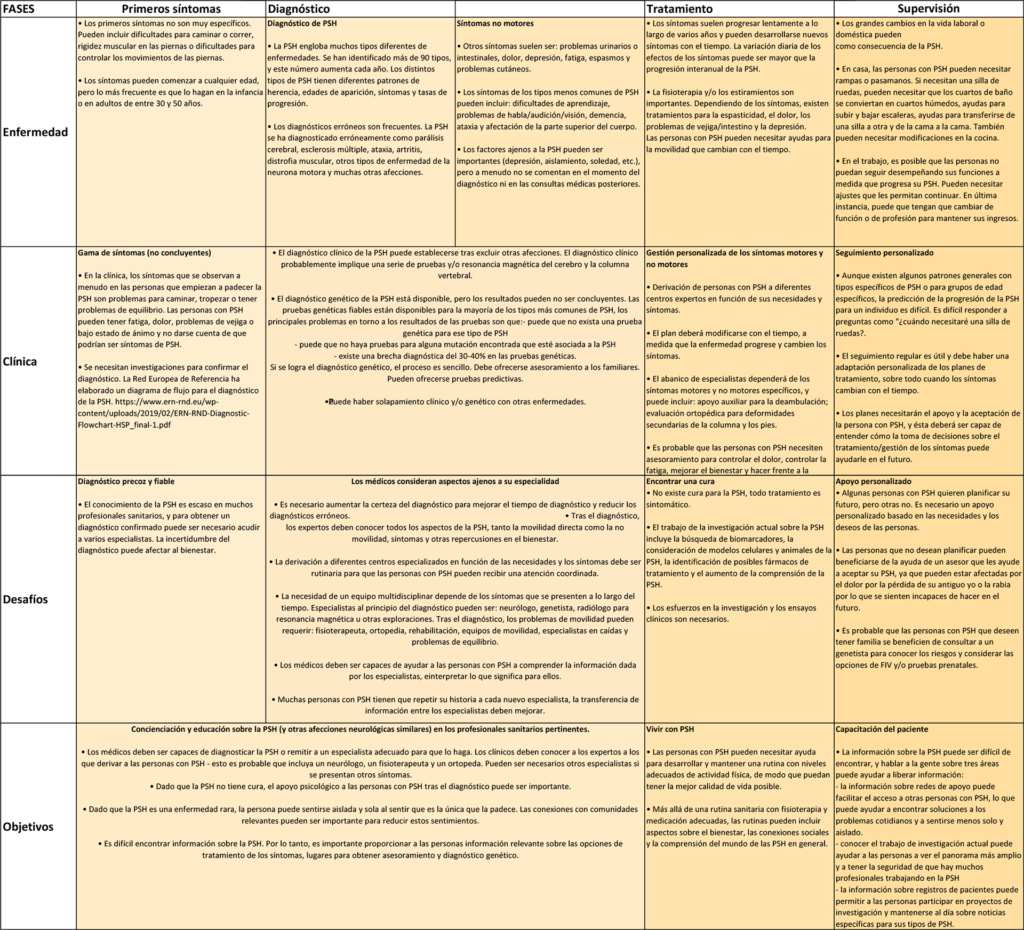 Puede descargar la infografía y la tabla en formato pdf haciendo clic en las imágenes.
Aquí puede encontrar un folleto del Viaje del Paciente.
We thank Marcos Guadalupe for translating the Patient Journey into Spanish! He is 50 years old and has not had an identified gene for 15 years. As president of AEPEF, he is involved with 300-400 families with this disease in Spain. He grew up with the disease and, in retrospect, sees the symptoms as early as his childhood. "The best thing is to care for other patients," he says, explaining his commitment to other patients and their families.