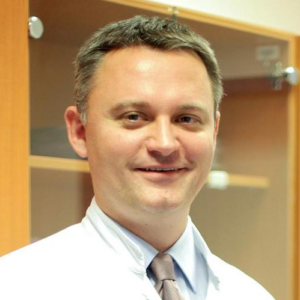 In this edition of "Meet the members", we interview Fran Borovečki, neurologist at the University Hospital Center Zagreb, Zagreb, Croatia (affiliated partner). He will tell us a bit more about his work in the hospital, within ERN-RND and his expectations for the network.
1. What is your profession (department, affiliation, etc.) and your medical expertise or specific field of interest/why?
I am a practicing neurologist, subspecialized in neurodegenerative diseases. I am Head of the Division for Neurodegenerative Diseases and Neurogenomics at the Department of Neurology, University Hospital Center Zagreb, Zagreb, Croatia. I am also Head of the Center for Translational and Clinical Research at the University of Zagreb School of Medicine, where my group mostly works on genomics of neurological diseases. My field of interest are atypical parkinsonian syndromes and genetics of neurodegenerative diseases. I find the area extremely clinically interesting and novel methods, such as Next Generation Sequencing, help us greatly in deciphering the genetic background of the aforementioned disorders.
2. What do you like most about your work and what is the biggest challenge specially in regards to working on rare diseases?
I find the combination of clinical and laboratory work extremely enticing. The diagnosis of rare neurological diseases can be extremely challenging, because of the complex clinical presentation. Novel genomic methods can aid us greatly in the search for genetic variants often underlying these diseases and represent an extremely helpful tool in clinical workup of these patients.
3. How do you participate in ERN-RND? Can you tell us about your experience presenting a case via the CPMS?
We have been involved in the ERN-RND as an affiliated partner since 2019. And since then have been involved in the activities of the network to the best of our abilities. I would especially like to emphasize the usefulness of the CPMS. We have submitted several cases into the system and found it helpful to discuss the patients with eminent experts from all over Europe. We found the system intuitive and believe the exchange of ideas and knowledge will ultimately benefit our patients.
4. What are your expectations for the network?
We are hopeful our participation in the network will help us extend our collaboration with most prominent European institutions in the field of rare neurological diseases. We believe that pan-European cooperation can bring added values to existing services and treatments available to our patients. We also expect that participation in the network will lead to scientific collaborations, thus enabling us to expand our research activities.
5. How do you think patients and clinicians can work together/why do you think it is important?
I strongly believe that patients and their advocacy groups represent and important partner for physicians, since they are an immediate source of information on the most pressing issues that are present in the healthcare system. The collaboration between patients and clinicians can help promote initiatives aimed at providing new services and treatments, especially with the regulatory and governmental bodies.
Is there anything else you would like to say?
We are very grateful to be part of the ERN-RND family, and believe this will add greatly to our capabilities and expertise, thus enabling us to enhance the quality of the medical care we are providing to our patients.
You are an ERN-RND full member or affiliated partner and would like to participate? Please contact us.