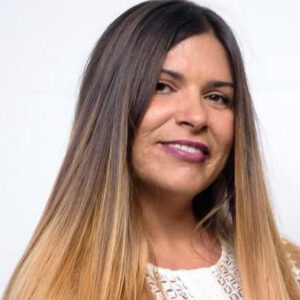 In this edition of "Meet the members", we interview Nataliya Grigorova, Bulgarian Huntington Association, ERN-RND ePAGs group coordinator. She speaks about the idea that the most important step for patients and their care is to improve their current condition and to increase their quality of life. She also speaks about her wish to foster equal therapy and care for all patients in Europe -especially for patients from Eastern Europe.
1. What is your profession and your medical expertise or specific field of interest/why?
I'm clinical psychologist and a patient advocate and I represent families affected by Huntington's disease from Bulgaria. I'm one of the founders of the Bulgarian Huntington Association and since 2014 I've been actively involved in the activities related to the families care and empowerment. Since HD is an incurable disease, our founding mission is to provide social support and rehabilitation for families, as well as opportunities to exercise they rights and those related to their health and social well-being. I stand firmly behind the idea that the most important step for patients and their care is to improve their current condition and to increase their quality of life, despite the progress of the disease.
2. What do you like most about your work and what is the biggest challenge specially in regards to working on rare diseases?
I love meeting people and being actively involved in patient advocacy and activities that are visibly changing people's lives. Being part of life changing activities in the civil society gives me meaning and hope for the future. Of course, there are a lot of challenges, especially fighting against stigma, prejudices and rigid ways of thinking. One of the biggest challenges is the demolition of the wall that society erects in front of people with severe disabilities. This stigma, when it is overcome and replaced with empathy, people with rare diseases can reach their potential to live fully within their own means. Coming from Eastern Europe, I also see how differently patients and patient organizations are supported through ERN, and it is my priority to work towards the main goal of the networks, which is to unify care for people with rare diseases across Europe.
 3. How do you participate in ERN-RND? Can you tell us about your experience presenting a case via the CPMS?
My involvement is about actively partnering with other patient advocates through the Patient Advocate Group and at the same time representing the voice of the patients to the entire network by participating in the network's various working groups and projects. Although I have been involved since 2020, I already coordinate our group, which currently consists of 6 patient advocates from all over Europe, and soon we hope to have more members join, especially in areas where we lack patient advocates for some diseases. For me, this is an extremely positive experience of knowledge exchange, but also an opportunity to work and transfer what I have learned at the local level. In Bulgaria, there is already a Network of patient advocates in the ERN, which will inevitably lead to the deployment of advocacy for rare diseases in general, something that my country badly needs. It is important for me to also be able to represent the needs of patients from Eastern Europe, which unfortunately I have to admit are many more and much more unmet, compared to those from Western Europe. This is one challenge that all networks and patient advocates should work towards; equal therapy and care for all patients in Europe.
 4. What are your expectations for the network?
Big ones. I expect the work of these networks to lead to a broad and patient-beneficial collaboration, putting all stakeholders on an equal footing and leading to a complete standardization of therapy and patient care across Europe. Every patient with a rare disease in Europe should have access to the same medication, to the same specialized social support, at the same time.
 5. How do you think patients and clinicians can work together/why do you think it is important?
Physicians and patients can work very successfully together, pursuing one goal – good patient care. This is done by standardizing the language used and prioritizing common goals. This is of utmost importance, both for doctors and patients. Take a clinical trial as an example. Can it be planned and well executed without taking into account all the peculiarities of the disease being studied and the challenges faced by the patient? Let's say, for example, that you are a doctor who is perfect at your job and you have thought out to the last detail a clinical trial design with very promising results. Yes, but it turns out that during the course of the study, half of your patients no longer show up or give up in the middle, because, let's say, you didn't take into account that they get tired very quickly or have terrible headaches and can't manage to dedicate the needed amount of time for the study. Then your work goes to waste and also the wonderful results you wanted to achieve for your patients. Being able to hear the needs of patients is of great importance to the clinician, conveying these needs adequately is the main job of the patient advocate. That is why the European patient advocates also participate in the networks, who convey the experience of patients and patient organizations.
 6. What would you wish in terms of educational activities or materials to be offered from ERN-RND, targeting clinicians as yourself?
I would like to see more trainings and activities  focused on non-medical care for rare neurological diseases, such as webinars with physiotherapists and psychologists and materials highlighting mental health issues for people with rare diagnoses and their careers. Nonmedical care is still largely neglected in this area, and we know that it is sometimes the first line of care for patients for whom there is no medical therapy, which is actually 95 percent of the time for people with rare diagnoses.
Is there anything else you would like to say?
I would like to share that it means a lot to me and I'm grateful for the opportunity to participate in the network because I can contribute and learn from it. I think that its development is going to gain more traction in the future and I am sure that the efforts of everyone involved in the networks will start to yield results very soon. I appreciate everyone's efforts to work together for patients with rare neurological diseases!
Are you an ERN-RND full member or affiliated partner and would like to participate? Please contact us.