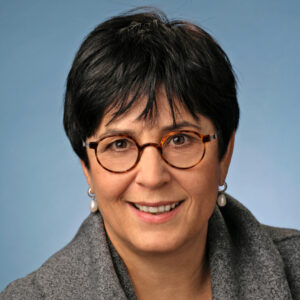 In this edition of "Meet the members", we interview Sylvia Boesch, neurologist at the University Hospital Innsbruck, Austria (affiliated partner). She will tell us a bit more about her work in the hospital, within ERN-RND and her expectations for the network.
1. What is your profession (department, affiliation, etc.) and your medical expertise or specific field of interest/why?
Ass. Prof. Dr. Sylvia Boesch, MSc; Senior staff member, Department of Neurology, Anichstrasse 35, 6020 Innsbruck, AUSTRIA;  current president of the Austrian Parkinson's disease and movement disorder society (ÖPG); co-chair in the EAN panel Neurogenetics; clinical neurologist with interest in translational medicine; member of several rare disease networks (European Friedreich's ataxia consortium for translational studies/EFACTS, global SCA, global ARCA, SPATAX; Treat HSP); specialized in inherited and sporadic movement disorders especially parkinsonian disorders, dystonias, choreas and other rare movement disorders; longstanding interest in ataxias and spastic paraplegias; "Movement disorders are the dedication in my professional life."
2. What do you like most about your work and what is the biggest challenge specially in regards to working on rare diseases?
Clinical neurology in movement disorders offers the possibility and the challenge to analyze normal and abnormal movements purely on clinical grounds (Goethe: "Was ist das Schwerste von allem? Was dir das Leichteste dünket: Mit den Augen zu seh'n, was vor den Augen dir lieget").  To entangle syndromatic and complex rare movement disorders, and to achieve a clinical and etiologic diagnosis or even detect possible treatment options using modern concepts/frameworks such as precision medicine is fascinating to me and challenges my brain even after several decades as a neurologist.
3. How do you participate in ERN-RND?
As a part in a large group of clinical neurologists, specialized nurses, physiotherapists as well as researchers and medical students, I serve as the chair of the national reference center for rare movement disorders in Innsbruck, Austria. This highly dedicated group of people and myself as the chair/coordinator, we are active members of several disease groups in the ERN RND and were partners in several projects (e.g. designed surveys, proposed guideline development, helped in the preparation of leaflets for patients with rare diseases).
The possibility to discuss rare and challenging cases with experts dedicated to movement disorders all over Europe using CPMS offers me and my co-workers an excellent possibility for exchange of knowledge, open discussions and added expertise which may – at the end- help to solve difficult cases with rare disease in individual patients.
4. What are your expectations for the network?
ERN-RND and its highly motivated and experienced members will enable to offer patients with rare disease individualized care through European expertise. The development of standards of care, the distribution of knowledge and expertise as well as international networking will not only harmonize numerous aspects in medical care in rare movement disorders, but will create a "European corporate identity for stakeholders in the field of rare movement disorders".
5. How do you think patients and clinicians can work together/why do you think it is important?
Integrative work between clinicians and their patients has become increasingly important in the last years. For example, the integration of patient reported outcome measures (PROMs) in all aspects of our clinical work has opened our clinicians' eyes in many different ways and even changed the view on clinical symptoms that were ignored for long time (e.g. non-motor signs in parkinsonian disorders). Patient empowerment on various levels enables us to work "hand-in-hand" with patients and their families, which - in the end - will result in a better quality of life for doctors and patients.
You are an ERN-RND full member or affiliated partner and would like to participate? Please contact us.