Patientenreisen sind infographische Übersichten, die die Bedürfnisse der Patienten bei der Behandlung ihrer seltenen Krankheit visualisieren. Da die Patientenreisen aus der Patientenperspektive entwickelt wurden, ermöglichen sie es den Ärzten, effektiv auf die Bedürfnisse der Patienten mit seltenen Krankheiten einzugehen.
Die Patientreisen berücksichtigen, dass sich die Bedürfnisse der Patienten in verschiedenen Stadien der Krankheit unterscheiden können – z. B. zwischen den ersten Symptomen und der Behandlung. Sie spiegeln auch die persönlichen Erfahrungen der Patienten wider, die je nach Person, Klinik und Land unterschiedlich sein können.
ERN-RND betrachtet die Patient Journeys als Arbeitsdokumente, die von Patienten und Ärzten gemeinsam genutzt werden können, um Lücken in der Versorgung zu ermitteln und die Behandlungspfade so anzupassen, dass sie den Bedürfnissen der Patienten, die mit diesen Erkrankungen leben, besser gerecht werden. Die Patientenreisen können daher als ein erster Schritt zu einer systematischen Einbeziehung der Patienten in die Gestaltung der Behandlungspfade betrachtet werden.
Darüber hinaus sind die Patientenreisen eine nützliche Ressource für Patienten, Familien, nicht spezialisierte Kliniker und die Öffentlichkeit, um die Bedürfnisse von Patienten mit einer seltenen neurologischen Erkrankung zu verstehen.
Die Patientenreise für Friedreich-Ataxie wurde zusammen mit Mary Kearny, FARA Irland und ERN-RND ePAG-Vertreterin, und Mitgliedern der Erkrankungsgruppe "Ataxie und HSP" entwickelt.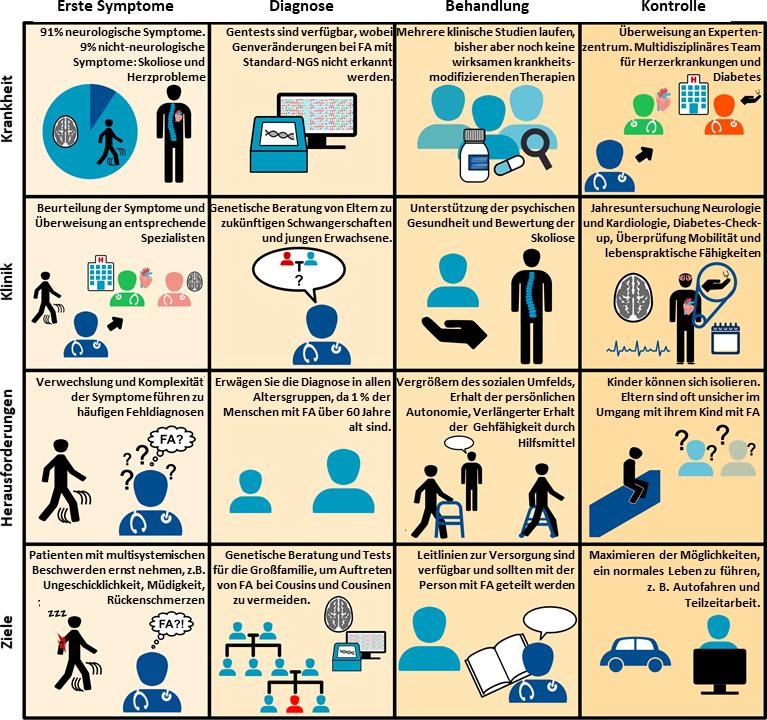 Sie können die Infografik und die Tabelle herunterladen, indem Sie auf die Bilder klicken.
Hier
finden Sie die Patientenreise über Friedreich-Ataxie als Flyer (englisch).
If you would like to translate this patient journey in your own language, please contact us and we will send you the documents to do so.