As Jornadas do Doente são sínteses info-gráficas que visualizam as necessidades dos doentes no tratamento da sua doença rara. Uma vez que as Jornadas do Doente são concebidas a partir da perspetiva do doente, permitem aos médicos responder eficazmente às necessidades das pessoas com doenças raras.
Os Percursos do Doente consideram que as necessidades dos doentes podem ser diferentes em diferentes fases da doença – por exemplo, sintomas iniciais versus tratamento. Também reflectem as experiências pessoais dos doentes, que podem variar consoante a pessoa, a clínica e o país.
A ERN-RND considera que os Percursos dos Doentes são documentos de trabalho que os doentes e os médicos podem utilizar em conjunto para identificar lacunas nos cuidados e adaptar os percursos de cuidados para melhor satisfazer as necessidades dos doentes que vivem com estas doenças. Os Percursos do Doente podem, portanto, ser vistos como um primeiro passo para o envolvimento sistemático dos doentes na conceção dos percursos de cuidados.
Além disso, os Percursos dos Doentes são um recurso útil para os doentes, as famílias, os médicos não especialistas e o público em geral compreenderem as necessidades de cuidados dos doentes que vivem com uma doença neurológica rara.
A Viagem do Doente para a doença de Huntington foi desenvolvida em conjunto com Astri Arnesen, representante do ePAG da ERN-RND e presidente da Associação Europeia de Huntington, e com membros do Grupo de Doenças "Coreias e doença de Huntington".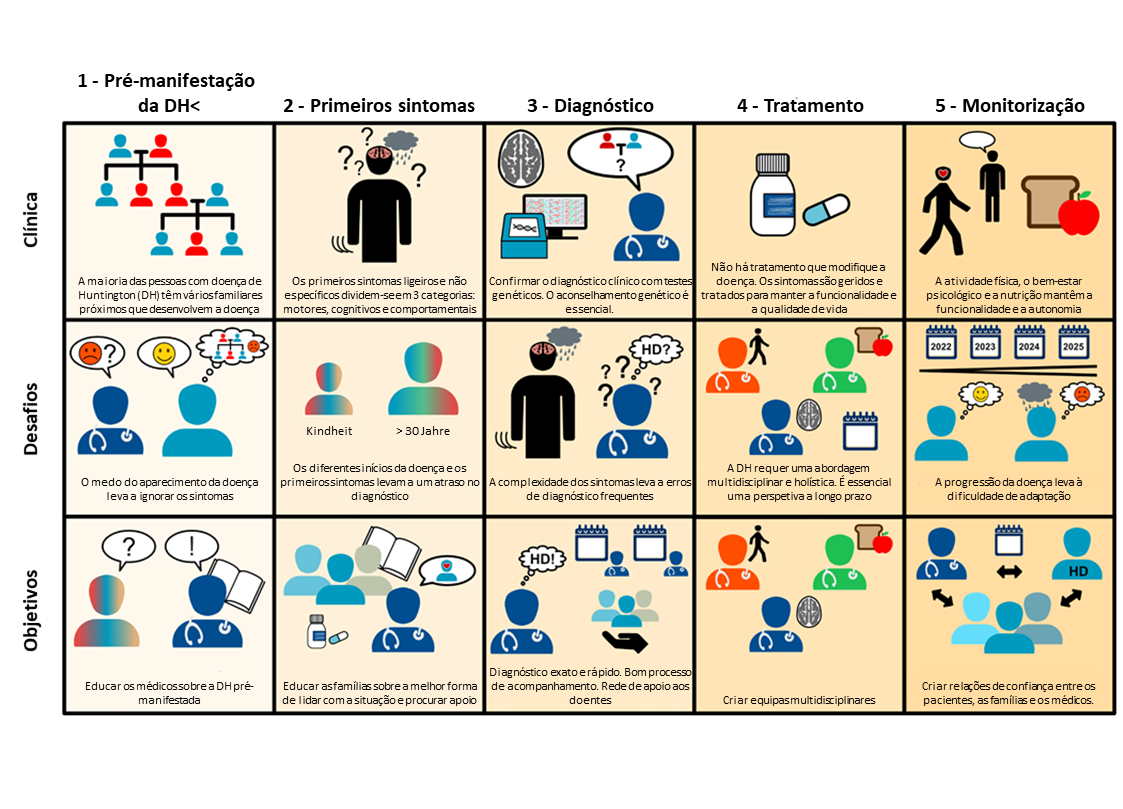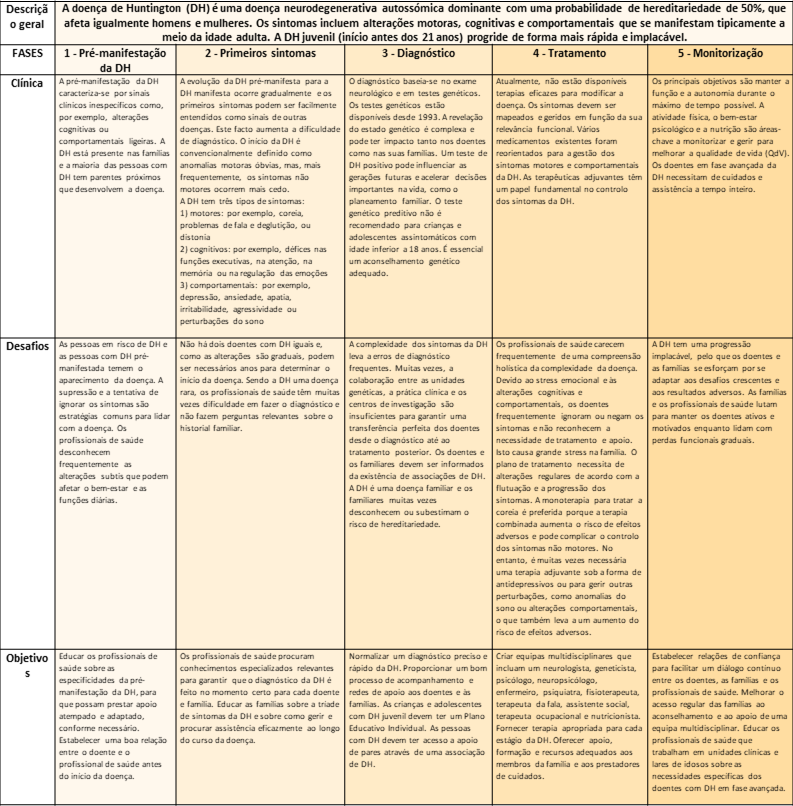 Pode descarregar a infografia e o quadro clicando nas imagens.
Encontra aqui o percurso do doente sobre a doença de Huntington como um folheto (Inglês).

If you would like to translate this patient journey in your own language, please contact us and we will send you the documents to do so.
With kind and grateful referral to the following
The patient journey infographic and table were translated into Portuguese by João Miguel Alves Ferreira from the Faculty of Medicine – University of Comibra, Portugal.