Patient Journeys  are infographical overviews that visualize patients' needs in the care of their rare disease. Because Patient Journeys are designed from the patient's perspective, they allow clinicians to effectively address the needs of rare disease patients.
Patient Journeys consider that patients' needs may differ at different stages of the disease – e.g., initial symptoms vs. treatment. They also reflect the patients' personal experiences, which may vary depending on the person, clinic and country.
ERN-RND considers Patient Journeys working documents that patients and clinicians can use together to identify gaps in care and adapt care pathways to better meet the needs of patients living with these conditions. Patient Journeys can therefore be seen as a first step toward systematic patient engagement in the design of care pathways.
In addition, Patient Journeys are a useful resource for patients, families, non-specialist clinicians, and the general public to understand the care needs of patients living with a rare neurological disease.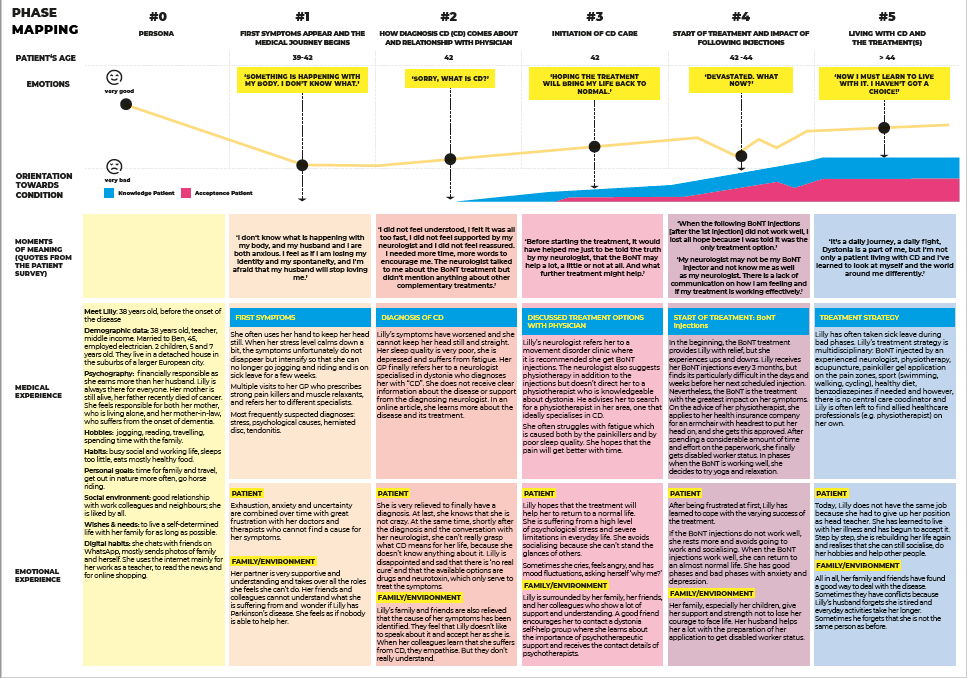 You can download the infographic as pdf file by clicking on the image.
Find here the patient journey about Cervical Dystonia as a flyer.
This work is generated within the European Reference Network for Rare Neurological Diseases—Project ID No 739510. The authors thank all the people living with CD who participated in the patient survey and in the expert-patient focus group. We also thank Dystonia Europe, AMADYS, Associazione per la Ricerca sulla Distonia A.R.D., and Action for Dystonia, Diagnosis, Education and Research [ADDER]) for their assistance in recruiting patients to the survey and participation in the expert-patient focus group. Medical writing support was provided by Anita Chadha-Patel, PhD, of ACP Clinical Communications Ltd (Hertfordshire, UK), which was funded by Ipsen (Paris, France) in accordance with Good Publication Practice guidelines.

Authors' information
Monika Benson is executive director of Dystonia Europe. Monika has cervical dystonia and was a board member of the Swedish Dystonia Association for 10 years. Monika has been working as a coordinator of workshops, courses and lectures at a school in Lund, Sweden. Alberto Albanese is Professor of Neurol- ogy and Head Neurologist at the at Humanitas Research Hospital, Rozzano, Milan. He has authored over 200 publications covering an ample spectrum
of movement disorders, including dystonia, Parkinson disease, choreas and tics. He was a leading pioneer in the introduction of botulinum toxins in Italy and has pioneered the use of deep brain stimulation in movement disorders. Kailash Bhatia is a professor of clinical neurology in the Sobell Department
of Movement Neuroscience at the Institute of Neurology, UCL, Queen Square, London and an honorary consultant neurologist at the affiliated National Hospital for Neurology, Queen Square. He has published over 500 publica- tions in the field of movement disorders and is the current chairman of the Movement Disorders subcommittee of the European Neurological Society (ENS). His main research interest is in movement disorders, merging clinical, electrophysiological and genetic methods to study the pathophysiology of conditions like dystonia, tremor and parkinsonism. Pascale Cavillon is Global Patient Centricity Director for Ipsen where she oversees patient support pro- grams designed to help patients with chronic disease requiring chronic and or complex medication therapy living with their disease and improve patient outcomes. Lorraine Cuffe is Medical Director for Ipsen. Kathrin König is Sen- ior Project Manager for PARTNERSEITZ, a patient experience research company specializing in the development of patient journey maps. Carola Reinhard is a research manager at the Institute of Medical Genetics and Applied Genomics at the University Hospital Tübingen. She is project manager of the European Reference Network for Rare Diseases (ERN-RND). Holm Graessner is managing director of the Centre for Rare Diseases Tübingen, Germany. He is Coordinator of the ERN-RND.

If you would like to translate this patient journey in your own language, please contact us and we will send you the documents to do so.