Patient Journeys zijn info-grafische overzichten die de behoeften van patiënten bij de zorg voor hun zeldzame ziekte visualiseren. Omdat Patient Journeys zijn ontworpen vanuit het perspectief van de patiënt, stellen ze clinici in staat effectief in te spelen op de behoeften van patiënten met een zeldzame ziekte.
Patient Journeys houden er rekening mee dat de behoeften van patiënten in verschillende stadia van de ziekte kunnen verschillen – bijv. eerste symptomen vs. behandeling. Ze weerspiegelen ook de persoonlijke ervaringen van patiënten, die per persoon, kliniek en land kunnen verschillen.
ERN-RND beschouwt Patient Journeys als werkdocumenten die patiënten en clinici samen kunnen gebruiken om lacunes in de zorg op te sporen en zorgpaden aan te passen om beter tegemoet te komen aan de behoeften van patiënten die met deze aandoeningen leven. Patient Journeys kunnen daarom worden gezien als een eerste stap naar systematische betrokkenheid van patiënten bij het ontwerp van zorgpaden.
Daarnaast zijn Patient Journeys een nuttig hulpmiddel voor patiënten, families, niet-gespecialiseerde artsen en het grote publiek om inzicht te krijgen in de zorgbehoeften van patiënten met een zeldzame neurologische aandoening.
De Patient Journey voor Hereditaire Spastische Paraplegieën (HSP's) is ontwikkeld samen met Adam Lawrence, voorzitter van de UK HSP Support Group en Lori Renna Linton, ERN-RND ePAG vertegenwoordiger voor: Ataxie/HSP.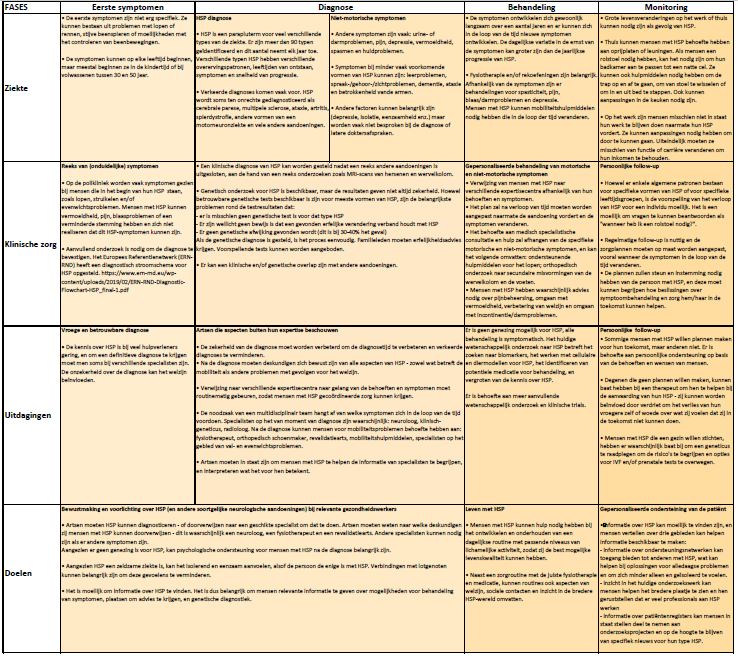 U kunt de infographic en tabel als pdf-bestand downloaden door met de rechter muisknop op de afbeeldingen te klikken en dan op opslaan als.
We thank Hermien Remmelink for translating the Patient Journey into Dutch! Hermien Remmelink has a dominant form of HSP herself. She is over 70 years old and a trained nurse, alternative practitioner and BodyTalk therapist. Also a member of the Dutch Association for Muscle Diseases (Spierziekten Nederland) and since 2012 a voluntary member of a working group for ALS,PSMA,PLS and HSP. Her main focus is HSP. She also represents Spierziekten Nederland as a board member of EURO-HSP.