This is really a great honour, not just for me but for my team and the people I collaborate with. The dominating feeling is appreciation and gratefulness to the people I am privileged to work with in the area of rare diseases. And there are many nice and fit persons I collaborate with.
This is how Holm Graessner describes his surprise and joy about the award.
Since 2012, EURORDIS-Rare Diseases Europe has organized the Black Pearl Awards. Goal of the event is to recognise the major achievements and outstanding commitment of patient advocates, patient organisations, policymakers, scientists, companies, and media who strive to make a difference for the rare disease community.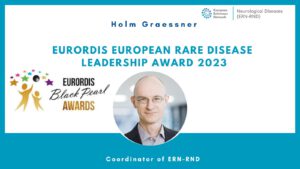 Holm studied Biomedical Engineering, Cybernetics, German Language and Literature, Philosophy, Business Administration and Marketing. He obtained a PhD (summa cum laude, 2004) and an MBA (2008). Holm is a founding member of the first Centre for Rare Diseases in Germany (2010). The center established an umbrella infrastructure (chaired by Holm), a therapy research centre and a clinical information centre for rare diseases.
I am a healthcare manager and a research manager. As healthcare manager I am the managing director of the Centre for Rare Diseases at the University Hospital Tübingen and the coordinator of the European Reference Network for Rare Neurological Diseases. As research manager, my team and I have been coordinating more than 30 large global, European and national collaborative research projects.
Holm initiated and coordinates the European Reference Network for rare neurological diseases (ERN-RND) as well as "Solve-RD – solving the unsolved rare diseases".
Joining forces with the European Academy of Neurology (EAN), he is a fellow of the EAN and member of the management team of the coordinating panel for rare neurological diseases and of the neurogenetics panel.
Finally, Holm is one of the driving forces of the Ataxia Global Initiative and the European Network "1 Mutation 1 Medicine".
The motivation and the will to advocate for patients with rare diseases and to improve their situation is the drive of his work even after many years.
Effective collaboration in the field of rare diseases needs to be patient-driven. So it always starts with listening to and involving patients and patient representatives. Furthermore, effective collaboration needs shared goals, appropriate resources, leadership, good communication and an engaged team. In the (academic) rare disease field, collaboration very often implies self-exploitation, at least to a certain extent. So I tend to apply the "nice people rule". Collaborate with nice people in order to keep motivation and joy levels high.
Read Holms portrait on the EURORDIS homepage: https://www.eurordis.org/black-pearl-2023-education-and-collaboration/