Clinical Patient Management System (CPMS)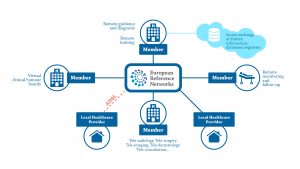 The Clinical Patient Management System (CPMS) is a secure web-based application to support European Reference Networks in the diagnosis and treatment of rare or low prevalence complex diseases across national borders. The ERN Experts (from one or more ERNs) will gather in multidisciplinary panels and use CPMS to carry out e-consultations of rare and complex cases. There is one defined use case for each of the 6 Disease Groups within ERN-RND. Guest experts from centres that are not part of the ERN can also be invited to the panel.
Panels are composed of experts with complementary expertise, which is essential for solving complex cases in the field of rare diseases and providing the best possible healthcare.
The ERN-RND is currently rolling-out the use of the CPMS. The ERN experts are getting familiar with the various functionalities of CPMS such as enrolling patients, using the different possible data sets in order to describe the patient comprehensively and present him/her to the other panel members in order to receive advice on diagnosis or treatment.
To find out more about the thinking behind the platform and how we expect it to work and be used, the European Commission has produced this short video.